Articles | Volume 16, issue 16
https://doi.org/10.5194/gmd-16-4867-2023
© Author(s) 2023. This work is distributed under
the Creative Commons Attribution 4.0 License.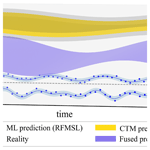 A gridded air quality forecast through fusing site-available machine learning predictions from RFSML v1.0 and chemical transport model results from GEOS-Chem v13.1.0 using the ensemble Kalman filter
Statistical methods, particularly machine learning models, have gained significant popularity in air quality predictions. These prediction models are commonly trained using the historical measurement datasets independently collected at the environmental monitoring stations and their operational forecasts in advance using inputs of the real-time ambient pollutant observations. Therefore, these high-quality machine learning models only provide site-available predictions and cannot solely be used as the operational forecast. In contrast, deterministic chemical transport models (CTMs), which simulate the full life cycles of air pollutants, provide predictions that are continuous in the 3D field. Despite their benefits, CTM predictions are typically biased, particularly on a fine scale, owing to the complex error sources due to the emission, transport, and removal of pollutants. In this study, we proposed a fusion of site-available machine learning prediction, which is from our regional feature selection-based machine learning model (RFSML v1.0), and a CTM prediction. Compared to the normal pure machine learning model, the fusion system provides a gridded prediction with relatively high accuracy. The prediction fusion was conducted using the Bayesian-theory-based ensemble Kalman filter (EnKF). Background error covariance was an essential part in the assimilation process. Ensemble CTM predictions driven by the perturbed emission inventories were initially used for representing their spatial covariance statistics, which could resolve the main part of the CTM error. In addition, a covariance inflation algorithm was designed to amplify the ensemble perturbations to account for other model errors next to the uncertainty in emission inputs. Model evaluation tests were conducted based on independent measurements. Our EnKF-based prediction fusion presented superior performance compared to the pure CTM. Moreover, covariance inflation further enhanced the fused prediction, particularly in cases of severe underestimation.
Received: 16 Dec 2022 – Discussion started: 13 Feb 2023 – Revised: 05 Jul 2023 – Accepted: 18 Jul 2023 – Published: 29 Aug 2023
Rapid economic growth and urbanization have led to severe ambient air pollution in China (Li et al., 2016a). Thanks to the National Air Pollution Prevention and Control Action Plan released in 2013 (The State Council of China, 2013), air quality has steadily improved. However, for the past decade, air pollution has still been ranked as the third major factor causing death in China, following tobacco and high blood pressure (GBD 2019 Risk Factors Collaborators, 2020). Approximately 80 % of the Chinese population is still exposed to fine particulate matter (PM2.5), with annual mean concentrations exceeding 35 µg m−3, and over 99 % of the population is exposed to severe air pollution according to the World Health Organization air quality guideline value of 10 µg m−3. (Wang et al., 2019; Cheng et al., 2021b). Forecasting primary atmospheric pollutants with high spatial resolution is thus essential in order to provide early warning for residents and reduce detrimental public exposure to air pollution (Bi et al., 2022).
Machine learning methods, particularly deep learning tools, have gained significant popularity in geoscientific fields owing to their high accuracy and relatively low computational resource requirements. For instance, Chen et al. (2023) fully estimate hourly near-surface ozone concentration in China using a new geostationary satellite with the help of machine learning. Numerous studies have successfully implemented machine learning algorithms for air quality prediction. For example, Li et al. (2018) proposed a hybrid model combining a weighted extreme learning machine and an adaptive neuro-fuzzy inference system for air quality predictions. Ma et al. (2020) improved the accuracy of WRF-Chem prediction of daily PM2.5 concentrations in Shanghai by applying an XGBoost machine learning method. Cheng et al. (2021c) successfully predicted ground-level daily maximum 8 h ozone concentrations in two megacities in China, Shanghai and Chengdu, by utilizing wavelet decomposition and two machine learning models. Mao et al. (2022) developed a dynamic graph convolutional approach and sequence to sequence embedded with the attention mechanism model for predicting daily maximum 8 h average ozone concentrations. We have successfully used the regional feature selection-based machine learning model (RFSML) to predict air quality with high accuracy. Our forecast system can provide short-term predictions for over 1262 sites across China at a national scale. We developed the SAGE (Shapley additive global importance) ensemble feature selection algorithm to exclude redundant inputs, which efficiently improves our forecasting ability (Fang et al., 2022). We trained these models using historical measurement datasets collected at independent air quality monitoring stations, and they operate using real-time air quality observations as inputs. However, unlike gridded forecasts, our predictions are only available for the location of the air quality monitoring sites. Meanwhile, the spatial distribution of existing environmental monitoring stations is rather uneven in China, with a dense monitoring network in the east and a sparse network in the west, as shown in Fig. 1. Therefore, our RFSML predictions limited to these few monitoring stations cannot accurately represent the true PM2.5 concentrations on a national scale.
Deterministic 3D chemical transport models (CTMs) are widely used for operational air quality forecasting due to their ability to predict air pollution in continuous spatiotemporal domains by modeling complex physical and chemical processes of air pollutant life cycles. CTMs provide an advantage over machine-learning-based air quality forecast models, which typically rely on point-source observations. Various CTMs have been developed and employed for air quality forecasting. For example, Keller et al. (2021) provided a new modeling system, GEOS-CF, that can make 5 d forecasts of the concentrations of five primary ambient pollutants; Cheng et al. (2021a) developed a real-time forecasting system of hourly PM2.5 concentrations using the WRF-CMAQ model in Taiwan. Lin et al. (2020) developed the WRF-GC model (coupling the Weather Research and Forecasting meteorological (WRF) and the GEOS-Chem model) that can perform high-resolution air pollutant forecasts. Using the WRF-Chem model, Georgiou et al. (2022) developed a high-resolution real-time air quality forecast system over the eastern Mediterranean with better performance than the Copernicus Atmosphere Monitoring Service. While these air quality forecast models can capture the spatiotemporal variations in ambient pollutants to some extent, they are susceptible to systematic bias, particularly at a fine scale, due to multi-source uncertainties in emission inventories (Keenan et al., 2009; Fan et al., 2018), initial and boundary conditions, and parameterization of physical and chemical processes such as transport and removal (Croft et al., 2012; Solazzo et al., 2017). This makes the CTM prediction less reliable for localized air quality predictions (Bi et al., 2022).
Both the machine learning models and CTMs have weakness when they are solely used in operational air quality forecasting. The same challenges exist when observations and simulation models are used to describe the atmospheric dynamics in reanalysis products. Observations are widely preferred due to their higher accuracy compared to numerical dispersion models. However, they are inherently limited in providing a continuous 3D field and cannot fully scan the entire target domain. On the other hand, models provide gridded simulation results but are typically biased as explained previously. To address the limitations of relying solely on observations or simulation models, Bayesian-theory-based assimilation methods (Evensen et al., 2022), by combining the observations and model simulations, have long been performed for producing gridded reanalysis that is much closer to reality. For example, the fifth generation of atmospheric reanalysis (ERA5) from ECMWF was produced by fusing atmospheric simulation from the Integrated Forecasting System (IFS) Cy41r2 and various types of measurements through a four-dimensional variational (4DVar) data assimilation (Hersbach et al., 2020). To analyze desert dust aerosol along with its climatic interactions, Di Tomaso et al. (2022) developed a product with a high resolution and continuous 3D field of dust aerosols over northern Africa, the Middle East, and Europe, ranging from 2007 to 2016. The reanalysis was generated by assimilating (via local ensemble transform Kalman filter) MODIS aerosol optical depth (AOD) into their Multiscale Online Nonhydrostatic AtmospheRe CHemistry model (MONARCH).
This study introduces the Bayesian-theory-based assimilation method to fuse the regional feature selection machine learning forecast (RFSML v1.0) (Fang et al., 2022) and the deterministic chemical transport model (CTM) air quality prediction. The prediction fusion aims to achieve a gridded prediction with less bias and higher accuracy than the pure CTM prediction. It is continuous in the 3D field unlike the machine learning forecast that is only site-available. To the best of our knowledge, this is the first time that the assimilation method has been applied in this way, as it is typically used for nudging model simulations with observations. The specific assimilation algorithm used is the ensemble Kalman filter (EnKF). The background error covariance of the CTM prior prediction is the fundamental term in the assimilation-based fusion. Ensemble CTMs, which are driven by perturbed emission inventories, are forwarded in parallel to represent the potential distribution of ambient pollutant levels and the spatial covariance statistics. To avoid model divergence, an additional covariance inflation algorithm is developed that accounts for model errors other than uncertainties in emission inputs. The uncertainty of the other prior, the machine learning forecast, is also an essential part of the assimilation fusion. To accurately quantify the errors, dynamic covariance is designed.
The paper is structured as follows: Sect. 2.1 presents an overview of the study domain and the observations. Section 2.3 describes the machine learning forecast, and Sect. 2.4 provides a detailed account of the CTM prediction. Section 2.2 presents the EnKF assimilation methodology used to fuse the machine learning and CTM predictions. In Sect. 2.5, a popular spatial interpolation tool, namely the Cressman interpolation, is illustrated to expand the site-available machine learning forecast to a gridded one. Section 3 describes the independent evaluation of the proposed fused prediction. Finally, Sect. 4 concludes the paper with a summary of the findings and future prospects.
The effectiveness of our gridded prediction approach, which combines machine learning and CTM prediction using EnKF, was thoroughly assessed. First, the performance of the CTM was evaluated and discussed in Sect. 3.1. Next, the impressive skill of our proposed approach in terms of time series prediction at single stations was demonstrated in Sect. 3.2, highlighting the importance of using covariance inflation. Finally, the overall spatial performance of the fused prediction against independent observations was evaluated over the entire test period in Sect. 3.3. To assess the performance, we used RMSE, mean absolute error (MAE), and Pearson correlation coefficient (R) metrics, whose formulas are provided in Formulas (S2)–(S4) of the Supplement.
Machine learning models offer strong advantages for air quality predictions, but their high-quality predictions are limited to air quality monitoring stations. Conversely, CTMs can predict ambient pollutants in a continuous, spatially resolved manner, but their accuracy is not guaranteed due to various error sources, such as the emission inventory, meteorology, and initial and boundary conditions. To address these limitations, we proposed an EnKF-based method to fuse the site-specific machine learning predictions (RFSML v1.0 in this study) and CTM predictions. In our assimilation approach, the uncertainty of RFSML results is quantified using a dynamic covariance, while the uncertainty of the CTM prediction is represented by ensemble realizations driven by perturbed emission inventories. The proposed prediction fusion method resulted in a relatively accurate and continuous 3D field prediction. This method exhibited remarkable performance compared to the pure CTM, as indicated by metrics such as R, MAE, and RMSE. For example, when considering the prediction with a 6 h horizon in the five megacity clusters, the average RMSE was reduced from 48.82, 27.66, 53.14, 27.42, and 47.04 µg m−3 to 27.28, 17.46, 12.73, 17.11, and 32.24 µg m−3 in the NCP, PRD, SCB, YRD, and FWP respectively. The corresponding R increased from 0.63, 0.07, 0.55, 0.54, and 0.57 to 0.79, 0.62, 0.89, 0.78, 0.82, and 0.68 simultaneously.
The CTM, on the other hand, is subject to various uncertainties, including meteorology, deposition, and initial and boundary conditions, in addition to the uncertainty in the emission inventory that was initially considered. To address these uncertainties, covariance inflation was applied to represent CTM errors and improve their prediction accuracy. By re-weighting the two priors using empirical covariance inflation, the prediction fusion method achieved the best posterior prediction results. The method successfully detected local severe pollution events, such as in Xinjiang Province, and captured fine-scale PM2.5 variation in regions with complex pollution patterns. Notably, the average RMSE of PM2.5 prediction in the five densely populated clusters (NCP, PRD, SCB, YRD, and FWP) was further reduced to 20.22, 12.68, 10.97, 14.78, and 24.10 µg m−3, respectively, with the application of covariance inflation. The corresponding R was further increased to 0.89, 0.80, 0.92, 0.85, and 0.90, respectively, demonstrating the effectiveness of the prediction fusion method with covariance inflation.
In summary, the proposed fused prediction effectively overcomes the weakness of machine learning, which can only predict at specific sites. However, our method has some drawbacks, such as 32 ensemble CTM predictions which are still computationally expensive. Additionally, the site-based RFSML prediction may have unavoidable errors in representing atmospheric dynamics of the grid mean, which we will address in our future work. This method can be extended to predict the concentrations of other airborne pollutants.
Code and data availability
JJ conceived the study and designed the prediction fusion method. JJ and LF wrote the code of the prediction fusion. LF carried out the prediction and evaluation. AS, KL, BX, WH, MP, HXL, and HL provided useful comments on the paper. LF and JJ prepared the manuscript with contributions from all others co-authors.
The contact author has declared that none of the authors has any competing interests.
Publisher's note: Copernicus Publications remains neutral with regard to jurisdictional claims in published maps and institutional affiliations.
This work was supported by the National Key Research and Development Program of China (grant no. 2019YFA0606804), the Natural Science Foundation of Jiangsu Province (grant nos. BK20210664 and BK20220031), and the Postgraduate Research & Practice Innovation Program of Jiangsu Province (KYCX23_1381).
This paper was edited by Klaus Klingmüller and reviewed by two anonymous referees.
Bartier, P. M. and Keller, C. P.: Multivariate interpolation to incorporate thematic surface data using inverse distance weighting (IDW), Comput. Geosci., 22, 795–799, 1996. a
Bi, J., Knowland, K. E., Keller, C. A., and Liu, Y.: Combining Machine Learning and Numerical Simulation for High-Resolution PM2.5 Concentration Forecast, Environ. Sci. Technol., 56, 1544–1556, https://doi.org/10.1021/acs.est.1c05578, 2022. a, b
Chen, B., Wang, Y., Huang, J., Zhao, L., Chen, R., Song, Z., and Hu, J.: Estimation of near-surface ozone concentration and analysis of main weather situation in China based on machine learning model and Himawari-8 TOAR data, Sci. Total Environ., 864, 160928, https://doi.org/10.1016/j.scitotenv.2022.160928, 2023. a
Cheng, F.-Y., Feng, C.-Y., Yang, Z.-M., Hsu, C.-H., Chan, K.-W., Lee, C.-Y., and Chang, S.-C.: Evaluation of real-time PM2.5 forecasts with the WRF-CMAQ modeling system and weather-pattern-dependent bias-adjusted PM2.5 forecasts in Taiwan, Atmos. Environ., 244, 117909, https://doi.org/10.1016/j.atmosenv.2020.117909, 2021a. a
Cheng, J., Tong, D., Zhang, Q., Liu, Y., Lei, Y., Yan, G., Yan, L., Yu, S., Cui, R. Y., Clarke, L., Geng, G., Zheng, B., Zhang, X., Davis, S. J., and He, K.: Pathways of China's PM2.5 air quality 2015–2060 in the context of carbon neutrality, Nat. Sci. Rev., 8, nwab078, https://doi.org/10.1093/nsr/nwab078, 2021b. a
Cheng, Y., He, L.-Y., and Huang, X.-F.: Development of a high-performance machine learning model to predict ground ozone pollution in typical cities of China, J. Environ. Manage., 299, 113670, https://doi.org/10.1016/j.jenvman.2021.113670, 2021c. a
China Ministry of Environmental Protection: Ground-based air quality monitoring measurements, China Ministry of Environmental Protection [data set], https://quotsoft.net/air/, last access: 13 July 2023. a
Cressman, G. P.: An operational objective analysis system, Mon. Weather Rev., 87, 367–374, 1959. a
Croft, B., Pierce, J. R., Martin, R. V., Hoose, C., and Lohmann, U.: Uncertainty associated with convective wet removal of entrained aerosols in a global climate model, Atmos. Chem. Phys., 12, 10725–10748, https://doi.org/10.5194/acp-12-10725-2012, 2012. a
Dang, R. and Liao, H.: Severe winter haze days in the Beijing–Tianjin–Hebei region from 1985 to 2017 and the roles of anthropogenic emissions and meteorology, Atmos. Chem. Phys., 19, 10801–10816, https://doi.org/10.5194/acp-19-10801-2019, 2019. a
Di Tomaso, E., Schutgens, N. A. J., Jorba, O., and Pérez García-Pando, C.: Assimilation of MODIS Dark Target and Deep Blue observations in the dust aerosol component of NMMB-MONARCH version 1.0, Geosci. Model Dev., 10, 1107–1129, https://doi.org/10.5194/gmd-10-1107-2017, 2017. a
Di Tomaso, E., Escribano, J., Basart, S., Ginoux, P., Macchia, F., Barnaba, F., Benincasa, F., Bretonnière, P.-A., Buñuel, A., Castrillo, M., Cuevas, E., Formenti, P., Gonçalves, M., Jorba, O., Klose, M., Mona, L., Montané Pinto, G., Mytilinaios, M., Obiso, V., Olid, M., Schutgens, N., Votsis, A., Werner, E., and Pérez García-Pando, C.: The MONARCH high-resolution reanalysis of desert dust aerosol over Northern Africa, the Middle East and Europe (2007–2016), Earth Syst. Sci. Data, 14, 2785–2816, https://doi.org/10.5194/essd-14-2785-2022, 2022. a
Evensen, G.: Sequential data assimilation with a nonlinear quasi-geostrophic model using Monte Carlo methods to forecast error statistics, J. Geophys. Res.-Oceans, 99, 10143–10162, 1994. a
Evensen, G.: Sampling strategies and square root analysis schemes for the EnKF, Ocean Dynam., 54, 539–560, 2004. a
Evensen, G., Vossepoel, F. C., and van Leeuwen, P. J.: Data Assimilation Fundamentals: A Unified Formulation of the State and Parameter Estimation Problem, Springer Textbooks in Earth Sciences, Geography and Environment, Springer International Publishing, Cham, https://doi.org/10.1007/978-3-030-96709-3, 2022. a, b
Fan, T., Liu, X., Ma, P.-L., Zhang, Q., Li, Z., Jiang, Y., Zhang, F., Zhao, C., Yang, X., Wu, F., and Wang, Y.: Emission or atmospheric processes? An attempt to attribute the source of large bias of aerosols in eastern China simulated by global climate models, Atmos. Chem. Phys., 18, 1395–1417, https://doi.org/10.5194/acp-18-1395-2018, 2018. a
Fang, L.: Python source code of EnKF-based prediction fusion, Zenodo [code], https://doi.org/10.5281/zenodo.7439497, 2022. a
Fang, L.: The PM2.5 data from observations and model outputs for fused prediction, Zenodo [data set], https://doi.org/10.5281/zenodo.7619183, 2023. a
Fang, L., Jin, J., Segers, A., Lin, H. X., Pang, M., Xiao, C., Deng, T., and Liao, H.: Development of a regional feature selection-based machine learning system (RFSML v1.0) for air pollution forecasting over China, Geosci. Model Dev., 15, 7791–7807, https://doi.org/10.5194/gmd-15-7791-2022, 2022. a, b, c, d, e, f, g, h, i, j
GBD 2019 Risk Factors Collaborators: Global burden of 87 risk factors in 204 countries and territories, 1990–2019: a systematic analysis for the Global Burden of Disease Study 2019, Lancet, 396, 1223–1249, 2020. a
Gelaro, R., McCarty, W., Suárez, M. J., Todling, R., Molod, A., Takacs, L., Randles, C. A., Darmenov, A., Bosilovich, M. G., Reichle, R., Wargan, K., Coy, L., Cullather, R., Draper, C., Akella, S., Buchard, V., Conaty, A., da Silva, A., Gu, W., Kim, G., Koster, R., Lucchesi, R., Merkova, D., Nielsen, J., Partyka, G., Pawson, S., Putman, W., Rienecker, M., Schubert, S., Sienkiewicz, M. and Zhao, B.: The modern-era retrospective analysis for research and applications, version 2 (MERRA-2), J. Climate, 30, 5419–5454, 2017. a
Georgiou, G. K., Christoudias, T., Proestos, Y., Kushta, J., Pikridas, M., Sciare, J., Savvides, C., and Lelieveld, J.: Evaluation of WRF-Chem model (v3.9.1.1) real-time air quality forecasts over the Eastern Mediterranean, Geosci. Model Dev., 15, 4129–4146, https://doi.org/10.5194/gmd-15-4129-2022, 2022. a
Guenther, A. B., Jiang, X., Heald, C. L., Sakulyanontvittaya, T., Duhl, T., Emmons, L. K., and Wang, X.: The Model of Emissions of Gases and Aerosols from Nature version 2.1 (MEGAN2.1): an extended and updated framework for modeling biogenic emissions, Geosci. Model Dev., 5, 1471–1492, https://doi.org/10.5194/gmd-5-1471-2012, 2012. a
Hersbach, H., Bell, B., Berrisford, P., Hirahara, S., Horányi, A., Muñoz-Sabater, J., Nicolas, J., Peubey, C., Radu, R., Schepers, D., Simmons, A., Soci, C., Abdalla, S., Abellan, X., Balsamo, G., Bechtold, P., Biavati, G., Bidlot, J., Bonavita, M., De Chiara, G., Dahlgren, P., Dee, D., Diamantakis, M., Dragani, R., Flemming, J., Forbes, R., Fuentes, M., Geer, A., Haimberger, L., Healy, S., Hogan, R. J., Hólm, E., Janisková, M., Keeley, S., Laloyaux, P., Lopez, P., Lupu, C., Radnoti, G., de Rosnay, P., Rozum, I., Vamborg, F., Villaume, S., and Thépaut, J.-N.: The ERA5 global reanalysis, Q. J. Roy. Meteor. Soc., 146, 1999–2049, https://doi.org/10.1002/qj.3803, 2020. a
Hoesly, R. M., Smith, S. J., Feng, L., Klimont, Z., Janssens-Maenhout, G., Pitkanen, T., Seibert, J. J., Vu, L., Andres, R. J., Bolt, R. M., Bond, T. C., Dawidowski, L., Kholod, N., Kurokawa, J.-I., Li, M., Liu, L., Lu, Z., Moura, M. C. P., O'Rourke, P. R., and Zhang, Q.: Historical (1750–2014) anthropogenic emissions of reactive gases and aerosols from the Community Emissions Data System (CEDS), Geosci. Model Dev., 11, 369–408, https://doi.org/10.5194/gmd-11-369-2018, 2018. a
Houtekamer, P. L. and Mitchell, H. L.: A sequential ensemble Kalman filter for atmospheric data assimilation, Mon. Weather Rev., 129, 123–137, 2001. a
Jin, J., Lin, H. X., Heemink, A., and Segers, A.: Spatially varying parameter estimation for dust emissions using reduced-tangent-linearization 4DVar, Atmos. Environ., 187, 358–373, https://doi.org/10.1016/j.atmosenv.2018.05.060, 2018. a
Keenan, T., Niinemets, Ü., Sabate, S., Gracia, C., and Peñuelas, J.: Process based inventory of isoprenoid emissions from European forests: model comparisons, current knowledge and uncertainties, Atmos. Chem. Phys., 9, 4053–4076, https://doi.org/10.5194/acp-9-4053-2009, 2009. a
Keller, C. A., Knowland, K. E., Duncan, B. N., Liu, J., Anderson, D. C., Das, S., Lucchesi, R. A., Lundgren, E. W., Nicely, J. M., Nielsen, E., Ott, L. E., Saunders, E., Strode, S. A., Wales, P. A., Jacob, D. J., and Pawson, S.: Description of the NASA GEOS Composition Forecast Modeling System GEOS-CF v1.0, J. Adv. Model. Earth Sy., 13, e2020MS002413, https://doi.org/10.1029/2020MS002413, 2021. a, b
Lei, L. and Anderson, J. L.: Comparisons of empirical localization techniques for serial ensemble Kalman filters in a simple atmospheric general circulation model, Mon. Weather Rev., 142, 739–754, 2014. a
Li, G., Fang, C., Wang, S., and Sun, S.: The Effect of Economic Growth, Urbanization, and Industrialization on Fine Particulate Matter (PM2.5) Concentrations in China, Environ. Sci. Technol., 50, 11452–11459, https://doi.org/10.1021/acs.est.6b02562, 2016a. a
Li, J., Hao, X., Liao, H., Wang, Y., Cai, W., Li, K., Yue, X., Yang, Y., Chen, H., Mao, Y., Fu, Y., Chen, L., and Zhu, J.: Winter particulate pollution severity in North China driven by atmospheric teleconnections, Nat. Geosci., 15, 349–355, 2022. a
Li, K., Liao, H., Zhu, J., and Moch, J. M.: Implications of RCP emissions on future PM2.5 air quality and direct radiative forcing over China, J. Geophys. Res.-Atmos., 121, 12985–13008, https://doi.org/10.1002/2016JD025623, 2016b. a
Li, M., Liu, H., Geng, G., Hong, C., Liu, F., Song, Y., Tong, D., Zheng, B., Cui, H., Man, H., Zhang, Q., and He, K.: Anthropogenic emission inventories in China: a review, Nat. Sci. Rev., 4, 834–866, https://doi.org/10.1093/nsr/nwx150, 2017. a
Li, Y., Jiang, P., She, Q., and Lin, G.: Research on air pollutant concentration prediction method based on self-adaptive neuro-fuzzy weighted extreme learning machine, Environ. Pollut., 241, 1115–1127, https://doi.org/10.1016/j.envpol.2018.05.072, 2018. a
Lin, H., Feng, X., Fu, T.-M., Tian, H., Ma, Y., Zhang, L., Jacob, D. J., Yantosca, R. M., Sulprizio, M. P., Lundgren, E. W., Zhuang, J., Zhang, Q., Lu, X., Zhang, L., Shen, L., Guo, J., Eastham, S. D., and Keller, C. A.: WRF-GC (v1.0): online coupling of WRF (v3.9.1.1) and GEOS-Chem (v12.2.1) for regional atmospheric chemistry modeling – Part 1: Description of the one-way model, Geosci. Model Dev., 13, 3241–3265, https://doi.org/10.5194/gmd-13-3241-2020, 2020. a, b
Lu, G. Y. and Wong, D. W.: An adaptive inverse-distance weighting spatial interpolation technique, Comput. Geosci., 34, 1044–1055, https://doi.org/10.1016/j.cageo.2007.07.010, 2008. a
Ma, J., Yu, Z., Qu, Y., Xu, J., and Cao, Y.: Application of the XGBoost Machine Learning Method in PM2.5 Prediction: A Case Study of Shanghai, Aerosol Air Qual. Res., 20, 128–138, https://doi.org/10.4209/aaqr.2019.08.0408, 2020. a
Mao, W., Jiao, L., and Wang, W.: Long time series ozone prediction in China: A novel dynamic spatiotemporal deep learning approach, Build. Environ., 218, 109087, https://doi.org/10.1016/j.buildenv.2022.109087, 2022. a
Murray, L. T., Jacob, D. J., Logan, J. A., Hudman, R. C., and Koshak, W. J.: Optimized regional and interannual variability of lightning in a global chemical transport model constrained by LIS/OTD satellite data, J. Geophys. Res.-Atmos., 117, D20307, https://doi.org/10.1029/2012JD017934, 2012. a
Oliver, M. A. and Webster, R.: Kriging: a method of interpolation for geographical information systems, Int. J. Geogr. Inf. Syst., 4, 313–332, 1990. a
Park, R. J., Jacob, D. J., Field, B. D., Yantosca, R. M., and Chin, M.: Natural and transboundary pollution influences on sulfate-nitrate-ammonium aerosols in the United States: Implications for policy, J. Geophys. Res.-Atmos., 109, D15204, https://doi.org/10.1029/2003JD004473, 2004. a
Solazzo, E., Bianconi, R., Hogrefe, C., Curci, G., Tuccella, P., Alyuz, U., Balzarini, A., Baró, R., Bellasio, R., Bieser, J., Brandt, J., Christensen, J. H., Colette, A., Francis, X., Fraser, A., Vivanco, M. G., Jiménez-Guerrero, P., Im, U., Manders, A., Nopmongcol, U., Kitwiroon, N., Pirovano, G., Pozzoli, L., Prank, M., Sokhi, R. S., Unal, A., Yarwood, G., and Galmarini, S.: Evaluation and error apportionment of an ensemble of atmospheric chemistry transport modeling systems: multivariable temporal and spatial breakdown, Atmos. Chem. Phys., 17, 3001–3054, https://doi.org/10.5194/acp-17-3001-2017, 2017.  a
Stein, M. L.: Interpolation of spatial data: some theory for kriging, Springer Science & Business Media, https://doi.org/10.1007/978-1-4612-1494-6, 1999. a
Taylor, K. E.: Taylor diagram primer, Work. Pap, 1–4, https://pcmdi.llnl.gov/staff/taylor/CV/Taylor_diagram_primer.pdf (last acess: 24 August 2023), 2005. a
The International GEOS-Chem User Community: geoschem/GCClassic: GEOS-Chem 13.1.0 (13.1.0), Zenodo [code], https://doi.org/10.5281/zenodo.4984436, 2021 a, b
The State Council of China: Air Pollution Prevention and Control Action Plan, http://www.gov.cn/jrzg/2013-09/12/content_2486918.htm (last access: 13 July 2022), 2013. a
Wang, Q., Wang, J., Zhou, J., Ban, J., and Li, T.: Estimation of PM25-associated disease burden in China in 2020 and 2030 using population and air quality scenarios: a modelling study, Lancet Planet. Health, 3, e71–e80, 2019. a
Yu, C., Chen, L., Su, L., Fan, M., and Li, S.: Kriging interpolation method and its application in retrieval of MODIS aerosol optical depth, in: 2011 19th International Conference on Geoinformatics, IEEE, 1–6, https://doi.org/10.1109/GeoInformatics.2011.5981052 2011. a
Zheng, B., Tong, D., Li, M., Liu, F., Hong, C., Geng, G., Li, H., Li, X., Peng, L., Qi, J., Yan, L., Zhang, Y., Zhao, H., Zheng, Y., He, K., and Zhang, Q.: Trends in China's anthropogenic emissions since 2010 as the consequence of clean air actions, Atmos. Chem. Phys., 18, 14095–14111, https://doi.org/10.5194/acp-18-14095-2018, 2018. a