Articles | Volume 16, issue 17
https://doi.org/10.5194/gmd-16-5069-2023
© Author(s) 2023. This work is distributed under
the Creative Commons Attribution 4.0 License.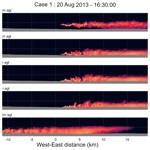 Passive-tracer modelling at super-resolution with Weather Research and Forecasting – Advanced Research WRF (WRF-ARW) to assess mass-balance schemes
Super-resolution atmospheric modelling can be used to interpret and optimize environmental observations during top-down emission rate retrieval campaigns (e.g. aircraft-based) by providing complementary data that closely correspond to real-world atmospheric pollution transport and dispersion conditions. For this work, super-resolution model simulations with large-eddy-simulation sub-grid-scale parameterization were developed and implemented using WRF-ARW (Weather Research and Forecasting - Advanced Research WRF). We demonstrate a series of best practices for improved (realistic) modelling of atmospheric pollutant dispersion at super-resolutions. These include careful considerations for grid quality over complex terrain, sub-grid turbulence parameterization at the scale of large eddies, and ensuring local and global tracer mass conservation. The study objective was to resolve small dynamical processes inclusive of spatio-temporal scales of high-speed (e.g. 100 m s−1) airborne measurements. This was achieved by downscaling of reanalysis data from 31.25 km to 50 m through multi-domain model nesting in the horizontal and grid-refining in the vertical. Further, WRF dynamical-solver source code was modified to simulate the release of passive tracers within the finest-resolution domain. Different meteorological case studies and several tracer source emission scenarios were considered. Model-generated fields were evaluated against observational data (surface monitoring network and aircraft campaign data) and also in terms of tracer mass conservation. Results indicated agreement between modelled and observed values within 5 ∘C for temperature, 1 %–25 % for relative humidity, and 1–2 standard deviations for wind fields. Model performance in terms of (global and local) tracer mass conservation was within 2 % to 5 % of model input emissions. We found that, to ensure mass conservation within the modelling domain, tracers should be released on a regular-resolution grid (vertical and horizontal). Further, using our super-resolution modelling products, we investigated emission rate estimations based on flux calculation and mass-balancing. Our results indicate that retrievals under weak advection conditions (horizontal wind speeds < 5 m s−1) are not reliable due to weak correlation between the source emission rate and the downwind tracer mass flux. In this work we demonstrate the development of accurate super-resolution model simulations useful for planning, interpreting, and optimizing top-down retrievals, and we discuss favourable conditions (e.g. meteorological) for reliable mass-balance emission rate estimations.
Received: 20 Oct 2022 – Discussion started: 21 Nov 2022 – Revised: 04 Jul 2023 – Accepted: 24 Jul 2023 – Published: 05 Sep 2023
Generating model simulations of atmospheric processes at high spatial and temporal resolutions (super-resolution) has numerous applications, including hybrid physical-model and machine-learning applications (Onishi et al., 2019), dynamic downscaling of coarse-resolution climate and weather information (Watson et al., 2020), and urban-climate feedback studies (Wu et al., 2021). Super-resolution modelling products (e.g. Δx<100 m, Δt<1 s) can also provide desirable information at the scale of measurements during top-down campaigns, which can be analysed in conjunction with measurement data to interpret observations, quantify uncertainty in the measurements, test the validity of assumptions in the employed top-down methodologies, and help fill the information gap in the measurements. In the context of mobile-platform (e.g. aircraft) top-down source emission rate estimations, numerical model simulations can be employed in various approaches. These include offline applications, where a meteorological model (e.g. Weather Research and Forecasting – WRF) is used to replicate conditions during airborne and/or ground-based observations. The model-generated meteorological fields are often used either to drive a separate Lagrangian tracer dispersion model (e.g. HYSPLIT) forward in time to simulate tracer concentrations at observation times and locations or are used for inverse method analysis of emission rates (Cui et al., 2015; Lauvaux et al., 2016; Kia et al., 2022). Previous airborne studies have also used model-generated wind fields and aircraft-measured concentrations for flux calculations and mass-balance analysis (Karion et al., 2015). The emission and transport of passive tracers can be simulated in line with meteorological fields within the same modelling platform, such as the Eulerian WRF model, for source emission characterizations at the scale of observations (Ahmadov et al., 2015; Barkley et al., 2017; Nahian et al., 2020). For these applications, model-generated fields are analysed as complementary information for characterizing emissions based on airborne observational data. For instance, Ražnjević et al. (2022) employed large-eddy-simulation (LES) modelling driven by reanalysis data for interpreting field observations of CH4. Further, model simulations of tracer transport and dispersion have previously been used to assess the uncertainties and errors in top-down retrievals and to optimize the observational approach (Conley et al., 2017; Fathi, 2017; Angevine et al., 2020; Fathi et al., 2021; Fathi, 2022). Numerical model simulations can also be used to simulate ground-based and/or airborne observations, where model-generated fields are used as a proxy for measurement data (virtual sampling). For a robust model-based study of observational methods, model resolutions must be chosen to resolve the timescales and length scales of the measurements. For example, Gasch et al. (2020) simulated aircraft-based Doppler lidar measurements of wind fields through LES modelling at 10 m resolution to investigate airborne lidar measurements for a lidar range length of 72 m.
Fathi et al. (2021) used a regional chemical transport model with physical and chemical process representations (Global Environmental Multiscale - Modelling Air-quality and Chemistry – GEM-MACH) and were successful in evaluating the application of the mass-balance technique in top-down retrievals using model-simulated fields as a proxy for real-world environmental fields. However, the relatively coarse resolution (2.5 km, 2 min) of the employed model was insufficient for the investigation of aircraft-based retrievals through virtual airborne samplings within the model-simulated 4D fields. In airborne campaigns, environmental observations (e.g. wind, temperature, tracer concentrations) are made while flying downwind or around emission sources. These data are then processed through various retrieval algorithms to estimate source emission rates (Peischl et al., 2010; Ryoo et al., 2019; Gordon et al., 2015). Underlying assumptions common among retrieval algorithms are the steady-state conditions during the sampling time of several hours (Alfieri et al., 2010). Data collection during aircraft-based in situ measurements is done through 3D space and over time; thus, (a) any point in space along the flight path is visited only once and (b) spatially adjacent data points are collected at different (consecutive) times. By assuming stationarity (e.g. wind, emissions), the observational data are assumed to be representative of the average conditions during the sampling time. However, time-varying conditions (whether due to turbulence or weather trends) can reduce the representativeness of the sparsely collected environmental data. To study these effects through model simulations, the model resolutions should be chosen to resolve dynamical processes (turbulence) at the spatio-temporal scales at which aircraft in situ measurements are made. For instance, to simulate (and evaluate) in situ measurements at a flying or sampling speed of 100 m s−1 (e.g. onboard instrument sampling frequency ≥1 Hz: Conley et al., 2017; Gordon et al., 2015), the model should be able to simulate (and output) atmospheric fields at length scales and timescales of Δx≤ 100 m and Δt≤ 1 s. Recent real-case LES-modelling studies have commonly referred to such resolutions (Δx≤ 250 m) as "super-resolution" (e.g. Wu et al., 2021; Onishi et al., 2019; Watson et al., 2020). Herein we use the same terminology to describe our WRF model simulations.
The modelling requirements described above motivated the development of super-resolution micro- and LES-scale atmospheric tracer transport model simulations fine enough to resolve smaller-scale flow details and the effects of turbulence and changing stability in atmospheric mixing of tracer concentrations downwind of point and area sources of emission, enabling
thorough dynamical evaluation of the application of the divergence theorem and the mass-balance technique in inferring source emission rates;

investigation of the effects of flight patterns in aircraft-based top-down retrievals, utilizing a model-generated 4D database;

exploration of an improved sampling approach through an optimized flight design and multi-platform (in situ, remote) sampling; and

exploration of improved data analysis, post-processing, and interpolation or extrapolation methods needed for flux calculations based on airborne observations.
In this study, we present a proof of concept for performing super-resolution model simulations of atmospheric tracer transport and dispersion using WRF with the ARW (Advanced Research WRF) dynamical-solver core. The concepts that are explored here include (a) realistic modelling of the atmospheric boundary layer at the large-eddy-simulation scale over complex terrain, (b) mass-conserved modelling of atmospheric dispersion and transport of passive tracers under the conditions described in (a), and (c) generation of modelling products at the spatio-temporal scale of airborne observations (aircraft-based in situ and remote measurements) that are useful for evaluating the observational methods and providing recommendations for future studies. We evaluate the performance of our model simulations against historical observational data from ground-based monitoring stations and aircraft-based observations from a 2013 airborne campaign, the Joint Canada-Alberta Implementation Plan on Oil Sands Monitoring (JOSM, 2013). We further assess the performance of our simulations in terms of global (over the entire modelling domain) and local (sub-domain) mass conservation by conducting 4D mass-balance analysis.
We explore three different cases (dates and times) during August and September 2013 over Canadian oil sands (Athabasca, Alberta). We use reanalysis data as initial and boundary conditions for our case studies. To achieve the desired micro- and LES-scale resolutions, we perform multi-domain nested simulations with LES parameterization for the finest domains. Further, we modify the WRF source code (dynamical solver) to simulate the release of passive tracers from point and area sources within the finest model domain. The novel modelling approach with WRF presented in this work is comprised of (1) dynamical downscaling of reanalysis data from synoptic to LES resolution, (2) super-resolution model simulations through horizontal nesting and vertical grid refining, (3) LES sub-grid parameterization, and (4) passive-tracer transport and dispersion simulations. To the best of our knowledge, the combination of these capabilities in WRF modelling has not been explored extensively in the past where reanalysis-driven super-resolution dispersion modelling under local mass-conservation conditions is conducted. In this work we discuss a series of modelling best practices for such simulations in the context of our case studies, for improved modelling of atmospheric pollutant dispersion. The modelling approach in this work is geared towards the assessment of mass-balance methodologies, but throughout we discuss the general usefulness of super-resolution modelling for generating highly resolved (spatial and temporal) pollutant dispersion forecasts and their potential application in measurement planning and interpreting the observations. The model output data from the super-resolution simulations in this work are also used to evaluate the accuracy of aircraft-based emission rate retrieval methodologies in Fathi (2022).
2.1

 Case studies

For this work we chose our case studies from the times and locations of three emission estimation flights during the JOSM 2013 campaign over the Athabasca oil sands region (Alberta, Canada). This choice was made to enable qualitative comparisons to observations. We considered the geographical location of an oil sands facility, Canadian Natural Resources Ltd. (CNRL). We configured our WRF model domain centred over the CNRL facility. For our WRF simulations, we considered model simulation times overlapping those of three JOSM 2013 box flights over CNRL (see Table 1). "Box flight" refers to closed-shape (e.g. rectangular, cylindrical) flight paths around the target emission source, where aircraft-based measurements are used to estimate source emission rates using the mass-balance technique (Gordon et al., 2015). Note that case 2 on 26 August 2013 was a "rejected" case in the actual campaign analysis due to unsuitable atmospheric conditions for aircraft-based retrievals (Fathi et al., 2021), but it is analysed here as an assessment of the super-resolution model.

For each of these three cases, 11 tracer emission scenarios or sources are considered. Table 2 provides the spatial details for the different emission sources, including seven elevated point sources (representing stack emissions), two small-area sources (representing surface mines), a large-area source (representing the tailing pond west of CNRL), and a long multi-section line source (over the approximate extent of the Horizon Highway south of CNRL). Table 2 lists geographical coordinates and tracer release heights (e.g. stack top height) for all of the sources. Horizontal dimensions are also provided (in brackets) for the line and area sources. The horizontal dimensions for each of the point sources are equal to those of one grid cell in the finest model domain. Coordinates and heights for CNRL1–4 correspond to actual (real-world) stacks in the CNRL facility. The hypothetical source (CNRL0) is co-located with CNRL1 and CNRL4, with the stack top or release height over 4 times higher than the tallest facility stack (CNRL1), simulating the initial (assumed instantaneous) plume rise due to buoyancy. Figure 1 shows a map of the region with the location and spatial extent of case study emission sources marked (labelled) in red. The large rectangular area (surface) source represents the tailing pond to the west of the CNRL complex. The multi-segment line (surface) source represents the Horizon Highway south of CNRL. Two small-area sources labelled MINE1 and MINE2 represent emissions from surface mine excavation sites within the CNRL complex. Figure 1 also shows the locations of two hypothetical point (stack) sources: CNRLs (south) and CNRLw (west). During two of our case studies on 20 August 2013 (case 1) and 2 September 2013 (case 3), the mean wind was from the west and south-west, placing these two hypothetical stacks upwind of the CNRL facility.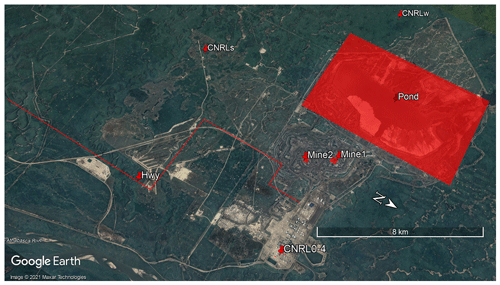 2.2

 Model and technical set-up

For this work, the Weather Research and Forecasting (WRF version 3.9, https://www2.mmm.ucar.edu/wrf/users/download/get_source.html, last access: 4 July 2023, Skamarock et al., 2008) model with the ARW dynamical core was utilized. WRF-ARW provides a multi-scale simulation framework suitable for efficient parallel computing with a vast range of physical parameterizations adaptable for different scales and dynamical processes. The Advanced Research WRF (ARW) solver features a suite of fully compressible Euler non-hydrostatic equations for solving prognostic variables, including velocity components in Cartesian coordinates (u, v, w), and scalars such as water-vapour mixing ratio and tracer concentration. The third-order Runge–Kutta scheme (RK3) is used for time integration in ARW (Wicker and Skamarock, 2002). The spatial discretization in WRF-ARW uses Arakawa C-grid staggering with thermodynamics (scalar) variables (e.g. moisture, tracer) defined on grid cell centres (mass points) and velocity components defined normal to the respective faces of model grid cells (one-half grid length from mass points). Second- to sixth-order spatial discretization and the RK3 time-integration scheme are available in ARW to solve for advection of momentum, scalars, and geopotential in flux form (the governing equations). The RK3 transport–advection (combined with flux divergence) in WRF-ARW is conservative; however, it does not guarantee positive definiteness on its own. Negative mass creation is offset by positive mass such that tracer or scalar mass is conserved over the modelling domain (Skamarock et al., 2008). Negative mass can be set to zero, but this will result in an erroneous increase in tracer mass within the modelling domain. By choosing a positive-definite scalar advection option in WRF-ARW, as we did in our simulations, a flux re-normalization is applied to the transport step to remove the non-physical effects such as creation of the negative mass (Skamarock and Weisman, 2009). To summarize, if the outgoing fluxes (removing mass from the control volume) in the final step of RK3 predict a negative updated scalar or tracer mixing ratio, the outgoing fluxes are re-normalized to be equivalent to mass within the volume. For more details, see Sect. 3.2.3 in Skamarock et al. (2008). Various formulations are available in the ARW solver for explicit spatial diffusion (turbulent mixing), including a sixth-order spatial filter proposed by Xue (2000). The implementation of this scheme in ARW is described in Knievel et al. (2007). The sixth-order turbulent diffusion scheme is also prone to creating negative mass due to negative up-gradient diffusion. Monotonicity can be enforced in the model (user-specified option) by setting negative diffusive fluxes to zero; however, it does not conserve scalar mass (Skamarock et al., 2008). Hence, in our simulations we used the sixth-order diffusion scheme without the monotonic option.

Mesh refining and increased resolution can be achieved in WRF through series or concurrent grid nesting in the horizontal dimensions. With concurrent grid nesting, multiple computational domains with increasing resolution can be integrated simultaneously. The process where the coarse "parent" domain's output is interpolated to provide initial and lateral boundary conditions for the fine "child" domain is referred to as one-way nesting. Two-way nesting is achieved when information from the child domain is aggregated to write the overlapping regions of the parent domain. At high resolutions (<3 km), mesh refining in WRF via grid nesting only in the horizontal dimensions limits control over the grid aspect ratio, which can lead to poor grid quality and numerical errors. It has been shown that grid quality affects the accuracy of numerical solutions (Lee and Tsuei, 1992; You et al., 2006). A procedure permitting vertical nesting for one-way concurrent simulation is developed and described in Daniels et al. (2016) and allows high resolutions of the order of metres, while grid quality is maintained. This procedure permits one-way concurrent grid nesting in both the horizontal and vertical, and this is utilized here for WRF simulations with five domains (d01–d05) with increasing resolutions from ∼31 km to 50 m in the horizontal dimensions and up to a near-surface vertical resolution of ∼10 m in the finest domain (d05).

With regards to nesting in the horizontal, Skamarock et al. (2008) recommended the use of odd nesting ratios such as 1:3 and 1:5 (as opposed to even ratios like 1:2) due to the staggered structure of the Arakawa C grid used in the WRF-ARW modelling framework. Mohan and Sati (2016) investigated the impact of different nesting ratios in WRF and found no statistically significant difference in simulated results with ratios 1:3, 1:5, and 1:7, suggesting that larger ratios can be used to reduce the computational cost in nested simulations. However, larger ratios (e.g. 1:9) can result in increased interpolation errors and are not recommended. In this work, as a compromise between numerical accuracy and computational cost, we used a 1:5 nesting ratio. Figure 2a shows the five domains of the model and their relative sizes. Model domains are centred on the region of Athabasca oil sands, with the two finest domains (d04 and d05) centred on the CNRL Horizon facility in the north-western quarter of the complex, west of the Athabasca River. Figure 2b shows a map of the region with the CNRL facility marked on the map (red star). Boundaries of the two finest domains, d04 and d05, are also overlaid on the map in Fig. 2b. The relative location of the other oil sands facilities can be seen in the figure. CNRL is in the north-western corner of the complex, with no facilities to its north and west. The oil sands region is located in the Athabasca River valley, with 400–500 m vertical relief within a few tens of kilometres of the facilities (mainly in the west–east direction). This may give rise to complex flow conditions and frequent vertical wind shear in the valley (Gordon et al., 2018). In Sect. 3.2 we discuss the performance of our super-resolution model simulations against the observed meteorology for the same locations and time periods.

The North American Regional Reanalysis (NARR) GRIB (GRIdded Binary) data (at 3 h intervals) from NOAA (National Oceanic and Atmospheric Administration) archives were used for August and September 2013 (the period of the JOSM 2013 campaign) over the Athabasca oil sands region (Alberta, Canada). The NARR data used for this study can be accessed at NOAA-Fathi (2022). Realistic WRF-ARW simulations were carried out with concurrent one-way grid nesting in the horizontal dimensions with five domains (d01–d05) at a ratio of 1:5 and with mesh grid refining in the vertical for the two smallest and finest domains (d04 and d05) by consecutively increasing the number of vertical levels near the surface. The finest domain (d05) has a horizontal grid size of Δx=50 m over the entire domain, a Δt=0.16 s model simulation time step, and Δz=11.62 m for the first 40 full grid levels near the surface. Note that the vertical resolution of about 12 m for the bottom 500 m a.g.l. (above ground level) is sufficient for investigating and evaluating different methods for extrapolating sampled data below the lowest flight level (typically ∼ 150 m) where no aircraft measurements are usually made, which is required for flux estimations in top-down emission rate retrieval methods (Gordon et al., 2015). Further, note that Δx and Δt configurations are set as such to ensure the Courant–Friedrichs–Lewy (CFL) stability criterion , where is the maximum wind speed in the model (Jacobson, 2005). Table 3 provides the details of model grid configurations for the five domains.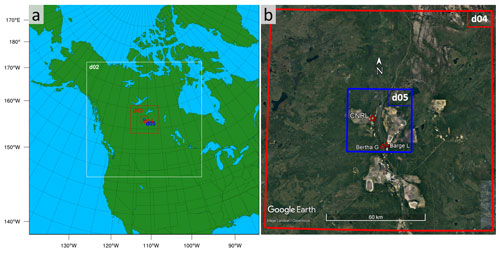 In order to simulate small-scale atmospheric dynamical processes, the finest two model domains (d04 and d05) were configured with the following diffusion scheme and LES sub-grid parameterization options available in the WRF model (Skamarock et al., 2008).
The diffusion option was set to "full-diffusion" mode (diff_opt=2) to accurately compute horizontal gradients using full metric terms.

The horizontal diffusion option was configured with the sixth-order diffusion scheme (diff_6th_opt=1).

For vertical and horizontal diffusion by sub-grid turbulence, the "K option" was set to km_opt=2 to solve a prognostic equation for turbulent kinetic energy (TKE) where the diffusion coefficient K is calculated based on TKE (see Appendix A).
WRF 3.7+ includes a basic framework for initiating and creating continuous (and variable) emission tracer plumes. To simulate the emission of passive tracers, the WRF dynamical-solver source code was modified following an approach similar to Blaylock's (as described in Blaylock, 2017) and used in Blaylock et al. (2017). Tracer amounts were initiated at several different horizontal locations within the finest domain (d05) after 30 min of model simulation. A meteorological spin-up time of 1 h was considered through testing with the modelling set-up for different initial and boundary conditions according to the following criteria. For the cases we considered, within the first hour of simulation time, (a) the model boundary conditions propagated over the entire span of domain d05, (b) model winds (in the west–east and south–north directions) assumed continuous profiles both horizontally and between model vertical layers, and (c) water vapour on model mass layers (horizontal and vertical mass grid points) assumed continuous profiles within this time period. Tracer release for our considered emission scenarios (see Table 2) started after a 30 min spin-up time (half the meteorological spin-up time) and continued for the rest of the simulation period. These included surface emissions on several model grid points at the lowest level (i.e. level 1 at ∼ 6 m a.g.l.) at various locations and stack emissions at levels 3, 5, 9, 10, and 40 according to the stack top heights and horizontal locations described in Table 2. Note that, in WRF-ARW, vertical levels (Fig. S1) are configured using a terrain-following hydrostatic-pressure coordinate system (Skamarock et al., 2008), and therefore stack top heights for our simulations are assigned to pressure levels with heights (in metres) closest to the source heights. Depending on pressure changes, the heights of pressure levels can vary over time. This variation was determined to be smaller than the corresponding vertical level thickness for our simulations, and therefore its impact on tracer release simulation is considered negligible in this work. All of the tracer emissions were implemented within the boundaries of the CNRL facility and the surrounding region in the eastern half of the modelling domain. All the emission scenarios involved the emission of passive and non-buoyant tracers with no interactions with meteorology and no defined surface deposition rates. Note that the topography input information (land use indices) used in our WRF simulations was not modified to represent oil sands operations (e.g. tailing ponds, excavation sites) and only represents natural features (e.g. river basins, hills). The release, dispersion, and transport of tracers from our emission scenarios under different meteorological conditions are discussed in Sect. 3.3.
2.3

 Divergence theorem and the mass-balance technique

For this work, the mass-balance technique is utilized for calculating the net integrated flux out of virtual control volumes (emission box) enclosing the emission sources of interest. The calculation steps in this section follow those in Fathi et al. (2021), with slight modifications for use with WRF model output data. For a detailed discussion on the application of the mass-balance and divergence theorem in estimating source emission rates, see Fathi et al. (2021).

In applying the mass-balance technique to estimate the rate of emissions from sources within a flux box (control volume), the mass flux exiting the box through the box top and lateral walls is equated to the emission rate of the tracer within the box. The processes contributing to the change of mass, for a passive tracer, within the control volume can be described with the following expression:

where the storage term SC represents the change in mass of tracer C within the control volume, EC represents the tracer emission rate, and FC,H and FC,V represent the net horizontal and vertical advective fluxes exiting through the lateral and top walls, respectively, of the flux box. FC,HT and FC,VT represent horizontal and vertical turbulent fluxes, respectively, across the box walls.

The total mass of the tracer within the control volume can be calculated by integrating the mass over the entire volume of the box at each model output time stamp (Δt=1 s):

where is the tracer concentration at each model grid point. Further, the storage term can be calculated by taking the time derivative of BC,Tot(t):

Horizontal advective flux through the lateral walls of the box can be calculated by extracting tracer concentration and normal wind (positive outwards) along the lateral walls of the box from model output:

where ds(x,y) is the path s(x,y) increment along the walls. U⊥ is the normal wind to the box walls (positive outwards).

Similarly, the vertical flux through the box top can be calculated as

where and are the tracer concentration and vertical wind speed, respectively, at the box top. See Appendix B for turbulent flux terms. As we show later, the vertical advective (FC,V) and turbulent (FC,HT, FC,VT) fluxes have negligible relative contributions to the mass-balance equation, with the horizontal advective flux FC,H being the dominant term removing mass from the box. We collect all the flux terms (advective and turbulent) contributing to the removal of tracer mass from the box into a single flux-out term as . By rearranging Eq. (1), the tracer emission rate can be estimated based on the other terms as

By extracting the required fields from the model output 4D database, Eq. (6) can be utilized to determine the source emission rate based on the mass-balance equation, which can then be compared to the known input emission rate. Following the calculation process described above, source emission rates can be estimated at each model output time step and compared to the model input emissions to evaluate model performance in terms of local mass-conservation and mass-flux consistency. See Table S1 for discrete integral expressions of different terms in the mass-balance equation (Eq. 6). Note that, for flux calculations in this work, model wind fields were linearly interpolated onto the mass grid points (where concentration fields are defined).
Model simulations were carried out for the period between 15:00 and 19:00 UT for cases 1 and 3 on 20 August and 2 September 2013, respectively. The simulation period for case 2 on 26 August 2013 was between 18:00 and 21:00 UT (see Table 1). NARR data at 31.25 km resolution were used as initial and boundary conditions for the coarsest domain (d01) with the same resolution. Through model nesting at an increasing resolution (and decreasing size) ratio of 1:5, the input reanalysis data were downscaled to consecutively higher resolutions all the way to 50 m in the finest domain (d05). Each parent domain provided initial and boundary conditions for their nested child domain: d01 ⇒ d02 ⇒ d03 ⇒ d04 ⇒ d05. Note that feedback (two-way nesting) between the parent and nested domains was turned off to allow for vertical grid refining for domains d04 and d05. Output frequency was set to 3 h for domains d01–d03, 100 s for d04, and 1 s for d05.
We developed and implemented super-resolution (<100 m) model simulations employing the WRF-ARW atmospheric modelling system. We used NARR data at 31 km resolution as initial and boundary conditions for our coarsest domain at the same resolution. Dynamical downscaling of reanalysis data was done through numerical model nesting with five domains from 31 km to 50 m at the finest-resolution domain over the CNRL oil sands facility. We chose our model simulation times and locations from three emission rate retrieval flights during the JOSM field campaign in August and September 2013. We performed model simulations for 3 d in August and September representing different meteorological conditions. Model simulations for the finest-resolution domain were conducted using large-eddy-simulation (LES) sub-grid parameterization. The main objective was to model the state of the atmosphere at a high enough resolution to simulate atmospheric dynamical processes at spatial and temporal scales of airborne measurements while ensuring local and global mass conservation. Model output data from our simulation cases were evaluated against historical observational data from two WBEA monitoring stations and aircraft observations during the JOSM 2013 campaign for the same locations and time periods. Model output fields showed good agreement with observational data within 5 ∘C for 2 m temperature and 1 %–25 % for 2 m relative humidity. General wind directions generated by the super-resolution model were within 20 to 30∘ of the observational data. Model wind speeds were in agreement with aircraft observations within 1–2 standard deviations.
We modified the WRF model dynamical-solver source code to simulate passive-tracer emissions within the finest modelling domain centred over the CNRL facility. Our case simulations included 11 different emission scenarios with stack–point and surface–area sources. Continuous emissions were simulated for time periods of 2–3 h during 3 different days. We evaluated the atmospheric dispersion and transport of tracer plumes from the 11 emission scenarios under different meteorological conditions. Unstable atmospheric conditions, low wind speeds, and strong vertical wind shear during our case study on 26 August 2013 resulted in weak advection of tracer plumes during the simulation time. During the case studies on 20 August and 2 September, atmospheric conditions were less variable and the vertical wind shear was weak, with higher wind speeds of about 5–15 m s−1. Tracer plumes from emission sources were advected mainly towards the east and north-east for these two cases. Similar conditions were observed during the JOSM 2013 field campaign for the same time periods and locations as our three case studies.
We evaluated the performance of our model simulations in terms of global (over the entire domain) mass conservation. For 1 case out of 11, creation of erroneous mass by the model transport step resulted in loss of tracer mass. For this emission case, tracer release was placed at the model vertical level where model vertical resolution transitions from the super-resolution of about 10 m to progressively coarser resolutions. Our results suggest that the unbalanced creation of erroneous mass at sharp concentration gradients, such as in the vicinity of point sources, is intensified on an irregular grid (an artifact of model dispersion). However, more investigation with longer simulation times (beyond the scope of this paper) is required to investigate such effects further. Small negative diffusive fluxes and the use of the positive-definite re-normalization scheme in our modelling set-up prevented non-physical effects (e.g. negative mass creation) for 10 out of 11 emission sources (assigned on a regular grid). The rate of change for tracer mass was calculated by integrating over the entire modelling domain and differentiating with respect to time. Results were within 2 %–4 % of model input emissions (MIE) for 10 out of 11 emission scenarios, indicating global mass conservation in our simulation cases. Therefore, it is recommended that tracer emissions be assigned to model grid points with regular grid spacing for several adjacent model cells along the x, y, and z directions.
We further investigated local mass conservation by mass-balance calculations over a sub-domain (control volume). Mass-balance calculations were conducted by considering a control volume (box) enclosing all the emission sources. We estimated within-box source emission rates by calculating the net exiting flux through box top and lateral walls as well as the temporal rate of change in tracer mass within the control volume. Under normal advective conditions (>5 m s−1 wind speeds), the horizontal advective flux was equal to over 90 % of the emission rate, while turbulent fluxes were less than 2 %. The remaining contribution came from the storage rate term, the release, and the accumulation rate of tracer mass within the control volume. Our mass-balance estimates were within 5 % of MIE for tracer sources, with release heights within the bottom 40 model vertical layers (with regular vertical grid spacing) for our three case studies (30 emission scenarios), indicating local mass conservation for our super-resolution WRF simulations. Again, this suggests that assigning tracer release on a regular grid (horizontal and vertical) would ensure mass conservation using the available WRF model mass-conservation schemes.
Except for one hypothetical emission source, our results for various tracer emission scenarios under different meteorological conditions were globally and locally mass-conserved within 4 % and 5 %, respectively, of model input emission rates. In Fathi (2022), we use the model output from super-resolution WRF simulations discussed here for a model-based study of airborne top-down source emission rate retrievals, where we evaluate the conventional methods and propose improved approaches for aircraft-based retrievals.
Appendix A:
 Prognostic TKE closure
The WRF model eddy viscosity (diffusivity) for the predicted turbulent kinetic energy option (K option km_opt=2) is computed using (Skamarock et al., 2008)
where e is the turbulent kinetic energy (prognostic in this scheme), Ck is a constant (typically ), and l is a length scale given as follows for the anisotropic option:
where N is the Brunt–Väisälä frequency: see Skamarock et al. (2008) for derivations. The eddy viscosity used for mixing scalars is divided by a turbulent Prandtl number Pr. The Prandtl number is for the horizontal eddy viscosity Kh and for the vertical eddy viscosity Kv. Note that the above parameters and values are for the anisotropic mixing option (mix_isotropic =0, default) that was used in our WRF simulations.
Appendix B:
 Mass-balance turbulent flux terms
Appendix C:
 WRF model output meteorology profiles for the three case studies
Code and data availability
SF set up and ran the WRF-ARW simulations, performed all the analyses using the model output data, and wrote the paper. MG and YC provided advice during planning and analysis and contributed to paper revisions.
The contact author has declared that none of the authors has any competing interests.
Publisher's note: Copernicus Publications remains neutral with regard to jurisdictional claims in published maps and institutional affiliations.
This research was enabled in part by support provided by Compute Ontario (Graham, computecanada.ca), WestGrid (Cedar, computecanada.ca), and the Digital Research Alliance of Canada (https://alliancecan.ca, last access: 4 July 2023). We acknowledge the use of flight parameter information from the ECCC Data Catalogue: Pollutant Transformation, Summer 2013 Aircraft Intensive Multi Parameters, Oil Sands Region.
This research has been supported by the Natural Sciences and Engineering Research Council of Canada (grant no. Discovery Grant RGPIN-2015-04292).
This paper was edited by Jinkyu Hong and reviewed by two anonymous referees.
Ahmadov, R., McKeen, S., Trainer, M., Banta, R., Brewer, A., Brown, S., Edwards, P. M., de Gouw, J. A., Frost, G. J., Gilman, J., Helmig, D., Johnson, B., Karion, A., Koss, A., Langford, A., Lerner, B., Olson, J., Oltmans, S., Peischl, J., Pétron, G., Pichugina, Y., Roberts, J. M., Ryerson, T., Schnell, R., Senff, C., Sweeney, C., Thompson, C., Veres, P. R., Warneke, C., Wild, R., Williams, E. J., Yuan, B., and Zamora, R.: Understanding high wintertime ozone pollution events in an oil- and natural gas-producing region of the western US, Atmos. Chem. Phys., 15, 411–429, https://doi.org/10.5194/acp-15-411-2015, 2015. a
Alfieri, S., Amato, U., Carfora, M., Esposito, M., and Magliulo, V.: Quantifying trace gas emissions from composite landscapes: A mass-budget approach with aircraft measurements, Atmos. Environ., 44, 1866–1876, https://doi.org/10.1016/j.atmosenv.2010.02.026, 2010. a
American Meteorological Society,: Gradient Richardson number, Glossary of Meteorology, http://glossary.ametsoc.org/wiki/Gradient_richardson_number (last access: 4 July 2023), 2022. a
Angevine, W. M., Peischl, J., Crawford, A., Loughner, C. P., Pollack, I. B., and Thompson, C. R.: Errors in top-down estimates of emissions using a known source, Atmos. Chem. Phys., 20, 11855–11868, https://doi.org/10.5194/acp-20-11855-2020, 2020. a
Barkley, Z. R., Lauvaux, T., Davis, K. J., Deng, A., Miles, N. L., Richardson, S. J., Cao, Y., Sweeney, C., Karion, A., Smith, M., Kort, E. A., Schwietzke, S., Murphy, T., Cervone, G., Martins, D., and Maasakkers, J. D.: Quantifying methane emissions from natural gas production in north-eastern Pennsylvania, Atmos. Chem. Phys., 17, 13941–13966, https://doi.org/10.5194/acp-17-13941-2017, 2017. a
Blaylock, B. K.: Tracer Plumes in WRF, https://home.chpc.utah.edu/~u0553130/Brian_Blaylock/tracer.html (last access: 8 March 2023), 2017. a
Blaylock, B. K., Horel, J. D., and Crosman, E. T.: Impact of Lake Breezes on Summer Ozone Concentrations in the Salt Lake Valley, J. Appl. Meteorol. Clim., 56, 353–370, https://doi.org/10.1175/JAMC-D-16-0216.1, 2017. a
Conley, S., Faloona, I., Mehrotra, S., Suard, M., Lenschow, D. H., Sweeney, C., Herndon, S., Schwietzke, S., Pétron, G., Pifer, J., Kort, E. A., and Schnell, R.: Application of Gauss's theorem to quantify localized surface emissions from airborne measurements of wind and trace gases, Atmos. Meas. Tech., 10, 3345–3358, https://doi.org/10.5194/amt-10-3345-2017, 2017. a, b
Cui, Y. Y., Brioude, J., McKeen, S. A., Angevine, W. M., Kim, S.-W., Frost, G. J., Ahmadov, R., Peischl, J., Bousserez, N., Liu, Z., Ryerson, T. B., Wofsy, S. C., Santoni, G. W., Kort, E. A., Fischer, M. L., and Trainer, M.: Top-down estimate of methane emissions in California using a mesoscale inverse modeling technique: The South Coast Air Basin, J. Geophys. Res.-Atmos., 120, 6698–6711, https://doi.org/10.1002/2014JD023002, 2015. a
Daniels, M. H., Lundquist, K. A., Mirocha, J. D., Wiersema, D. J., and Chow, F. K.: A New Vertical Grid Nesting Capability in the Weather Research and Forecasting (WRF) Model, Mon. Weather Rev., 144, 3725–3747, https://doi.org/10.1175/MWR-D-16-0049.1, 2016. a, b
ECCC: Pollutant Transformation, Summer 2013 Aircraft Intensive Multi Parameters, Oil Sands Region, https://data-donnees.ec.gc.ca/data/air/monitor/ambient-air-quality-oil-sands-region/pollutant-transformation-aircraft-based-multi-parameters-oil-sands-region/?lang=en (last access: 4 July 2023), 2013. a, b
Fathi, S.: Evaluating the Top-down Emission Rate Retrieval Algorithm (TERRA) Using Virtual Aircraft-based Sampling Within the GEM-MACH Model, Master's thesis, York University, http://hdl.handle.net/10315/34547 (last access: 4 July 2023), 2017. a
Fathi, S.: Optimizing Top-down Airborne Emission Retrievals through High and Super-Resolution Numerical Modelling, Dissertation, http://hdl.handle.net/10315/40663 (last access: 4 July 2023), 2022. a, b, c, d
Fathi, S., Gordon, M., Makar, P. A., Akingunola, A., Darlington, A., Liggio, J., Hayden, K., and Li, S.-M.: Evaluating the impact of storage-and-release on aircraft-based mass-balance methodology using a regional air-quality model, Atmos. Chem. Phys., 21, 15461–15491, https://doi.org/10.5194/acp-21-15461-2021, 2021. a, b, c, d, e, f, g, h, i, j, k, l
Gasch, P., Wieser, A., Lundquist, J. K., and Kalthoff, N.: An LES-based airborne Doppler lidar simulator and its application to wind profiling in inhomogeneous flow conditions, Atmos. Meas. Tech., 13, 1609–1631, https://doi.org/10.5194/amt-13-1609-2020, 2020. a
Gordon, M., Li, S.-M., Staebler, R., Darlington, A., Hayden, K., O'Brien, J., and Wolde, M.: Determining air pollutant emission rates based on mass balance using airborne measurement data over the Alberta oil sands operations, Atmos. Meas. Tech., 8, 3745–3765, https://doi.org/10.5194/amt-8-3745-2015, 2015. a, b, c, d
Gordon, M., Makar, P. A., Staebler, R. M., Zhang, J., Akingunola, A., Gong, W., and Li, S.-M.: A comparison of plume rise algorithms to stack plume measurements in the Athabasca oil sands, Atmos. Chem. Phys., 18, 14695–14714, https://doi.org/10.5194/acp-18-14695-2018, 2018. a
Jacobson, M. Z.: Fundamentals of Atmospheric Modeling, Cambridge University Press, 2nd Edn., Cambridge University Press, https://doi.org/10.1017/CBO9781139165389. 2005. a
JOSM: Joint Oil Sands Monitoring Plan, Integrated Monitoring Plan for the Oil Sands, Air Quality Component, p. 72, http://publications.gc.ca/site/eng/394253/publication.html (last access: 4 July 2023), 2013. a
Karion, A., Sweeney, C., Kort, E. A., Shepson, P. B., Brewer, A., Cambaliza, M., Conley, S. A., Davis, K., Deng, A., Hardesty, M., Herndon, S. C., Lauvaux, T., Lavoie, T., Lyon, D., Newberger, T., Pétron, G., Rella, C., Smith, M., Wolter, S., Yacovitch, T. I., and Tans, P.: Aircraft-Based Estimate of Total Methane Emissions from the Barnett Shale Region, Environ. Sci. Technol., 49, 8124–8131, https://doi.org/10.1021/acs.est.5b00217, 2015. a
Kia, S., Flesch, T. K., Freeman, B. S., and Aliabadi, A. A.: Calculating gas emissions from open-pit mines using inverse dispersion modelling: A numerical evaluation using CALPUFF and CFD-LS, J. Wind Eng. Ind. Aerod., 226, 105046, https://doi.org/10.1016/j.jweia.2022.105046, 2022. a
Knievel, J. C., Bryan, G. H., and Hacker, J. P.: Explicit Numerical Diffusion in the WRF Model, Mon. Weather Rev., 135, 3808–3824, https://doi.org/10.1175/2007MWR2100.1, 2007. a
Lauvaux, T., Miles, N. L., Deng, A., Richardson, S. J., Cambaliza, M. O., Davis, K. J., Gaudet, B., Gurney, K. R., Huang, J., O'Keefe, D., Song, Y., Karion, A., Oda, T., Patarasuk, R., Razlivanov, I., Sarmiento, D., Shepson, P., Sweeney, C., Turnbull, J., and Wu, K.: High-resolution atmospheric inversion of urban CO2 emissions during the dormant season of the Indianapolis Flux Experiment (INFLUX), J. Geophys. Res.-Atmos., 121, 5213–5236, https://doi.org/10.1002/2015JD024473, 2016. a
Lee, D. and Tsuei, Y.: A formula for estimation of truncation errors of convection terms in a curvilinear coordinate system, J. Comput. Phys., 98, 90–100, https://doi.org/10.1016/0021-9991(92)90175-X, 1992. a
Liu, Y., Warner, T., Liu, Y., Vincent, C., Wu, W., Mahoney, B., Swerdlin, S., Parks, K., and Boehnert, J.: Simultaneous nested modeling from the synoptic scale to the LES scale for wind energy applications, J. Wind Eng. Ind. Aerod., 99, 308–319, https://doi.org/10.1016/0021-9991(92)90175-X, 2011. a
Mohan, M. and Sati, A. P.: WRF model performance analysis for a suite of simulation design, Atmos. Res., 169, 280–291, https://doi.org/10.1016/j.atmosres.2015.10.013, 2016. a
Nahian, M. R., Nazem, A., Nambiar, M. K., Byerlay, R., Mahmud, S., Seguin, A. M., Robe, F. R., Ravenhill, J., and Aliabadi, A. A.: Complex Meteorology over a Complex Mining Facility: Assessment of Topography, Land Use, and Grid Spacing Modifications in WRF, J. Appl. Meteorol. Clim., 59, 769–789, https://doi.org/10.1175/JAMC-D-19-0213.1, 2020. a
NOAA-Fathi: North American Regional Reanalysis (NARR) data used in "Passive Tracer Modelling at Super- Resolution with WRF-ARW to Assess Mass-Balance Schemes", Zenodo [data set], https://doi.org/10.5281/zenodo.7302357, 2022. a, b
Onishi, R., Sugiyama, D., and Matsuda, K.: Super-Resolution Simulation for Real-Time Prediction of Urban Micrometeorology, SOLA, 15, 178–182, https://doi.org/10.2151/sola.2019-032, 2019. a, b
Panitz, H.-J., Nester, K., and Fiedler, F.: Mass budget simulation of NOx and CO for the evaluation of calculated emissions for the city of Augsburg (Germany), Atmos. Environ., 36, Supplement 1, 33–51, https://doi.org/10.1016/S1352-2310(02)00216-9, 2002. a
Peischl, J., Ryerson, T. B., Holloway, J. S., Parrish, D. D., Trainer, M., Frost, G. J., Aikin, K. C., Brown, S. S., Dubé, W. P., Stark, H., and Fehsenfeld, F. C.: A top-down analysis of emissions from selected Texas power plants during TexAQS 2000 and 2006, J. Geophys. Res.-Atmos., 115, D16303, https://doi.org/10.1029/2009JD013527, 2010. a
Ražnjević, A., van Heerwaarden, C., van Stratum, B., Hensen, A., Velzeboer, I., van den Bulk, P., and Krol, M.: Technical note: Interpretation of field observations of point-source methane plume using observation-driven large-eddy simulations, Atmos. Chem. Phys., 22, 6489–6505, https://doi.org/10.5194/acp-22-6489-2022, 2022.  a
Ryoo, J.-M., Iraci, L. T., Tanaka, T., Marrero, J. E., Yates, E. L., Fung, I., Michalak, A. M., Tadić, J., Gore, W., Bui, T. P., Dean-Day, J. M., and Chang, C. S.: Quantification of CO2 and CH4 emissions over Sacramento, California, based on divergence theorem using aircraft measurements, Atmos. Meas. Tech., 12, 2949–2966, https://doi.org/10.5194/amt-12-2949-2019, 2019. a
Skamarock, W. C. and Weisman, M. L.: The Impact of Positive-Definite Moisture Transport on NWP Precipitation Forecasts, Mon. Weather Rev., 137, 488–494, https://doi.org/10.1175/2008MWR2583.1, 2009. a
Skamarock, W. C., Klemp, J. B., Dudhia, J., Gill, D. O., Barker, D., Duda, M. G., and Powers, J. G.: A Description of the Advanced Research WRF Version 3 (No. NCAR/TN-475+STR), University Corporation for Atmospheric Research, https://doi.org/10.5065/D68S4MVH, 2008. a, b, c, d, e, f, g, h, i, j
Watson, C. D., Wang, C., Lynar, T., and Weldemariam, K.: Investigating two super-resolution methods for downscaling precipitation: ESRGAN and CAR, arXiv [preprint], https://doi.org/10.48550/ARXIV.2012.01233, 2020. a, b
WBEA-Fathi: Wood Buffalo Environmental Association (WBEA) Historical Monitoring Data used in "Passive Tracer Modelling at Super-Resolution with WRF-ARW to Assess Mass-Balance Schemes", Zenodo [data set], https://doi.org/10.5281/zenodo.7306284, 2022. a, b
Wicker, L. J. and Skamarock, W. C.: Time-Splitting Methods for Elastic Models Using Forward Time Schemes, Mon. Weather Rev., 130, 2088–2097, https://doi.org/10.1175/1520-0493(2002)130<2088:TSMFEM>2.0.CO;2, 2002. a
Wu, Y., Teufel, B., Sushama, L., Belair, S., and Sun, L.: Deep Learning-Based Super-Resolution Climate Simulator-Emulator Framework for Urban Heat Studies, Geophys. Res. Lett., 48, e2021GL094737, https://doi.org/10.1029/2021GL094737, e 2021. a, b
Xue, M.: High-Order Monotonic Numerical Diffusion and Smoothing, Mon. Weather Rev., 128, 2853–2864, https://doi.org/10.1175/1520-0493(2000)128<2853:HOMNDA>2.0.CO;2, 2000. a
You, D., Mittal, R., Wang, M., and Moin, P.: Analysis of stability and accuracy of finite-difference schemes on a skewed mesh, J. Comput. Phys., 213, 184–204, https://doi.org/10.1016/j.jcp.2005.08.007, 2006. a