Articles | Volume 16, issue 16
https://doi.org/10.5194/gmd-16-4639-2023
© Author(s) 2023. This work is distributed under
the Creative Commons Attribution 4.0 License.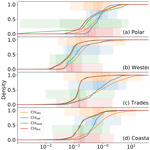 Using Probability Density Functions to Evaluate Models (PDFEM, v1.0) to compare a biogeochemical model with satellite-derived chlorophyll
Global biogeochemical ocean models are invaluable tools to examine how physical, chemical, and biological processes interact in the ocean. Satellite-derived ocean color properties, on the other hand, provide observations of the surface ocean, with unprecedented coverage and resolution. Advances in our understanding of marine ecosystems and biogeochemistry are strengthened by the combined use of these resources, together with sparse in situ data. Recent modeling advances allow the simulation of the spectral properties of phytoplankton and remote sensing reflectances, bringing model outputs closer to the kind of data that ocean color satellites can provide. However, comparisons between model outputs and analogous satellite products (e.g., chlorophyll a) remain problematic. Most evaluations are based on point-by-point comparisons in space and time, where spuriously large errors can occur from small spatial and temporal mismatches, whereas global statistics provide no information on how well a model resolves processes at regional scales. Here, we employ a unique suite of methodologies, the Probability Density Functions to Evaluate Models (PDFEM), which generate a robust comparison of these resources. The probability density functions of physical and biological properties of Longhurst's provinces are compared to evaluate how well a model resolves related processes. Differences in the distributions of chlorophyll a concentration (mg m−3) provide information on matches and mismatches between models and observations. In particular, mismatches help isolate regional sources of discrepancy, which can lead to improving both simulations and satellite algorithms. Furthermore, the use of radiative transfer in the model to mimic remotely sensed products facilitates model–observation comparisons of optical properties of the ocean.
Received: 29 Aug 2022 – Discussion started: 08 Nov 2022 – Revised: 19 Apr 2023 – Accepted: 20 Apr 2023 – Published: 18 Aug 2023
Ocean general circulation models (OGCMs), with the added ability to simulate biogeochemical and optical processes, are providing remarkable opportunities to assess relationships between physical, chemical, biological, and optical oceanographic processes and to identify feedbacks between the Earth's oceans and climate (Doney et al., 2001; Edwards, 2011; Séférian et al., 2020). These models describe pathways linking biological and chemical standing stocks (state variables) by either resolving physical, chemical, and biological processes explicitly or by parameterizing the fluxes. Current three-dimensional climate class coupled physical–biological OGCMs have a horizontal resolution that ranges from 2–3∘ down to ∼ 10 km for the global domain, while regional models can resolve horizontal scales down to a few meters. The associated simulated virtual ecosystems have varying complexity, from one phytoplankton type to hundreds of different categories of organisms.
One major challenge in the field of ecosystem and biogeochemical modeling is to devise appropriate methods to compare model results with different kinds of observations, especially since it is often not clear whether the comparisons necessarily have like-for-like quantities (Dutkiewicz et al., 2020a). Mismatches are spread over different temporal and spatial scales, with time lags and spatial shifts that can generate large errors that can be misleading (Doney et al., 2009). Current methods to compare the model output with gridded observations such as satellite-derived data are normally implemented on point-by-point match-ups in space and time, which can put an unreasonable penalty on the model due to small local temporal and spatial shifts. A simple but useful statistical metric is the root mean square difference (RMSD) that is summed over all match-ups. This approach can be extended by rescaling the match-up uncertainty to the data uncertainty and forming a cost function (Forget and Wunsch, 2007; Forget and Ponte, 2015) or can be explored in frequency space (Forget and Ponte, 2015). The method can be extended to address temporal lags by calculating the deviations between specific time intervals (day, month, season, and year; Doney et al., 2009).
A common method to collate different categories of errors when comparing model–observation match-ups over space and time is the Taylor diagram (Taylor, 2001). Data points in the Taylor space represent the correlation coefficient and scaled standard deviation (SD) as a single point in the first quadrant of a radial plot. The skills of different models or in different regions, time spans, or variables can be compared and contrasted by presenting each comparison as individual data points on the same diagram (Taylor, 2001). The concept of showing different statistical metrics as a normalized and unifying figure has been further expanded with more advanced visualizations such as, for example, target diagrams (Jolliff et al., 2009). These methods are quite useful, and their concepts can be extended for application in formal data assimilation (Stow et al., 2009). However, all of these techniques can provide spuriously large errors due to potentially small mismatches in time and space between the model and observations. Small process errors, for example, can be magnified by small spatial shifts in locations where spatial gradients are large. Small shifts in time can equally lead to large errors in the SD.
Here we present a complementary approach to evaluate OGCMs, where the statistical properties of probability density estimates are used instead of model–observation match-ups. The model probability for finding, for example, the chlorophyll a (Chl) concentration within a particular interval (in this case 7 years) either globally or in a specific ecological region is compared with the corresponding probability in the observations, without considering the exact time and location at which the values were found.
The study is formally based on probability density estimates, and we use the commonly used term of probability density function (PDF) without assuming that the distribution of values follows any particular statistical probability distribution. An example of this approach is the study by Jonsson et al. (2015), where net community production derived from in situ observations were shown to compare well with two biogeochemical models when zonal ranges of values were compared, while direct match-ups suggested no skill in the models to reproduce observations. Another example is the work of de Mora et al. (2016), where distributions of emergent properties such as phytoplankton community structure and carbon-to-chlorophyll ratios in the European Regional Seas Ecosystem Model (ERSEM) were compared with the equivalent satellite-derived or in situ properties. Mechanistic insight can be attained by comparing the moments of the probability distributions in different regions (Cael et al., 2018). The suite of methods and accompanying code package is called Probability Density Functions to Evaluate Models (PDFEM) version 1.0.
The rationale for our approach is that the distribution of a certain property has the ability to provide insight into how well a model resolves physical and biological processes, without being penalized for small and often unimportant offsets in space or time. Comparing the distributions of different properties simulated by models with corresponding distributions of observations has the potential to illuminate why observations and models diverge. The difference in the shapes of two distributions could provide clues as to how well processes are represented in the models. An absence of long tails in the model-derived distribution when they are seen in observations can, for example, suggest that potentially important but rare events are missing (Jönsson and Salisbury, 2016). Bimodality in the model-derived distributions, when they are not seen in observations, may indicate that the model solution has unrealistic local equilibria, and the opposite might suggest that processes or water masses that are important in the real world are not resolved by the model. And two similar but shifted distributions might suggest parameterization problems within the ecosystem model.
To further counteract spurious mismatches from small spatial displacements in point-by-point comparisons, we aggregate data within ecological provinces and compare the statistics of model the and observational distributions within each province. This feature-based comparison can be done at many different scales, ranging from eddies and fronts to the global scale (Vichi et al., 2011), and has been used in the past to look at, for example, phenology shifts in the North Atlantic Ocean (Henson et al., 2009). The regions over which data aggregation occurs could in principle be determined separately for models and observations, but this is challenging in practice, since such dynamically defined domains change in time (Reygondeau et al., 2013). Instead, we use static regions that can readily help us to identify processes that are potentially misrepresented in the models by isolating provinces that are expected to be controlled by similar processes and respond to similar sets of physical forcings.
Finally, we need to formulate metrics to compare models with observations. This is particularly challenging when comparing satellite-derived and model-simulated Chl, since the former is defined as a depth-integrated property that is dependent on the light attenuation in the water column, which is exponentially weighted towards the surface values (Gordon, 1980; Sathyendranath and Platt, 1989), and the model Chl is depth-resolved. The physical–biogeochemical model we use here (Darwin-CBIOMES-0; Forget et al., 2015; Forget and Ferreira, 2019; Dutkiewicz et al., 2015, 2021; Follett et al., 2021) addresses this challenge by explicitly resolving the light field vertically and simulating remote sensing reflectances (Rrs; Bailey and Werdell, 2006). The resulting 2D Rrs fields are converted to Chl using standard algorithms for satellite-derived Chl (see Sect. 2). These Chl estimates have analogous benefits and constraints to satellite-derived Chl when it comes to depth integration, also taking into account light attenuation in the ocean. The model, in effect, has a simulated satellite field which allows us to readily compare Chl estimates from satellites and models.
The paper is organized as follows. Section 2 describes all data and assumptions used in the study, followed by an analysis of (1) the global probability distributions of Chl from the Darwin-CBIOMES-0 configuration, the Ocean Colour Climate Change Initiative (OC-CCI) satellite-derived Chl product, and in situ observations, (2) the PDFs in all non-coastal Longhurst provinces, and (3) the monthly distributions of Chl in four representative Longhurst provinces in the North Atlantic Ocean. The Earth mover's distance (EMD) is used to quantify the differences in distributions. We end with an overarching discussion of the use of density distributions, Longhurst provinces, and model Chl derived from simulated Rrs to assess the skill of biogeochemical global ocean models.
We combined satellite-derived Chl from OC-CCI with in situ observations and model output from the Darwin-CBIOMES-0 configuration to investigate three new approaches for comparing biogeochemical models and observations. The meant the use of Chl proxies analogous to satellite-derived properties instead of directly diagnosed Chl in the model, the utility of Earth mover's distances (EMDs) as a metric for quantifying differences between distributions, and probability distributions instead of point-by-point comparisons. The first approach has already been presented and evaluated in Dutkiewicz et al. (2018, 2019) as a general tool, and we will focus on its use in the context of comparing distributions.
The main differences between ChlRrs and Chlmod occur on regional scales (Figs. 3–8), particularly in the polar and trades biomes, and these differences generally even out when aggregated over full biomes or globally (Figs. 3–5; Table 1). The differences seen in the polar biome puts earlier results by Jonsson et al. (2015), who argued that the ecosystem models underestimate winter phytoplankton biomass in the Southern Ocean, in a new light. It is possible that the use of ChlRrs and Chlsat as a proxy for phytoplankton biomass is biased in these regions on an inability to detect the low concentrations predicted by the models, which is something that must be further explored with in situ observations. While this issue might seem irrelevant due to the low Chl concentrations, it has large potential effects on the skill with respect to simulating the seasonal progression of polar ecosystems. Order-of-magnitude errors in regions with seasonally low Chl concentrations and large annual variability can be critical when the growth is exponential, thus potentially requiring unrealistically high growth rates (Hague and Vichi, 2018).
ChlRrs is, however, not necessarily a more truthful diagnostic than Chlmod; it is only closer to Chlsat and quite possibly inherits biases from satellite-derived proxies. Another motivation for using ChlRrs as the property of comparison is that Chlmod is poorly defined, since the conversion from a depth-resolved field to a 2D concentration might be performed differently between different models. Our results show that comparisons between Chlmod and Chlsat are generally sufficient if ChlRrs is not available (which is normally the case), as long as these caveats are considered. Figures 6–9 can provide guidance with respect to which regions require the application of caution.
EMDs provide a systematic and quantitative way to assess how the distribution of Chl differs between OC-CCI and the Darwin-CBIOMES-0 configuration. One major application is the ability to compare the likeliness between different distributions in an integrated fashion, as the maps presented in Fig. 10 show. We find that the biggest differences between ChlRrs and Chlmod occur in the polar biome during winter. This pattern is supported by the scatter of EMDs shown in Fig. 4b, where provinces in the polar and trades biomes tend to have larger EMDs for Chlmod than ChlRrs when compared to Chlsat.
When comparing the probability distributions between the Darwin-CBIOMES-0 configuration, OC-CCI satellite-derived Chl product, and in situ observations of Chl, we find many similarities and also important differences. Comparisons between Chlsat and Chlobs (Figs. 3 and 5) show an interesting pattern, where OC-CCI diverges from the expected lognormal distribution with a smaller variance than the set of observations. This difference could be explained by OC-CCI being based on satellite products with overpasses close to noon, thus limiting the ability to resolve the diurnal cycle, and 4 km sized pixels that aggregate the variability at smaller scales. Chlobs data, on the other hand, are sampled at any time over the course of a day and generally represent a water volume of less than 1 m3. A small water volume has a higher chance of having outliers due to patchiness, while a distribution of satellite-derived Chl observations is more clustered around the population mean as a result of averaging many small patches over a larger area. This difference is expected by the law of large numbers. It should also be noted that some of the mismatches between Darwin-CBIOMES-0 and the observations might be partly explained by the unevenness in the temporal and spatial coverage of observations. By only including satellite-derived and modeled Chl concentrations, we are able to minimize potential problems with the temporal and spatial representativeness of in situ observations, since Chlsat is interpolated to the grid of Darwin-CBIOMES-0 and only pixels with valid data in both data sources are used.
While the distributions of Chl in a direct match-up between Chlobs and Chlsat vs. ChlRrs and Chlmod suggest that the model underestimates Chl significantly, regional comparisons provide a more nuanced picture. Data from the westerlies biome have, for example, almost identical distributions. The largest discrepancies are found in coastal areas and the provinces in the polar biome, both of which are notoriously challenging to model due to complex hydrology and large seasonal variability in forcings (light, freshwater run-off from land, nutrient input, etc.). Provinces in the trades biome generally show less variability in the seasonal average but larger differences in the high and low extreme values. These patterns are evident both in the EMD maps seen in Fig. 10 and in the individual histograms seen in Figs. 6–8. Eastern boundary upwelling systems show large discrepancies between ChlRrs and Chlsat. This is to be expected, since these areas are characterized by complex interactions between physical and biological processes over short spatial scales. Other studies have also found that the dominating timescales of variability in these regions are very short, which most global biogeochemical models are not developed to resolve (Jönsson et al., 2023).
Model Chl had long tails with low values in the provinces in the polar biome that might be connected to the Darwin-CBIOMES-0 configuration overestimating respiration during winter or possibly exaggerating mixing (see Jonsson et al., 2015). The tendency of bimodality in PDFs from data generated by Darwin-CBIOMES-0 in the provinces in the polar biome suggests that the model shows different distinct states in the phytoplankton community. It is not clear if this pattern is due to the formulation and/or parameterization of the ecosystem model or due to problems with the high-latitude retrieval of Chl by polar-orbiting satellites at the beginning and end of the growing season (Jönsson et al., 2020a). In any case, our combined use of Longhurst provinces, distributions, and EMDs has allowed us to pose the differences between the models and observations in a way that can be directly analyzed and tested.
The tendency for bimodal distributions in PDFs generated by the Darwin-CBIOMES-0 configuration also occurs in Longhurst provinces in the westerlies biome. Here, the differences between satellite-derived and modeled Chl is less clear, with some provinces having extremely similar distributional shapes and others mainly having different variances. The province with the biggest differences is the Mediterranean Sea, a result that is not surprising, especially when considering the complex hydrology and distinct ecosystem dynamics there. Longhurst provinces in the trades biome show generally good fits between the model and OC-CCI. Provinces in this biome showed a general pattern in which the model and satellite-derived Chl distributions had similar shapes but with an offset relative to each other. The biggest differences in the trades biome are found in the Caribbean and the adjacent north tropical gyre. Both provinces show significantly lower Chl concentrations in Darwin-CBIOMES-0 and tend to be skewed towards low values with longer tails.
Dividing the different data sets into monthly distributions allowed us to further diagnose possible differences between OC-CCI and the Darwin-CBIOMES-0 configuration. We found that provinces in the polar biome tended to show the largest discrepancies during winter and spring, a pattern that is consistent with results given by Jonsson et al. (2015). It is also notable that these provinces and seasons occurred where and when simulated Chl in Darwin-CBIOMES-0 differed the most from Rrs-derived Chl in the model. These misfits can be due to a number of factors, such as inadequate model inputs, forcings, model inputs, forcings, parameterizations, numerical schemes, problems arising from bio-optical constraints due to extreme light conditions, unresolved physical processes, or a combination of these. Two specific causes suggested by Jonsson et al. (2015) are a meridional misalignment of the physical processes that drive Chl variability in the Antarctic Ocean or a lack of small-scale variability in the mixed layer dynamics. The latter explanation is supported by comparing the distributions of mixed layer depths from Argo floats and two CMIP5 class climate models with a 1∘ spatial resolution, showing that shallow mixed layers are observed even during the winter in the Southern Ocean. These short-lived events could generate small phytoplankton blooms that keep the total biomass from decreasing to the low concentrations seen in the models (Jonsson et al., 2015). The difference in polar phytoplankton biomass between models and satellite-derived products is an area in need of more research.
We believe that the skill of biogeochemical models to generate realistic distributions of properties are as important as, if not more important than, the skill to predict a property at a specific time an location or the long-term averages. The recent focus on regional heat waves (Oliver et al., 2021) and other extreme events have highlighted that rare physical conditions and consequent biological responses can have an outstanding influence on ocean health. It has also been suggested that the frequency of rare events might be as important as long-term averages for understanding changes in marine ecosystems (Jönsson and Salisbury, 2016).
In this study, we have shown that using probability distributions of Chl provides a comprehensive approach to compare biogeochemical models with in situ data and satellite-derived fields. Direct point-by-point comparisons can be prone to overestimating errors due to small temporal lags or displacements in space, while the ability of a model to generate a probability distribution function that matches well with the observed data suggests that physical and biological processes are resolved reasonably well. We also found that Longhurst provinces act as a good classification system to use when generating the probability distributions, since they are defined to minimize within-region variability by separating areas that are controlled by different physicochemical processes from one another. Finally, EMDs provided a powerful approach to quantifying the difference between distributions in an objective way. The combined use of PDFs, Longhurst provinces, and EMDs allowed us to identify Longhurst provinces such as the polar oceans and tropical North Atlantic Ocean, which need specific attention, and areas where the model already shows a lot of skill. It is clear that model versus data comparisons and skill assessments need to be conducted in such a way that one can start to address the specific processes and conditions that lead to discrepancies.
Code and data availability
BFJ initiated the project, performed most statistical analysis, and generated most of the figures. BFJ also led the writing of the text. JB and SH led the EMD analysis. SD, CLF, GLF, and CNH led the development of the Darwin output and provided expertise for how to interpret the fields. TJ and SS led the development of OC-CCI and provided expertise for interpreting the product. All co-authors worked closely together to develop the method and write the paper in a collaborative fashion.
The contact author has declared that none of the authors has any competing interests.
Publisher's note: Copernicus Publications remains neutral with regard to jurisdictional claims in published maps and institutional affiliations.
This work has been carried out under the auspices of the Simons Collaboration on Computational Biogeochemical Modeling of Marine Ecosystems (CBIOMES), which seeks to develop and apply quantitative models of the structure and function of marine microbial communities at seasonal and basin scales. Funding for this work has been provided by the Simons Foundation (grant nos. 549947 SS; 553242, 549939 JB; 827829 CLF). Additional support from the National Centre for Earth Observations of the UK is also acknowledged.
This research has been supported by the Simons Foundation (grant nos. 549947 SS; 553242, 549939 JB; 827829 CLF).
This paper was edited by Andrew Yool and reviewed by Marcello Vichi and Lester Kwiatkowski.
Aas, E.: Two-stream irradiance model for deep waters, Appl. Optics, 26, 2095–2101, 1987. a
Bailey, S. W. and Werdell, P. J.: A multi-sensor approach for the on-orbit validation of ocean color satellite data products, Remote Sens. Environ., 102, 12–23, https://doi.org/10.1016/j.rse.2006.01.015, 2006. a
Beaugrand, G., Reid, P. C., Ibañez, F., and Planque, B.: Biodiversity of North Atlantic and North Sea calanoid copepods, Mar. Ecol. Prog. Ser., 204, 299–303, 2000. a
Cael, B., Bisson, K., and Follett, C. L.: Can rates of ocean primary production and biological carbon export be related through their probability distributions?, Global Biogeochem. Cy., 32, 954–970, 2018. a
Campbell, J. W.: The lognormal distribution as a model for bio‐optical variability in the sea, J. Geophys. Res.-Oceans, 100, 13237–13254, https://doi.org/10.1029/95jc00458, 1995. a
Campin, J.-M., Heimbach, P., Losch, M., Forget, G., Edhill3, Adcroft, A., Amolod, Menemenlis, D., Dfer22, Hill, C., Jahn, O., Scott, J., Stephdut, Mazloff, M., Baylor Fox-Kemper, Antnguyen13, Doddridge, E., Fenty, I., Bates, M., AndrewEichmann-NOAA, Smith, T., Martin, T., Lauderdale, J., Abernathey, R., Samarkhatiwala, Hongandyan, Deremble, B., Dngoldberg, Bourgault, P., and Dussin, R.: MITgcm/MITgcm: mid 2020 version, Zenodo [data set], https://doi.org/10.5281/zenodo.3967889, 2020. a
de Mora, L., Butenschön, M., and Allen, J. I.: The assessment of a global marine ecosystem model on the basis of emergent properties and ecosystem function: a case study with ERSEM, Geosci. Model Dev., 9, 59–76, https://doi.org/10.5194/gmd-9-59-2016, 2016. a
Doney, S. C., Lima, I., Lindsay, K., Moore, J. K., Dutkiewicz, S., Friedrichs, M. A., and Matear, R. J.: Marine Biogeochemical Modeling: Recent Advances and Future Challenges, Oceanography, 14, 93–107, https://doi.org/10.5670/oceanog.2001.10, 2001. a
Doney, S. C., Lima, I., Moore, J. K., Lindsay, K., Behrenfeld, M. J., Westberry, T. K., Mahowald, N., Glover, D. M., and Takahashi, T.: Skill metrics for confronting global upper ocean ecosystem-biogeochemistry models against field and remote sensing data, J. Marine Syst., 76, 95–112, https://doi.org/10.1016/j.jmarsys.2008.05.015, 2009. a, b
Dutkiewicz, S.: Climate Change Simulation output files (1995–2100), Harvard Dataverse [data set], https://doi.org/10.7910/DVN/08OJUV, 2018. a, b
Dutkiewicz, S., Hickman, A. E., Jahn, O., Gregg, W. W., Mouw, C. B., and Follows, M. J.: Capturing optically important constituents and properties in a marine biogeochemical and ecosystem model, Biogeosciences, 12, 4447–4481, https://doi.org/10.5194/bg-12-4447-2015, 2015. a, b, c
Dutkiewicz, S., Hickman, A. E., and Jahn, O.: Modelling ocean-colour-derived chlorophyll a, Biogeosciences, 15, 613–630, https://doi.org/10.5194/bg-15-613-2018, 2018. a, b, c, d
Dutkiewicz, S., Hickman, A. E., Jahn, O., Henson, S., Beaulieu, C., and Monier, E.: Ocean colour signature of climate change, Nat. Commun., 10, 578, https://doi.org/10.1038/s41467-019-08457-x, 2019. a, b, c, d
Dutkiewicz, S., Baird, M., Chai, F., Ciavatta, S., Edwards, C. A., Evers-King, H., Friedrichs, M. A. M., Frolov, S., Gehlen, M., Henson, S., Hickman, A., Ibrahim, A., Jahn, O., Jones, E., Kaufman, D. E., Mélin, F., Mouw, C., Muhling, B., Rousseaux, C., Shulman, I., Stock, C. A., Werdell, P. J., and Wiggert, J. D.: Synergy between Ocean Colour and Biogeochemical/Ecosystem Models., Tech. Rep., 19, IOCCG, https://doi.org/10.25607/OBP-711, 2020a. a
Dutkiewicz, S., Cermeno, P., Jahn, O., Follows, M. J., Hickman, A. E., Taniguchi, D. A. A., and Ward, B. A.: Dimensions of marine phytoplankton diversity, Biogeosciences, 17, 609–634, https://doi.org/10.5194/bg-17-609-2020, 2020b. a, b
Dutkiewicz, S., Boyd, P. W., and Riebesell, U.: Exploring biogeochemical and ecological redundancy in phytoplankton communities in the global ocean, Glob. Change Biol., 27, 1196–1213, https://doi.org/10.1111/gcb.15493, 2021. a, b, c
Edwards, P. N.: History of climate modeling, WIRES Clim. Change, 2, 128–139, https://doi.org/10.1002/wcc.95, 2011. a
Follett, C. L., Dutkiewicz, S., Forget, G., Cael, B. B., and Follows, M. J.: Moving Ecological and Biogeochemical Transitions Across the North Pacific, Limnol. Oceanogr., 66, 2442–2454, https://doi.org/10.1002/lno.11763, 2021. a
Forget, G. and Ferreira, D.: Global ocean heat transport dominated by heat export from the tropical Pacific, Nat. Geosci., 12, 351–354, https://doi.org/10.1038/s41561-019-0333-7, 2019. a, b
Forget, G. and Ponte, R. M.: The partition of regional sea level variability, Prog. Oceanogr., 137, 173–195, https://doi.org/10.1016/j.pocean.2015.06.002, 2015. a, b, c
Forget, G. and Wunsch, C.: Estimated Global Hydrographic Variability, J. Phys. Oceanogr., 37, 1997–2008, https://doi.org/10.1175/jpo3072.1, 2007. a
Forget, G., Campin, J.-M., Heimbach, P., Hill, C. N., Ponte, R. M., and Wunsch, C.: ECCO version 4: an integrated framework for non-linear inverse modeling and global ocean state estimation, Geosci. Model Dev., 8, 3071–3104, https://doi.org/10.5194/gmd-8-3071-2015, 2015. a, b, c
Frogner, C., Zhang, C., Mobahi, H., Araya-Polo, M., and Poggio, T.: Learning with a Wasserstein Loss, in: Proceedings of the 28th International Conference on Neural Information Processing Systems – Volume 2, NIPS'15, MIT Press, Cambridge, MA, USA, 2053–2061, https://doi.org/10.48550/arXiv.1506.05439, 2015. a
Geider, R. J., MacIntyre, H. L., and Kana, T. M.: A dynamic regulatory model of phytoplanktonic acclimation to light, nutrients, and temperature, Limnol. Oceanogr., 43, 679–694, https://doi.org/10.4319/lo.1998.43.4.0679, 1998. a
Gordon, H. R.: Irradiance attenuation coefficient in a stratified ocean: a local property of the medium, Appl. Optics, 19, 2092, https://doi.org/10.1364/ao.19.002092, 1980. a
Gregg, W.: A coupled ocean-atmosphere radiative model for global ocean biogeochemical models, NASA Technical Memorandum, 22, 33, https://gmao.gsfc.nasa.gov/pubs/docs/Gregg138.pdf (last access: 7 July 2023), 2002. a, b, c
Gregg, W. W. and Casey, N. W.: Skill assessment of a spectral ocean–atmosphere radiative model, J. Marine Syst., 76, 49–63, 2009. a, b
Hague, M. and Vichi, M.: A Link Between CMIP5 Phytoplankton Phenology and Sea Ice in the Atlantic Southern Ocean, Geophys. Res. Lett., 45, 6566–6575, https://doi.org/10.1029/2018gl078061, 2018. a
Hansen, P. J., Bjørnsen, P. K., and Hansen, B. W.: Zooplankton grazing and growth: Scaling within the 2-2,-µm body size range, Limnol. Oceanogr., 42, 687–704, https://doi.org/10.4319/lo.1997.42.4.0687, 1997. a
Henson, S. A., Dunne, J. P., and Sarmiento, J. L.: Decadal variability in North Atlantic phytoplankton blooms, J. Geophys. Res.-Oceans, 114, C04013, https://doi.org/10.1029/2008JC005139, 2009. a
Holling, C. S.: Some Characteristics of Simple Types of Predation and Parasitism, Can. Entomol., 91, 385–398, https://doi.org/10.4039/Ent91385-7, 1959. a
Jackson, T., Sathyendranath, S., and Mélin, F.: An improved optical classification scheme for the Ocean Colour Essential Climate Variable and its applications, Remote Sens. Environ., 203, 152–161, https://doi.org/10.1016/j.rse.2017.03.036, 2017. a
Jolliff, J. K., Kindle, J. C., Shulman, I., Penta, B., Friedrichs, M. A., Helber, R., and Arnone, R. A.: Summary diagrams for coupled hydrodynamic-ecosystem model skill assessment, J. Marine Syst., 76, 64–82, https://doi.org/10.1016/j.jmarsys.2008.05.014, 2009. a
Jönsson, B.: Example code for processing, statistics, and analysis of data stored as histograms, Zenodo [code and data set], https://doi.org/10.5281/zenodo.6683849, 2022. a
Jönsson, B. F. and Salisbury, J. E.: Episodicity in phytoplankton dynamics in a coastal region, Geophys. Res. Lett., 43, 5821–5828, https://doi.org/10.1002/2016GL068683, 2016. a, b
Jonsson, B. F., Doney, S., Dunne, J., and Bender, M. L.: Evaluating Southern Ocean biological production in two ocean biogeochemical models on daily to seasonal timescales using satellite chlorophyll and observations, Biogeosciences, 12, 681–695, https://doi.org/10.5194/bg-12-681-2015, 2015. a, b, c, d, e, f
Jönsson, B. F., Sathyendranath, S., and Platt, T.: Trends in Winter Light Environment Over the Arctic Ocean: A Perspective From Two Decades of Ocean Color Data, Geophys. Res. Lett., 47, e2020GL089037, https://doi.org/10.1029/2020GL089037, 2020a. a
Jönsson, B. F., Sathyendranath, S., and Platt, T.: Trends in Winter Light Environment Over the Arctic Ocean: A Perspective From Two Decades of Ocean Color Data, Geophys. Res. Lett., 47, e2020GL089037, https://doi.org/10.1029/2020GL089037, 2020b. a
Jönsson, B. F., Salisbury, J., Atwood, E. C., Sathyendranath, S., and Mahadevan, A.: Dominant timescales of variability in global satellite chlorophyll and SST revealed with a MOving Standard deviation Saturation (MOSS) approach, Remote Sens. Environ., 286, 113404, https://doi.org/10.1016/j.rse.2022.113404, 2023. a
Kiørboe, T.: A Mechanistic Approach to Plankton Ecology, Princeton University Press, https://doi.org/10.1515/9780691190310, 2019. a
Lee, Z. and Hu, C.: Global distribution of Case-1 waters: An analysis from SeaWiFS measurements, Remote Sens. Environ., 101, 270–276, https://doi.org/10.1016/j.rse.2005.11.008, 2006. a
Lee, Z., Carder, K. L., and Arnone, R. A.: Deriving inherent optical properties from water color: a multiband quasi-analytical algorithm for optically deep waters, Appl. Optics, 41, 5755–5772, 2002. a
Levina, E. and Bickel, P.: The Earth Mover's distance is the Mallows distance: some insights from statistics, in: Proceedings Eighth IEEE International Conference on Computer Vision. ICCV 2001, Vancouver, BC, Canada, 2001, vol. 2, 251–256, https://doi.org/10.1109/ICCV.2001.937632, 2001. a
Longhurst, A. R.: Ecological geography of the sea, Elsevier, ISBN 978-0-12-455521-1, https://doi.org/10.1016/b978-0-12-455521-1.x5000-1, 2007. a, b, c, d, e, f
Mayner, W., Louf, R., and Braun, V.: pyemd: 0.2.0, Zenodo [code], https://doi.org/10.5281/zenodo.33535, 2015. a
Mélin, F., Vantrepotte, V., Chuprin, A., Grant, M., Jackson, T., and Sathyendranath, S.: Assessing the fitness-for-purpose of satellite multi-mission ocean color climate data records: A protocol applied to OC-CCI chlorophyll-a data, Remote Sens. Environ., 203, 139–151, https://doi.org/10.1016/j.rse.2017.03.039, 2017. a
Monge, G.: Mémoire sur la théorie des déblais et des remblais, De l'Imprimerie Royale, https://www.worldcat.org/title/memoire-sur-la-theorie-des-deblais-et-des-remblais/oclc/51928110 (last access: 7 July 2023), 1781. a
Moore, T. S., Campbell, J. W., and Dowell, M. D.: A class-based approach to characterizing and mapping the uncertainty of the MODIS ocean chlorophyll product, Remote Sens. Environ., 113, 2424–2430, https://doi.org/10.1016/j.rse.2009.07.016, 2009. a
Moore, T. S., Dowell, M. D., and Franz, B. A.: Detection of coccolithophore blooms in ocean color satellite imagery: A generalized approach for use with multiple sensors, Remote Sens. Environ., 117, 249–263, https://doi.org/10.1016/j.rse.2011.10.001, 2012. a
Morel, A. and Prieur, L.: Analysis of variations in ocean color1: Ocean color analysis, Limnol. Oceanogr., 22, 709–722, https://doi.org/10.4319/lo.1977.22.4.0709, 1977. a
Oliver, E. C., Benthuysen, J. A., Darmaraki, S., Donat, M. G., Hobday, A. J., Holbrook, N. J., Schlegel, R. W., and Gupta, A. S.: Marine Heatwaves, Annu. Rev. Mar. Sci., 13, 313–342, https://doi.org/10.1146/annurev-marine-032720-095144, 2021. a
O'Reilly, J. E., Maritorena, S., Mitchell, B. G., Siegel, D. A., Carder, K. L., Garver, S. A., Kahru, M., and McClain, C.: Ocean color chlorophyll algorithms for SeaWiFS, J. Geophys. Res.-Oceans, 103, 24937–24953, https://doi.org/10.1029/98JC02160, 1998. a, b
Orlova, D. Y., Zimmerman, N., Meehan, S., Meehan, C., Waters, J., Ghosn, E. E. B., Filatenkov, A., Kolyagin, G. A., Gernez, Y., Tsuda, S., Moore, W., Moss, R. B., Herzenberg, L. A., and Walther, G.: Earth Mover's Distance (EMD): A True Metric for Comparing Biomarker Expression Levels in Cell Populations, PLOS ONE, 11, e0151859, https://doi.org/10.1371/journal.pone.0151859, 2016. a
Pele, O. and Werman, M.: A Linear Time Histogram Metric for Improved SIFT Matching, in: Computer Vision – ECCV 2008, ECCV 2008, Lecture Notes in Computer Science, vol. 5304, edited by: Forsyth, D., Torr, P., and Zisserman, A., Springer, Berlin, Heidelberg, https://doi.org/10.1007/978-3-540-88690-7_37, 2008. a
Pele, O. and Werman, M.: Fast and Robust Earth Mover's Distances, in: 2009 IEEE 12th International Conference on Computer Vision, Kyoto, Japan, 2009, 460–467, https://doi.org/10.1109/ICCV.2009.5459199, 2009. a
Raspaud, M., Hoese, D., Lahtinen, P., Dybbroe, A., Finkensieper, S., Roberts, W., Rasmussen, L. O., Proud, S., Joro, S., Daruwala, R., Holl, G., Jasmin, T., BENR0, Leppelt, T., Egede, U., R.K.Garcia, Itkin, M., LTMeyer, Sigurdsson, E., Radar, S., Division, N., Aspenes, T., Hazbottles, ColinDuff, Joleenf, , Cody, Clementi, L., Honnorat, M., Schulz, H., Hatt, B., and Valentino, A.: pytroll/satpy: Version 0.16.0, Zenodo [code], https://doi.org/10.5281/zenodo.3250583, 2019. a
Reygondeau, G., Longhurst, A., Martinez, E., Beaugrand, G., Antoine, D., and Maury, O.: Dynamic biogeochemical provinces in the global ocean, Global Biogeochem. Cy., 27, 1046–1058, https://doi.org/10.1002/gbc.20089, 2013. a, b
Rubner, Y., Tomasi, C., and Guibas, L. J.: Earth mover's distance as a metric for image retrieval, Int. J. Comput. Vision, 40, 99–121, https://doi.org/10.1023/A:1026543900054, 2000. a
Sathyendranath, S. and Platt, T.: Remote sensing of ocean chlorophyll: consequence of nonuniform pigment profile, Appl. Optics, 28, 490–495, https://doi.org/10.1364/ao.28.000490, 1989. a
Sathyendranath, S., Brewin, R., Brockmann, C., Brotas, V., Calton, B., Chuprin, A., Cipollini, P., Couto, A., Dingle, J., Doerffer, R., Donlon, C., Dowell, M., Farman, A., Grant, M., Groom, S., Horseman, A., Jackson, T., Krasemann, H., Lavender, S., Martinez-Vicente, V., Mazeran, C., Mélin, F., Moore, T., Müller, D., Regner, P., Roy, S., Steele, C., Steinmetz, F., Swinton, J., Taberner, M., Thompson, A., Valente, A., Zühlke, M., Brando, V., Feng, H., Feldman, G., Franz, B., Frouin, R., Gould, R., Hooker, S., Kahru, M., Kratzer, S., Mitchell, B., Muller-Karger, F., Sosik, H., Voss, K., Werdell, J., and Platt, T.: An Ocean-Colour Time Series for Use in Climate Studies: The Experience of the Ocean-Colour Climate Change Initiative (OC-CCI), Sensors, 19, 4285, https://doi.org/10.3390/s19194285, 2019. a, b
Sathyendranath, S., Jackson, T., Brockmann, C., Brotas, V., Calton, B., Chuprin, A., Clements, O., Cipollini, P., Danne, O., Dingle, J., Donlon, C., Grant, M., Groom, S., Krasemann, H., Lavender, S., Mazeran, C., Mélin, F., Moore, T. S., Müller, D., Regner, P., Steinmetz, F., Steele, C., Swinton, J., Valente, A., Zühlke, M., Feldman, G., Franz, B., Frouin, R., Werdell, J., and Platt, T.: ESA Ocean Colour Climate Change Initiative (Ocean_Colour_cci): Version 4.2 Data, CEDA Archive [data set], https://doi.org/10.5285/D62F7F801CB54C749D20E736D4A1039F, 2020. a, b
Schartau, M., Landry, M. R., and Armstrong, R. A.: Density estimation of plankton size spectra: A reanalysis of IronEx II data, J. Plankton Res., 32, 1167–1184, https://doi.org/10.1093/plankt/fbq072, 2010. a
Séférian, R., Berthet, S., Yool, A., Palmiéri, J., Bopp, L., Tagliabue, A., Kwiatkowski, L., Aumont, O., Christian, J., Dunne, J., and et al.: Tracking Improvement in Simulated Marine Biogeochemistry Between CMIP5 and CMIP6, Current Climate Change Reports, 6, 95–119, https://doi.org/10.1007/s40641-020-00160-0, 2020. a
Sommer, U., Charalampous, E., Genitsaris, S., and Moustaka-Gouni, M.: Benefits, costs and taxonomic distribution of marine phytoplankton body size, J. Plankton Res., 39, 494–508, https://doi.org/10.1093/plankt/fbw071, 2017. a
Steinmetz, F., Deschamps, P.-Y., and Ramon, D.: Atmospheric correction in presence of sun glint: application to MERIS, Opt. Express, 19, 9783, https://doi.org/10.1364/oe.19.009783, 2011. a
Stow, C. A., Jolliff, J., McGillicuddy, D. J., Doney, S. C., Allen, J. I., Friedrichs, M. A., Rose, K. A., and Wallhead, P.: Skill assessment for coupled biological/physical models of marine systems, J. Marine Syst., 76, 4–15, https://doi.org/10.1016/j.jmarsys.2008.03.011, 2009. a
Taylor, K. E.: Summarizing multiple aspects of model performance in a single diagram, J. Geophys. Res.-Atmos., 106, 7183–7192, https://doi.org/10.1029/2000jd900719, 2001. a, b, c
Valente, A., Sathyendranath, S., Brotas, V., Groom, S., Grant, M., Taberner, M., Antoine, D., Arnone, R., Balch, W. M., Barker, K., Barlow, R., Bélanger, S., Berthon, J.-F., Beşiktepe, Ş., Borsheim, Y., Bracher, A., Brando, V., Canuti, E., Chavez, F., Cianca, A., Claustre, H., Clementson, L., Crout, R., Frouin, R., García-Soto, C., Gibb, S. W., Gould, R., Hooker, S. B., Kahru, M., Kampel, M., Klein, H., Kratzer, S., Kudela, R., Ledesma, J., Loisel, H., Matrai, P., McKee, D., Mitchell, B. G., Moisan, T., Muller-Karger, F., O'Dowd, L., Ondrusek, M., Platt, T., Poulton, A. J., Repecaud, M., Schroeder, T., Smyth, T., Smythe-Wright, D., Sosik, H. M., Twardowski, M., Vellucci, V., Voss, K., Werdell, J., Wernand, M., Wright, S., and Zibordi, G.: A compilation of global bio-optical in situ data for ocean-colour satellite applications – version two, Earth Syst. Sci. Data, 11, 1037–1068, https://doi.org/10.5194/essd-11-1037-2019, 2019a. a
Valente, A., Sathyendranath, S., Brotas, V., Groom, S., Grant, M., Taberner, M., Antoine, D., Arnone, R., Balch, W. M., Barker, K., Barlow, R. G., Bélanger, S., Berthon, J.-F., Besiktepe, S., Borsheim, K. Y., Bracher, A., Brando, V. E., Canuti, E., Chavez, F. P., Cianca, A., Claustre, H., Clementson, L., Crout, R., Frouin, R., García-Soto, C., Gibb, S. W., Gould, R., Hooker, S. B., Kahru, M., Kampel, M., Klein, H., Kratzer, S., Kudela, R. M., Ledesma, S., Loisel, H., Matrai, P. A., McKee, D., Mitchell, B. G., Moisan, T., Muller-Karger, F. E., O'Dowd, L., Ondrusek, M., Platt, T., Poulton, A. J., Repecaud, M., Schroeder, T., Smyth, T. J., Smythe-Wright, D., Sosik, H., Twardowski, M. S., Vellucci, V., Voss, K., Werdell, P. J., Wernand, M. R., Wright, S., and Zibordi, G.: A compilation of global bio-optical in situ data for ocean-colour satellite applications – version two, PANGAEA [data set], https://doi.org/10.1594/PANGAEA.898188, 2019b. a
Vaserstein, L. N.: Markov Processes over Denumerable Products of Spaces, Describing Large Systems of Automata, Probl. Peredachi Inf., 5, 64–72, https://www.mathnet.ru/php/archive.phtml?wshow=paper&jrnid=ppi&paperid=1811&option_lang=eng (last access: 7 July 2023), 1969.  a
Vichi, M., Allen, J. I., Masina, S., and Hardman‐Mountford, N. J.: The emergence of ocean biogeochemical provinces: A quantitative assessment and a diagnostic for model evaluation, Global Biogeochem. Cy., 25, GB2005, https://doi.org/10.1029/2010gb003867, 2011. a