Articles | Volume 16, issue 5
https://doi.org/10.5194/gmd-16-1537-2023
© Author(s) 2023. This work is distributed under
the Creative Commons Attribution 4.0 License.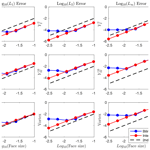 Strategies for conservative and non-conservative monotone remapping on the sphere
Monotonicity is an important property of remapping operators for coupled weather and climate models. However, it is often challenging to design highly accurate operators that avoid the generation of new extrema or keep a remapped field between physically prescribed bounds. To that end, this paper explores several traditional and novel approaches for both conservative and non-conservative monotone remapping on the sphere. The accuracy and effectiveness of these algorithms are evaluated in the context of several different real and idealized fields and meshes.
Received: 05 Oct 2022 – Discussion started: 17 Oct 2022 – Revised: 05 Jan 2023 – Accepted: 21 Feb 2023 – Published: 16 Mar 2023
An important operation in global climate models is the transferring, or remapping, of data between different component grids. For example, information needs to be exchanged at the interface between the atmosphere and ocean models, when both are typically defined on different grids. Atmospheric models often use icosahedral or cubed sphere grids, while ocean models have relied on unstructured meshes (Satoh et al., 2008; Taylor et al., 2007; Ringler et al., 2013). Remapping of data between grids whose structures differ greatly is a challenging and important problem, as doing so inaccurately can impact the stability of coupled simulations (Beljaars et al., 2017). There are other circumstances in which accurate remapping operators are important, such as post-processing and mesh refinement. In the former case, the grid on which a simulation is performed may not be ideal for carrying out analysis, and transferring data onto a structured mesh that is more amenable for analysis is often useful. In the latter case, grid nesting (Harris and Lin, 2014) and adaptive grids (Jablonowski et al., 2006; Skamarock and Klemp, 1993) have been used to resolve the complex multiscale nature of the atmosphere. Ensuring the accurate interpolation of data between the different component grids in these simulations is crucial to preserving the models' overall accuracy (Slingo et al., 2009; Mahadevan et al., 2020).
There are a number of desirable properties of remapping operators, in addition to accuracy. These properties include consistency, conservation, and monotonicity and correspond, respectively, to the mapping of the constant field to the constant field, preservation of total mass, and no generation of new extrema (Ullrich and Taylor, 2015). These properties are necessary for ensuring important physical consistency of model simulations. Some fields, like mass (which is usually stored as density), are required to be conserved, while others, like tracers or mixing ratios, are required to satisfy certain bounds following the remapping process. It is therefore imperative for schemes that remap these fields to preserve conservation and global monotonicity constraints so as not to introduce artificial sources of error (Kritsikis et al., 2017).
The main property of remapping schemes that we are concerned with in this paper is monotonicity. In the case of conservative remapping, monotonicity is often achieved by way of limiters (Barth and Jespersen, 1989). In the conservative case, we are interested in applying the "clip and assured sum" (CAAS) method, which acts as a post-processing filter operation on the remapped field (Bradley et al., 2019). In the non-conservative case, we are interested in linear monotone remapping operators that depend only on the mesh structures and can be computed once and then applied in an offline manner.
TempestRemap (Ullrich and Taylor, 2015; Ullrich et al., 2016) is a widely used package for generating conservative, consistent, and (optionally) monotone linear maps between arbitrary grids on the sphere, with data stored as volume averages (finite-volume method) or as coefficients of a finite-element expansion. Although conservative remapping is necessary for ensuring, for example, that fluxes at the ocean–atmosphere interface preserve global invariants, when remapping states or vectors it is often the case that monotonicity and accuracy are more important than conservation. Indeed, when mapping from a coarse grid to a fine grid, conservative and monotone schemes will appear blocky because each fine grid volume completely within a coarse grid volume must exactly preserve the state of the coarse grid volume. Consequently, the Energy Exascale Earth System Model (Golaz et al., 2019, E3SM), which uses TempestRemap maps under the hood, falls back on bilinear maps for transferring state data when mapping from coarse-resolution to fine-resolution grids. To support the operational remapping of data in this manner, the methods developed in this paper have been implemented in v2.1.6 of the TempestRemap package (Ullrich et al., 2022).
This paper consists of three main sections. First, we will describe the basic setup of remapping problems, the test cases that are used in our numerical experiments, and the metrics used to assess the accuracy of the remapping schemes. In the next section, we will look at monotone conservative remapping. In general, it is difficult to construct remapping operators that satisfy conservation and monotonicity, while still maintaining high-order accuracy. So one of the main purposes of this section is to examine the extent to which a conservative and monotone remapping operator can maintain the accuracy of its non-monotone counterpart. We will also analyze the effectiveness of this conservative and monotone operator in minimizing the errors associated with the remapping of discontinuous source fields, as well its ability to remap real data fields accurately. The subject of the next section is non-conservative monotone remapping, and it is divided into two main parts. The first part focuses on traditional approaches to monotone remapping and includes a description of the bilinear method used in the Earth System Modeling Framework (ESMF) (Hill et al., 2004), as well as two additional approaches that may provide advantages in some circumstances. In the second part, we show that the accuracy of these traditional approaches is reduced when remapping from source meshes that are finer than the target mesh, and a method is introduced to correct this. We end with conclusions and future research directions.
Let Ω denote the unit sphere. Given a source mesh, Ωs, and a target mesh, Ωt, the remapping operator, R, is a matrix constructed to satisfy
where and are vectors of discrete density values on the source and target meshes, respectively. The number of degrees of freedom on the source mesh is denoted by fs, and the number of degrees of freedom on the target mesh is denoted by ft. Here, ψs corresponds to the discretization of a function , either by sampling ψ at a set of discrete nodes by pointwise sampling or over a set of regions by area averaging. The operators that discretize the function ψ into the discrete vectors ψs and ψt are denoted by Ds and Dt. Degrees of freedom on the source and target meshes can be stored in various ways, though in this paper we focus on finite-volume or finite-element methods. In the former case, degrees of freedom on the mesh correspond to area or volume averages, and in the latter, they are stored as coefficients of basis functions with compact support. For instance, for the spectral element method, a type of finite-element method, it is typical to store degrees of freedom at a set Gauss–Lobatto–Legendre (GLL) nodes within each face.
Following Ullrich and Taylor (2015), the metrics that are used to assess the accuracy of the remapping schemes in this paper are as follows.
Here, Is and It are the integration operators on the source mesh given by
with denoting the weight of the ith degree of freedom on the source mesh. The integration operator on the target mesh, It, is defined similarly.
We will use several idealized test cases for our numerical experiments, including a low-frequency harmonic denoted by and given by the equation
a high-frequency harmonic, , given by
and a vortex represented by
where is the radius, ω is the angular velocity with
and Vt is the tangential velocity with
Here, represents the coordinates in a rotated spherical coordinate system whose pole is at (0,0.6), and we set r0=3, d=5, and t=6 (Ullrich and Taylor, 2015).
3
 Monotone conservative remapping
The focus of this section is on monotone conservative remapping and assessing potential improvements in accuracy that arise from employing a nonlinear remapping technique to enforce bounds preservation. We consider fields whose total mass needs to be conserved across the remapping process and that need to remain between specified bounds. This form of "bounds preservation" is important for fields such as mixing ratios, which are required to remain between zero and unity, and it corresponds to a global form of monotonicity wherein no new global extrema are generated. We also consider local forms of bounds preservation, which are stronger than global monotonicity in the sense that they will not introduce any new local extrema.
High-order remapping methods can lead to overshoots or undershoots of the remapped field, which is problematic for several reasons. For instance, high-order remapping of discontinuous source fields may lead to oscillatory behavior of the remapped field similar to the Gibbs phenomenon (Gottlieb and Shu, 1997; Mahadevan et al., 2022). Preserving the bounds of these fields, as well as minimizing the Gibbs oscillation, is critical to maintaining the accuracy of coupled simulations.
Conservative and bounds-preserving schemes have been used in semi-Lagrangian schemes (Zerroukat, 2010). Here, we are interested in the "clip and assured sum" (CAAS) method (Bradley et al., 2019), whereby the remapped field is cropped, and then mass is redistributed in such a way that the field remains within specified bounds. Specifically, given a vector of source values, and lower and upper bounds l and u, the CAAS algorithm modifies the remapped field, Rψs, such that while still preserving conservation. The operator R is constructed according to a two-stage procedure for finite-volume meshes (Ullrich et al., 2016).
In this section, our goal is to examine the utility of the CAAS algorithm as a way of ensuring bounds preservation and reducing the Gibbs phenomena while still ensuring accuracy and conservation. In particular, we are interested in documenting the effect of CAAS on standard error norms, as implemented in TempestRemap.
4
 Non-conservative monotone remapping
In this section, we describe several different approaches to monotone remapping that are consistent but non-conservative. In general, traditional approaches to monotone remapping perform poorly when the source mesh is significantly finer than the target mesh. To correct this, we propose what we call integrated approaches to remapping, which rely on the construction of the overlap mesh or supermesh (e.g., Farrell et al., 2009). This is in contrast to the more traditional approaches that amount to pointwise interpolations, which we refer to as non-integrated approaches, and are used extensively in, for instance, the Earth System Modeling Framework (Hill et al., 2004).
In brief, for consistent and monotone remapping operators, we express the value of ψt at each spatial degree of freedom on the target mesh as a weighted sum of N values of ψs:
where ik denotes the index of a spatial degree of freedom on the source mesh. As we are working with finite-volume meshes in this context, the spatial degrees of freedom correspond to the average value over the mesh faces. For consistency, we need , and for monotonicity, we need . The weights then make up the entries of the remapping operator R given in Eq. (1).
In this paper we have examined a number of different schemes for conservative and non-conservative monotone remapping. For monotone conservative remapping, we showed that the "clip and assured sum" method provides an accurate way of remapping conservative fields that are required to stay bounded and is effective at reducing the Gibbs-like oscillations associated with discontinuous source fields.
We then described several different approaches to non-conservative remapping. Two of these have, to the best of our knowledge, never been applied to remapping problems on the sphere. These methods have what are referred to as non-integrated and integrated versions, and it was shown that the integrated versions are capable of maintaining second-order accuracy across a wide range of source mesh resolutions by systematically sampling the degrees of freedom on the source mesh, albeit at higher computational costs.
As discussed in the Introduction, the methods described in this paper have been implemented as part of v2.1.6 of the TempestRemap software package (Ullrich et al., 2022).
DHM developed the functionality in TempestRemap and wrote the paper; PAU advised and edited the paper.
At least one of the (co-)authors is a member of the editorial board of Geoscientific Model Development. The peer-review process was guided by an independent editor, and the authors also have no other competing interests to declare.
Publisher's note: Copernicus Publications remains neutral with regard to jurisdictional claims in published maps and institutional affiliations.
Primary support for this work was provided by the SciDAC Coupling Approaches for Next Generation Architectures (CANGA) project, which is also funded by the DOE Office of Advanced Scientific Computing Research.
This research has been supported by the Department of Energy, Office of Science (grant no. DE-AC52-06NA25396).
This paper was edited by Min-Hui Lo and reviewed by Robert Oehmke, Sang-Wook Kim, and one anonymous referee.
Barth, T. and Jespersen, D.: The design and application of upwind schemes on unstructured meshes, in: 27th Aerospace sciences meeting, 9–12 January 1989, Reno, Nevada, USA, 366, https://doi.org/10.2514/6.1989-366, 1989. a
Beljaars, A., Dutra, E., Balsamo, G., and Lemarié, F.: On the numerical stability of surface–atmosphere coupling in weather and climate models, Geosci. Model Dev., 10, 977–989, https://doi.org/10.5194/gmd-10-977-2017, 2017. a
Bradley, A. M., Bosler, P. A., Guba, O., Taylor, M. A., and Barnett, G. A.: Communication-efficient property preservation in tracer transport, SIAM Journal on Scientific Computing, 41, C161–C193, https://doi.org/10.1137/18M1165414, 2019. a, b
Farrell, P. E., Piggott, M. D., Pain, C. C., Gorman, G. J., and Wilson, C. R.: Conservative interpolation between unstructured meshes via supermesh construction, Comput. Method. Appl. M., 198, 2632–2642, 2009. a
Floater, M. S.: Generalized barycentric coordinates and applications, Acta Numerica, 24, 161–214, https://doi.org/10.1017/S0962492914000129, 2015. a
Golaz, J.-C., Caldwell, P. M., Van Roekel, L. P., Petersen, M. R., Tang, Q., Wolfe, J. D., Abeshu, G., Anantharaj, V., Asay-Davis, X. S., Bader, D. C., Baldwin, S. A., Bisht, G., Bogenschutz, P. A., Branstetter, M., Brunke, M. A., Brus, S. R., Burrows, S. M., Cameron-Smith, P. J., Donahue, A. S., Deakin, M., Easter, R. C., Evans, K. J., Feng, Y., Flanner, M., Foucar, J. G., Fyke, J. G., Griffin, B. M., Hannay, C., Harrop, B. E., Hoffman, M. J., Hunke, E. C., Jacob, R. L., Jacobsen, D. W., Jeffery, N., Jones, P. W., Keen, N. D., Klein, S. A., Larson, V. E., Leung, L. R., Li, H.-Y., Lin, W., Lipscomb, W. H., Ma, P.-L., Mahajan, S., Maltrud, M. E., Mametjanov, A., McClean, J. L., McCoy, R. B., Neale, R. B., Price, S. F., Qian, Y., Rasch, P. J., Reeves Eyre, J. E. J., Riley, W. J., Ringler, T. D., Roberts, A. F., Roesler, E. L., Salinger, A. G., Shaheen, Z., Shi, X., Singh, B., Tang, J., Taylor, M. A., Thornton, P. E., Turner, A. K., Veneziani, M., Wan, H., Wang, H., Wang, S., Williams, D. N., Wolfram, P. J., Worley, P. H., Xie, S.,Yang, Y., Yoon, J.-H., Zelinka, M. D., Zender, C. S., Zeng, X., Zhang, C.,Zhang, K., Zhang, Y., Zheng, X., Zhou, T., and Zhu, Q.: The DOE E3SM coupled model version 1: Overview and evaluation at standard resolution, J. Adv. Model. Earth Sy., 11, 2089–2129, 2019. a
Gottlieb, D. and Shu, C.-W.: On the Gibbs phenomenon and its resolution, SIAM Rev., 39, 644–668, https://doi.org/10.1137/S0036144596301390, 1997. a
Harris, L. M. and Lin, S.-J.: Global-to-Regional Nested Grid Climate Simulations in the GFDL High Resolution Atmospheric Model, J. Climate, 27, 4890–4910, https://doi.org/10.1175/JCLI-D-13-00596.1, 2014. a
Hill, C. N., DeLuca, C., Balaji, V., Suarez, M., and da Silva, A.: The architecture of the earth system modeling framework, Comput. Sci. Engrg., 6, 18, https://doi.org/10.1109/MCISE.2004.1255817, 2004. a, b
Jablonowski, C., Herzog, M., Penner, J. E., Oehmke, R. C., Stout, Q. F., van Leer, B., and Powell, K. G.: Block-Structured Adaptive Grids on the Sphere: Advection Experiments, Mon. Weather Rev., 134, 3691–3713, https://doi.org/10.1175/MWR3223.1, 2006. a
Kritsikis, E., Aechtner, M., Meurdesoif, Y., and Dubos, T.: Conservative interpolation between general spherical meshes, Geosci. Model Dev., 10, 425–431, https://doi.org/10.5194/gmd-10-425-2017, 2017. a
Mahadevan, V. S., Grindeanu, I., Jacob, R., and Sarich, J.: Improving climate model coupling through a complete mesh representation: a case study with E3SM (v1) and MOAB (v5.x), Geosci. Model Dev., 13, 2355–2377, https://doi.org/10.5194/gmd-13-2355-2020, 2020. a
Mahadevan, V. S., Guerra, J. E., Jiao, X., Kuberry, P., Li, Y., Ullrich, P., Marsico, D., Jacob, R., Bochev, P., and Jones, P.: Metrics for Intercomparison of Remapping Algorithms (MIRA) protocol applied to Earth system models, Geosci. Model Dev., 15, 6601–6635, https://doi.org/10.5194/gmd-15-6601-2022, 2022. a, b
Marsico, D. H. and Ullrich, P. A.: Conservative and Non-Conservative Monotone Remapping Data, Zenodo [data set], https://doi.org/10.5281/zenodo.7714127, 2023. a
Meyer, M., Barr, A., Lee, H., and Desbrun, M.: Generalized Barycentric Coordinates on Irregular Polygons, Journal of Graphics Tools, 7, 13–22, https://doi.org/10.1080/10867651.2002.10487551, 2002. a
Ringler, T., Petersen, M., Higdon, R. L., Jacobsen, D., Jones, P. W., and Maltrud, M.: A multi-resolution approach to global ocean modeling, Ocean Model., 69, 211–232, https://doi.org/10.1016/j.ocemod.2013.04.010, 2013. a
Satoh, M., Matsuno, T., Tomita, H., Miura, H., Nasuno, T., and Iga, S.: Nonhydrostatic Icosahedral Atmospheric Model (NICAM) for Global Cloud Resolving Simulations, J, Computat, Phys,, 227, 3486–3514, https://doi.org/10.1016/j.jcp.2007.02.006, 2008. a
Shewchuk, J.: Triangle: Engineering a 2D Quality Mesh Generator and Delaunay Triangulator, Applied Computational Geometry: Towards Geometric Engineering, 1148, 203–222, https://doi.org/10.1007/BFb0014497, 1996. a
Skamarock, W. C. and Klemp, J. B.: Adaptive Grid Refinement for Two-Dimensional and Three-Dimensional Nonhydrostatic Atmospheric Flow, Mon. Weather Rev., 121, 788–804, https://doi.org/10.1175/1520-0493(1993)121<0788:AGRFTD>2.0.CO;2, 1993. a
Slingo, J., Bates, K., Nikiforakis, N., Piggott, M., Roberts, M., Shaffrey, L., Stevens, I., Vidale, P. L., and Weller, H.: Developing the next-generation climate system models: challenges and achievements, Philos. T. Roy. Soc. A, 367, 815–831, https://doi.org/10.1098/rsta.2008.0207, 2009. a
Taylor, M. A., Edwards, J., Thomas, S., and Nair, R.: A mass and energy conserving spectral element atmospheric dynamical core on the cubed-sphere grid, J. Phys. Conf. Ser., 78, 012074, https://doi.org/10.1088/1742-6596/78/1/012074, 2007.  a
Ullrich, P., Mahadevan, V., Jain, R., Taylor, M., Hall, D., Grindeanu, I., Hannah, W., Marsico, D., Thompson, M., Bradley, A., Bolewski, J., Sarich, J., and Byrne, S.: TempestRemap v2.1.6, Zenodo [code], https://doi.org/10.5281/zenodo.7121451, 2022. a, b, c
Ullrich, P. A. and Taylor, M. A.: Arbitrary-order conservative and consistent remapping and a theory of linear maps: Part I, Mon. Weather Rev., 143, 2419–2440, https://doi.org/10.1175/MWR-D-14-00343.1, 2015. a, b, c, d, e
Ullrich, P. A., Devendran, D., and Johansen, H.: Arbitrary-order conservative and consistent remapping and a theory of linear maps: Part II, Mon. Weather Rev., 144, 1529–1549, https://doi.org/10.1175/MWR-D-15-0301.1, 2016. a, b
Zerroukat, M.: A simple mass conserving semi-Lagrangian scheme for transport problems, J. Comput. Phys., 229, 9011–9019, https://doi.org/10.1016/j.jcp.2010.08.017, 2010. a