Model evaluation paper | 21 Jun 2022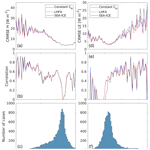 Institute for Atmospheric and Earth System Research/Physics, Faculty of Science, University of Helsinki, Helsinki, Finland
Correspondence: Joonatan Ala-Könni (joonatan.ala-konni@helsinki.fi)
Received: 03 Aug 2021 – Discussion started: 06 Oct 2021 – Revised: 19 May 2022 – Accepted: 20 May 2022 – Published: 21 Jun 2022
In this study we analyzed turbulent heat fluxes over a seasonal ice cover on a boreal lake located in southern Finland. Eddy covariance (EC) flux measurements of sensible (H) and latent heat (LE) from four ice-on seasons between 2014 and 2019 are compared to three different bulk transfer models: one with a constant transfer coefficient and two with stability-adjusted transfer coefficients: the Lake Heat Flux Analyzer and SEA-ICE. All three models correlate well with the EC results in general while typically underestimating the magnitude and the standard deviation of the flux in comparison to the EC observations. Differences between the models are small, with the constant transfer coefficient model performing slightly better than the stability-adjusted models. Small difference in temperature and humidity between surface and air results in low correlation between models and EC. During melting periods (surface temperature T0>0 ∘C), the model performance for LE decreases when compared to the freezing periods (T0<0 ∘C), while the opposite is true for H. At low wind speed, EC shows relatively high fluxes (±20 W m−2) for H and LE due to non-local effects that the bulk models are not able to reproduce. The complex topography of the lake surroundings creates local violations of the Monin–Obukhov similarity theory, which helps explain this counterintuitive result. Finally, the uncertainty in the estimation of the surface temperature and humidity affects the bulk heat fluxes, especially when the differences between surface and air values are small.
According to the latest satellite-based estimates, there are approximately 117 million lakes larger than 0.002 km2 globally (Verpoorter et al., 2014). About 95 million of these are either above latitude 60∘ N or below 56∘ S. The seasonal lake ice zone extends in the Northern Hemisphere from 40 to 80∘ N (Leppäranta, 2014), so it can safely be estimated that over 80 % of all lakes on Earth receive a seasonal ice cover. A very defining property of lakes with seasonal ice cover is that they display two starkly different states of their surface during the annual cycle. As the ice cover forms, the lake water is effectively isolated from the atmosphere, and the already low amount of shortwave radiation inherent for winter is almost completely attenuated in the snow and ice cover (Leppäranta, 2014). The snow/ice–air boundary replaces the water–air boundary, and radical changes in albedo, emissivity, surface roughness, energy balance, and gas exchange occur. Depending on the lake and the local climate, the snow–air boundary layer can be the dominating mode of exchange between the lake and the atmosphere. Thus, understanding the physics of seasonally ice-covered lakes is an important yet often overlooked aspect of understanding the behavior of lakes (Kirillin et al., 2012).
It is easy to understand why ice-covered lakes have been overlooked in the past, as most clearly observable activity on lakes happens during the open water season, but the remote nature of many of the seasonally ice-covered lakes has also made their research difficult from a practical and technical standpoint (Salonen et al., 2009). Nevertheless, while physical and biological processes in lakes slow down under the ice cover, they do not stop completely. Circulation is driven by sediment heat accumulated there during the summer, meltwater streaming from the surrounding catchment area, and solar radiation, with additional mixing produced via the breaking of internal waves promoted by changes in air pressure and wind, and although primary production is minimal, other biological processes still continue (Hampton et al., 2017) and affect especially the gas fluxes of the lake (Cortés and MacIntyre, 2020). Regardless of the season, lakes affect the climate at both regional and global scales. At the large scale, lakes affect the global climate by acting as small net sources of carbon (CO2 and CH4) into the atmosphere and also sequestering organic carbon into their sediments from internal biogeochemical processes and from the surrounding environment (Cole et al., 1994). At the small scale, due to their large heat storage, thermal inertia and evaporation, lakes can significantly affect local and regional weather patterns and microclimate, like rain and snowfall, temperature and cloudiness (Eerola et al., 2014; Ghanbari et al., 2009; Rouse et al., 2005). As lakes contribute significantly to the climate, understanding their surface heat balance more precisely has relevant implications, from local short-term weather and ice cover forecasting (Ghanbari et al., 2009) to long-term global circulation models, where the effect of lakes has been neglected almost completely (Subin et al., 2012).
The yearly cycle of a lake is driven by external forcing, which follows changes in the patterns of the components of the surface energy and water balance. The surface energy balance constitutes incoming and reflected solar radiation (also known as shortwave radiation), incoming and outgoing terrestrial radiation (also called longwave radiation), turbulent heat fluxes (latent and sensible heat flux) and the precipitation heat flux (Kirillin et al., 2012).
Annual changes in the solar radiation drive the changes in seasons, and during the summer it dominates the energy balance. In fall the incoming solar radiation decreases every day, and eventually enough heat will be lost through turbulent heat fluxes and outgoing terrestrial radiation to lower the temperature of the water column to the temperature of maximum density, which is +4 ∘C for freshwater. Then, the lake mixes completely, while cooling continues. At high latitude, seasonal ice cover begins to form usually in the late fall during clear-sky and low-wind conditions associated with anticyclonal weather patterns, although frazil ice can also form in the turbulent surface layer of the lake as well. During nights in calm, cloud-free conditions there is significant loss of heat from the water through longwave radiation and freezing water can accumulate to the surface without being mixed with the warmer water below forming primary ice under which the more permanent congelation ice can form. Later during the winter snow can accumulate over the ice and freeze into solid, opaque snow ice. It insulates the lake more effectively from the solar radiation than the clear congelation ice. Melting begins when the radiation balance turns positive, and the surface absorbs more radiation. The length of ice season varies significantly depending on the local climate at the lake. Lakes in southern Finland spend less than half of the year under an ice cover, but above 65∘ N lakes have on average a longer ice-on than ice-off season (Korhonen, 2006). Although statistics can be drawn, every winter on a lake is unique in regards to the length of the ice cover period, the layering of the ice cover, amount on snow accumulation and precipitation.
Radiative components of the energy balance are relatively simple to measure due to the passive instruments with low power consumption required to measure them, but turbulent heat transfer poses more challenges. During the last 4 decades the eddy covariance (EC) technique has become a very popular method in many fields of the environmental and geophysical sciences. It is an accurate, proven and well-established method for directly measuring vertical fluxes of heat, momentum, gases and particles over a wide variety of surface types and ecosystems (Aubinet et al., 2012). Its strong points are the ability to collect long, continuous time series in many different environmental and meteorological conditions. Although it has been extensively used over terrestrial environments, lately EC has been applied in marine and freshwater environments as well.
As the EC setup is not suited for all applications due to the technical complexity of its installation, simpler methods to compute the turbulent heat fluxes from more basic meteorological observations have been developed, with the bulk aerodynamic method and the profile method being the most popular. They originated from the need to estimate turbulent heat fluxes in situations where only basic meteorological parameters were available, like with remote-buoy-based oceanographic measurement stations with very low power available. They are also commonly used in global and regional climate models as well as in numerical weather prediction models due to their computational simplicity. For different applications (marine, land, etc.), the parameterization of the stability, aerodynamic roughness and other parameters of the model can be adjusted accordingly.
Estimating turbulent heat fluxes by the bulk aerodynamic method is simpler than measuring them with EC, as only basic meteorological measurements are required, but it inherently contains some limitations and uncertainty. Stable boundary-layer conditions and surface heterogeneity are especially troublesome, and the assumptions made in the Monin–Obukhov similarity theory (MOST) do not take into account all meteorological phenomena, like non-local effects produced by the surface heterogeneity present over small lakes surrounded by forests (Esters et al., 2021; Barskov et al., 2019).
While a few studies have reported short field campaign measurements of EC turbulent heat fluxes over seasonal ice-covered lakes (Franz et al., 2018; Barskov et al., 2019), long-term turbulent heat flux measurements have not been reported so far. In this study, we present a unique data set collected over a boreal lake in southern Finland over four ice-on seasons between 2014 and 2019. Previous studies of turbulent heat fluxes over lakes have been performed mostly in the open water season, like a northern boreal lake in Finnish Lapland (Lohila et al., 2015), a boreal lake in southern Finland (Nordbo et al., 2011) and the lake in question in this study, Lake Kuivajärvi (Mammarella et al., 2015). Ice-on lake energy balance has been studied, for example, on Lake Kilpisjärvi in northwestern Finnish Lapland (Leppäranta et al., 2017) and Lake Pääjärvi in southern Finland (Wang et al., 2005; Jakkila et al., 2009), but these experiments were done without EC equipment and estimated turbulent heat fluxes by bulk aerodynamic formulae and the profile method. EC over seasonal lake ice cover was performed over a thermokarst lake in Siberia (Franz et al., 2018), but it was also only for one winter. Thus, the data set presented here gives us a unique look at the dynamics of turbulent heat fluxes over seasonal lake ice cover as well as a possibility of validating the functionality of bulk transfer models in this environment.
4
 Discussions and conclusions
Turbulent heat fluxes were studied with an EC setup for four winters over the ice cover of a boreal lake, and these results were compared to three bulk aerodynamic models, one that does not take into account the atmospheric stability and two that do take it into account. Our data set spanning four ice-on seasons provided a good opportunity to verify and compare the accuracy of bulk transfer models over direct measurements of turbulent heat fluxes by an EC setup on seasonal lake ice cover.
The best agreement between measured and modeled fluxes of H and LE was found for cases with high wind speed and large water–air temperature and humidity differences. Lake ice surface is a challenging environment for eddy covariance due to the relatively low amount of turbulence in the air above it. This is for several reasons: the boundary layer is stable for most of the time during winter, which leads to underdeveloped turbulence and decoupling of the flow from the surface, the surface has a very low roughness and fluxes are usually low. Despite these challenges, the EC setup was able to record good-quality flux values in a wide range of meteorological states, and the data coverage was sufficient.
The bulk aerodynamic method is technically and computationally much simpler than the eddy covariance method, but it comes with some limitations. The greatest error-producing effect can be attributed to the fact that estimating the skin temperature of a snowy surface is difficult, which has been previously reported as a major issue in modeling turbulent heat fluxes over snow and ice (Franz et al., 2018; Bourassa et al., 2013). This is due to melting and refreezing and the consequent horizontally heterogeneous changes in the surface properties, like albedo, emissivity and phase (liquid or frozen). Errors in determination of the surface temperature affect both sensible and latent heat flux computation, especially when the difference between air and surface is small. It results in incorrect surface humidity values, which is an exponential function of the surface temperature and thus very sensitive to errors. Also, the emissivity ϵ of the ice/snow surface is difficult to determine accurately, and it can change with the metamorphosis of snow (Hori et al., 2006), which happens constantly over the course of the winter. Thus, the calibration and proper installation of especially the longwave radiation sensors is very important in campaigns performed over ice or snow. Due to the horizontally and vertically heterogeneous nature of the surface, point measurements performed in one location, like net radiation, are not always representative of the whole lake, and there is a possibility that very biased results for the surface albedo and outgoing longwave radiation are recorded, especially during the melting period. This partially explains differences in EC and bulk flux results, as the footprint of EC measurements is at least an order of magnitude larger than the source area measured by the radiation sensors.
Similar behavior of the models studied here has been observed in previous studies. In Franz et al. (2018) it was noted that the LHFA and SEA-ICE models tended to underestimate and result in lower standard deviation than the turbulent heat fluxes acquired by EC over a Siberian thermokarst lake, which is in line with the results of our study. Correlation of these models ranged between 0.7 and 0.9 over the thermokarst lake, which is similar to our findings.
In a study conducted over landfast sea ice (Raddatz et al., 2015), the bulk transfer models were seen to underestimate negative fluxes, but unlike our results, they were found to overestimate positive fluxes for both H and LE. Correlation coefficients were found to be slightly larger (0.88) for LE than for H (0.82), which is similar to our results. The same study reported better accuracy of models with a constant transfer coefficient over dynamic coefficients in the winter–spring transition period, although in general they observed the dynamic model performing marginally better over the static one. Differentiation between frozen and melting surfaces was not performed in the aforementioned studies, but the results of our study indicate that modeling of H works better in melting conditions, while the opposite holds for LE.
Issues with the bulk algorithms were noticed as low correlation and high error in low wind speed conditions, which can possibly be explained by non-local effects on turbulence above the lake. In Barskov et al. (2019) it was shown that a sharp decrease in aerodynamic roughness, like the transition between dense forest and lake ice commonly found on boreal lakes, can cause significant fluxes on EC measurements, while bulk algorithms show very low values. When the wind blows from the forest towards the lake, a significant increase in turbulent kinetic energy is observed near the center of the lake, and heat and moisture are transported from the upper boundary layer towards the surface. Bulk algorithms do not take this local violation of MOST into account and thus fail to reproduce these situations.
Discrepancies at low wind speed can also be seen when studying the neutral transfer coefficients as a function of wind speed. Dependency of neutral transfer coefficient values on wind speed have been studied previously during the open water season, most recently and applicably on Lake Kasumigaura in Japan (Wei et al., 2016). In this study, observations similar to ours were made, namely, that the transfer coefficients increase during low wind speed conditions (U<3 m s−1). This effect has been attributed to several possible mechanisms, but the study performed over Lake Kasumigaura showed that capillary waves and the averaging method used for the calculation of mean wind speed only had a small effect on the increase in neutral transfer coefficients towards lower wind speed. Larger effects were noted to be most likely caused by increases in turbulent kinetic energy over the lake in low wind speed conditions. Our data are in agreement, as in our case the coefficients increase in the same range of wind speed, and any effect of waves and underlying currents in the water can be excluded as possible reasons due to the ice cover.
Neutral values in high wind speeds were all within the same range between the bulk models and EC. In high wind speed conditions (U>2 m s−1), the neutral transfer coefficient for heat and water vapor calculated from EC observations is very close to the values estimated from the models, with slightly lower values for evaporation than for heat, which indicates dissimilarity between temperature and humidity.
The fact that EC observations were only made on one level also somewhat limited our ability to perform analysis regarding, for example, the roughness length over the lake ice cover or the applicability of the logarithmic profile for wind speed and scalars. With multiple levels of measurement, cases where MOST is locally violated could be identified much better.
Although the stability-corrected bulk transfer models have a sounder physical and theoretical basis than an uncorrected static model has, it is possible to get lower agreement between EC and dynamic models than between EC and static models. This is not to say that the stability-corrected models are inherently wrong but that conditions violating MOST are not uncommon over lakes. Thus, although generally good, turbulent heat flux values obtained by bulk transfer models on very small lakes surrounded by forest generally underestimate the flux as the heterogeneity of the surrounding environment and measurement errors over the complex and dynamic ice cover causes incorrect output of the models in certain conditions.
IM designed the study and supervised the research, JAK performed the data analysis and wrote the article, KMK performed the data processing, and ML supported data analysis and result interpretation. All the authors provided comments on the manuscript.
The contact author has declared that neither they nor their co-authors have any competing interests.
Publisher's note: Copernicus Publications remains neutral with regard to jurisdictional claims in published maps and institutional affiliations.
The authors thank the ICOS-Finland (3119871), ACCC Flagship (337549) and N-PERM (341348) projects funded by the Academy of Finland.
This research has been supported by the European Commission's Horizon 2020 Framework Programme (RINGO, grant no. 730944).

Open-access funding was provided by the Helsinki University Library.
This paper was edited by Chiel van Heerwaarden and reviewed by two anonymous referees.
Aalto, J., Aalto, P., Keronen, P., Kolari, P., Rantala, P., Taipale, R., Kajos, M., Patokoski, J., Rinne, J., Ruuskanen, T., Leskinen, M., Laakso, H., Levula, J., Pohja, T., Siivola, E., and Kulmala, M.: SMEAR II Hyytiälä forest meteorology, greenhouse gases, air quality and soil, University of Helsinki, Institute for Atmospheric and Earth System Research [data set], https://doi.org/10.23729/2001890a-2f0b-4e37-8c70-4d2cb5f40273, 2019. a
Andreas, E.: A Bulk Turbulent Flux Algorithm for Sea Ice, Based on the SHEBA Data Set (2.0), Zenodo [code], https://doi.org/10.5281/zenodo.5534911, 2014. a
Andreas, E. L., Persson, P. O. G., Grachev, A. A., Jordan, R. E., Horst, T. W., Guest, P. S., and Fairall, C. W.: Parameterizing turbulent exchange over sea ice in winter, J. Hydrometeorol., 11, 87–104, 2010. a
Aubinet, M., Vesala, T., and Papale, D.: Eddy covariance: a practical guide to measurement and data analysis, Springer Science & Business Media, https://doi.org/10.1007/978-94-007-2351-1, 2012. a
Barskov, K., Stepanenko, V., Repina, I., Artamonov, A., and Gavrikov, A.: Two regimes of turbulent fluxes above a frozen small lake surrounded by forest, Bound.-Lay. Meteorol., 173, 311–320, 2019. a, b, c
Bourassa, M. A., Gille, S. T., Bitz, C., Carlson, D., Cerovecki, I., Clayson, C. A., Cronin, M. F., Drennan, W. M., Fairall, C. W., Hoffman, R. N., Magnusdottir, G., Pinker, R. T., Renfrew, I. A., Serreze, M., Speer, K., Talley, L. D., and Wick, G. A.: High-latitude ocean and sea ice surface fluxes: Challenges for climate research, B. Am. Meteorol. Soc., 94, 403–423, 2013. a
Brutsaert, W.: Evaporation into the atmosphere: theory, history and applications, vol. 1, Springer Science & Business Media, https://doi.org/10.1007/978-94-017-1497-6, 2013. a
Cole, J. J., Caraco, N. F., Kling, G. W., and Kratz, T. K.: Carbon dioxide supersaturation in the surface waters of lakes, Science, 265, 1568–1570, 1994. a
Cortés, A. and MacIntyre, S.: Mixing processes in small arctic lakes during spring, Limnol. Oceanogr., 65, 260–288, 2020. a
Eerola, K., Rontu, L., Kourzeneva, E., Pour, H. K., and Duguay, C.: Impact of partly ice-free Lake Ladoga on temperature and cloudiness in an anticyclonic winter situation – a case study using a limited area model, Tellus A, 66, 23929, https://doi.org/10.3402/tellusa.v66.23929, 2014. a
Erkkilä, K.-M., Ojala, A., Bastviken, D., Biermann, T., Heiskanen, J. J., Lindroth, A., Peltola, O., Rantakari, M., Vesala, T., and Mammarella, I.: Methane and carbon dioxide fluxes over a lake: comparison between eddy covariance, floating chambers and boundary layer method, Biogeosciences, 15, 429–445, https://doi.org/10.5194/bg-15-429-2018, 2018. a, b
Erkkilä, K., Mammarella, I., Ojala, A., Laakso, H., Matilainen, T., Salminen, T., and Levula, J.: SMEAR II Lake Kuivajärvi meteorology, water quality and eddy covariance, University of Helsinki, Institute for Atmospheric and Earth System Research [data set], https://doi.org/10.23729/9b209b52-2ea0-4d89-b059-062b734142d8, 2019. a
Esters, L., Rutgersson, A., Nilsson, E., and Sahlée, E.: Non-local Impacts on Eddy-Covariance Air–Lake CO2 Fluxes, Bound.-Lay. Meteorol., 178, 283–300, 2021. a
Franz, D., Mammarella, I., Boike, J., Kirillin, G., Vesala, T., Bornemann, N., Larmanou, E., Langer, M., and Sachs, T.: Lake-Atmosphere Heat Flux Dynamics of a Thermokarst Lake in Arctic Siberia, J. Geophys. Res.-Atmos., 123, 5222–5239, https://doi.org/10.1029/2017JD027751, 2018. a, b, c, d
Ghanbari, R. N., Bravo, H. R., Magnuson, J. J., Hyzer, W. G., and Benson, B. J.: Coherence between lake ice cover, local climate and teleconnections (Lake Mendota, Wisconsin), J. Hydrol., 374, 282–293, https://doi.org/10.1016/j.jhydrol.2009.06.024, 2009. a, b
Grachev, A. A., Andreas, E. L., Fairall, C. W., Guest, P. S., and Persson, P. O. G.: SHEBA flux–profile relationships in the stable atmospheric boundary layer, Bound.-Lay. Meteorol., 124, 315–333, 2007. a, b
Hampton, S. E., Galloway, A. W., Powers, S. M., Ozersky, T., Woo, K. H., Batt, R. D., Labou, S. G., O'Reilly, C. M., Sharma, S., Lottig, N. R., Stanley, E. H., North, R. L., Stockwell, J. D., Adrian, R., Weyhenmeyer, G. A., Arvola, L., Baulch, H. M., Bertani, I., Bowman, L. L., Carey, C. C., Catalan, J., Colom-Montero, W., Domine, L. M., Felip, M., Granados, I., Gries, C., Grossart, H.-P., Haberman, J., Haldna, M., Hayden, B., Higgins, S. N., Jolley, J. C., Kahilainen, K. K., Kaup, E., Kehoe, M. J., MacIntyre, S., Mackay, A. W., Mariash, H. L., Mckay, R. M., Nixdorf, B., Noges, P., Noges, T., Palmer, M., Pierson, D. C., Post, D. M., Pruett, M. J., Rautio, M., Read, J. S., Roberts, S. L., Ruecker, J., Sadro, S., Silow, E. A., Smith, D. E., Sterner, R. W., Swann, G. E. A., Timofeyev, M. A., Toro, M., Twiss, M. R., Vogt, R. J., Watson, S. B., Whiteford, E. J., and Xenopoulos, M. A.: Ecology under lake ice, Ecol. Lett., 20, 98–111, 2017. a
Hari, P. and Kulmala, M.: Station for Measuring Ecosystem-Atmosphere Relations (SMEAR II), Boreal Environ. Res., 10, 315–322, 2005. a
Hori, M., Aoki, T., Tanikawa, T., Motoyoshi, H., Hachikubo, A., Sugiura, K., Yasunari, T. J., Eide, H., Storvold, R., Nakajima, Y., and Takahashi, F.: In-situ measured spectral directional emissivity of snow and ice in the 8–14 µm atmospheric window, Remote Sens. Environ., 100, 486–502, 2006. a, b
Jakkila, J., Leppäranta, M., Kawamura, T., Shirasawa, K., and Salonen, K.: Radiation transfer and heat budget during the ice season in Lake Pääjärvi, Finland, Aquat. Ecol., 43, 681–692, 2009. a
Kagan, B. A. K.: Ocean-atmosphere interaction and climate modelling, Cambridge atmospheric and space science series, Cambridge University Press, Cambridge, https://doi.org/10.1017/CBO9780511628931, 1995. a
Kirillin, G., Leppäranta, M., Terzhevik, A., Granin, N., Bernhardt, J., Engelhardt, C., Efremova, T., Golosov, S., Palshin, N., Sherstyankin, P., Zdorovennova, G., and Zdorovennov, R.: Physics of seasonally ice-covered lakes: a review, Aquat. Sci., 74, 659–682, 2012. a, b
Kljun, N., Calanca, P., Rotach, M. W., and Schmid, H. P.: A simple two-dimensional parameterisation for Flux Footprint Prediction (FFP), Geosci. Model Dev., 8, 3695–3713, https://doi.org/10.5194/gmd-8-3695-2015, 2015. a
Korhonen, J.: Long-term changes in lake ice cover in Finland, Nord. Hydrol., 37, 347–364, 2006. a, b
Leppäranta, M.: Freezing of lakes and the evolution of their ice cover, Springer Science & Business Media, https://doi.org/10.1007/978-3-642-29081-7, 2014. a, b, c
Leppäranta, M., Lindgren, E., and Shirasawa, K.: The heat budget of Lake Kilpisjärvi in the Arctic tundra, Hydrol. Res., 48, 969–980, 2017. a
Liu, H., Peters, G., and Foken, T.: New Equations For Sonic Temperature Variance And Buoyancy Heat Flux With An Omnidirectional Sonic Anemometer, Bound.-Lay. Meteorol., 100, 459–468, 2001. a
Lohila, A., Tuovinen, J.-P., Hatakka, J., Aurela, M., Vuorenmaa, J., Haakana, M., and Laurila, T.: Carbon dioxide and energy fluxes over a northern boreal lake, Boreal Environ. Res., 20, 474–488, 2015. a
Mammarella, I., Launiainen, S., Gronholm, T., Keronen, P., Pumpanen, J., Rannik, U., and Vesala, T.: Relative Humidity Effect on the High-Frequency Attenuation of Water Vapor Flux Measured by a Closed-Path Eddy Covariance System, J. Atmos. Ocean. Tech., 26, 1856–1866, https://doi.org/10.1175/2009JTECHA1179.1, 2009. a
Mammarella, I., Nordbo, A., Rannik, Ü., Haapanala, S., Levula, J., Laakso, H., Ojala, A., Peltola, O., Heiskanen, J., Pumpanen, J., and Vesala, T.: Carbon dioxide and energy fluxes over a small boreal lake in Southern Finland, J. Geophys. Res.-Biogeo., 120, 1296–1314, 2015. a, b, c, d
Mammarella, I., Peltola, O., Nordbo, A., Järvi, L., and Rannik, Ü.: Quantifying the uncertainty of eddy covariance fluxes due to the use of different software packages and combinations of processing steps in two contrasting ecosystems, Atmos. Meas. Tech., 9, 4915–4933, https://doi.org/10.5194/amt-9-4915-2016, 2016. a
Nordbo, A., Launiainen, S., Mammarella, I., Leppäranta, M., Huotari, J., Ojala, A., and Vesala, T.: Long-term energy flux measurements and energy balance over a small boreal lake using eddy covariance technique, J. Geophys. Res.-Atmos., 116, D02119, https://doi.org/10.1029/2010JD014542, 2011. a
Paulson, C. A.: The mathematical representation of wind speed and temperature profiles in the unstable atmospheric surface layer, J. Appl. Meteorol. Clim., 9, 857–861, 1970.  a
Raddatz, R. L., Papakyriakou, T. N., Else, B. G., Swystun, K., and Barber, D. G.: A Simple Scheme for Estimating Turbulent Heat Flux over Landfast Arctic Sea Ice from Dry Snow to Advanced Melt, Bound.-Lay. Meteorol., 155, 351–367, 2015. a
Rouse, W. R., Oswald, C. J., Binyamin, J., Spence, C., Schertzer, W. M., Blanken, P. D., Bussières, N., and Duguay, C. R.: The role of northern lakes in a regional energy balance, J. Hydrometeorol., 6, 291–305, 2005. a
Sabbatini, S., Mammarella, I., Arriga, N., Fratini, G., Graf, A., Hörtnagl, L., Ibrom, A., Longdoz, B., Mauder, M., Merbold, L., Metzger, S., Montagnani, L., Pitacco, A., Rebmann, C., Sedlak, P., Sigut, L., Vitale, D., and Papale, D.: Eddy covariance raw data processing for CO2 and energy fluxes calculation at ICOS ecosystem stations, Int. Agrophys., 32, 495–515, 2018. a
Salonen, K., Leppäranta, M., Viljanen, M., and Gulati, R.: Perspectives in winter limnology: closing the annual cycle of freezing lakes, Aquat. Ecol., 43, 609–616, 2009. a
Smith, S. D.: Coefficients for sea surface wind stress, heat flux, and wind profiles as a function of wind speed and temperature, J. Geophys. Res.-Oceans, 93, 15467–15472, 1988. a
Subin, Z. M., Riley, W. J., and Mironov, D.: An improved lake model for climate simulations: Model structure, evaluation, and sensitivity analyses in CESM1, J. Adv. Model. Earth Sy., 4, M02001m https://doi.org/10.1029/2011MS000072, 2012. a
Taylor, K. E.: Summarizing multiple aspects of model performance in a single diagram, J. Geophys. Res.-Atmos., 106, 7183–7192, https://doi.org/10.1029/2000JD900719, 2001. a
Verpoorter, C., Kutser, T., Seekell, D. A., and Tranvik, L. J.: A global inventory of lakes based on high-resolution satellite imagery, Geophys. Res. Lett., 41, 6396–6402, 2014. a
Wang, C., Shirasawa, K., Leppäranta, M., Ishikawa, M., Huttunen, O., and Takatsuka, T.: Solar radiation and ice heat budget during winter 2002–2003 in Lake Pääjärvi, Finland, SIL Proceedings, 1922–2010, 29, 414–417, https://doi.org/10.1080/03680770.2005.11902045, 2005. a
Wei, Z., Miyano, A., and Sugita, M.: Drag and bulk transfer coefficients over water surfaces in light winds, Bound.-Lay. Meteorol., 160, 319–346, 2016. a
Woolway, R. I., Jones, I. D., Hamilton, D. P., Maberly, S. C., Muraoka, K., Read, J. S., Smyth, R. L., and Winslow, L. A.: Automated calculation of surface energy fluxes with high-frequency lake buoy data, Environ. Model. Softw., 70, 191–198, https://doi.org/10.1016/j.envsoft.2015.04.013, 2015. a
Woolway, R. I., Jones, I. D., Hamilton, D. P., Maberly, S. C., Muraoka, K., Read, J. S., Smyth, R. L., and Winslow, L. A.: Lake Heat Flux Analyzer (1.1.0), Zenodo [code], https://doi.org/10.5281/zenodo.5534907, 2017. a
Zeng, X., Zhao, M., and Dickinson, R. E.: Intercomparison of Bulk Aerodynamic Algorithms for the Computation of Sea Surface Fluxes Using TOGA COARE and TAO Data, J. Climate, 11, 2628–2644, 1998. a