Articles | Volume 11, issue 12
https://doi.org/10.5194/gmd-11-5051-2018
© Author(s) 2018. This work is distributed under
the Creative Commons Attribution 4.0 License.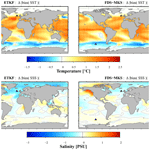 Evaluation of iterative Kalman smoother schemes for multi-decadal past climate analysis with comprehensive Earth system models
Paleoclimate reconstruction based on assimilation of proxy observations requires specification of the control variables and their background statistics. As opposed to numerical weather prediction (NWP), which is mostly an initial condition problem, the main source of error growth in deterministic Earth system models (ESMs) regarding the model low-frequency response comes from errors in other inputs: parameters for the small-scale physics, as well as forcing and boundary conditions. Also, comprehensive ESMs are non-linear and only a few ensemble members can be run in current high-performance computers. Under these conditions we evaluate two assimilation schemes, which (a) count on iterations to deal with non-linearity and (b) are based on low-dimensional control vectors to reduce the computational need. The practical implementation would assume that the ESM has been previously globally tuned with current observations and that for a given situation there is previous knowledge of the most sensitive inputs (given corresponding uncertainties), which should be selected as control variables. The low dimension of the control vector allows for using full-rank covariances and resorting to finite-difference sensitivities (FDSs). The schemes are then an FDS implementation of the iterative Kalman smoother (FDS-IKS, a Gauss–Newton scheme) and a so-called FDS-multistep Kalman smoother (FDS-MKS, based on repeated assimilation of the observations). We describe the schemes and evaluate the analysis step for a data assimilation window in two numerical experiments: (a) a simple 1-D energy balance model (Ebm1D; which has an adjoint code) with present-day surface air temperature from the NCEP/NCAR reanalysis data as a target and (b) a multi-decadal synthetic case with the Community Earth System Model (CESM v1.2, with no adjoint). In the Ebm1D experiment, the FDS-IKS converges to the same parameters and cost function values as a 4D-Var scheme. For similar iterations to the FDS-IKS, the FDS-MKS results in slightly higher cost function values, which are still substantially lower than those of an ensemble transform Kalman filter (ETKF). In the CESM experiment, we include an ETKF with Gaussian anamorphosis (ETKF-GA) implementation as a potential non-linear assimilation alternative. For three iterations, both FDS schemes obtain cost functions values that are close between them and (with about half the computational cost) lower than those of the ETKF and ETKF-GA (with similar cost function values). Overall, the FDS-IKS seems more adequate for the problem, with the FDS-MKS potentially more useful to damp increments in early iterations of the FDS-IKS.
Received: 19 Feb 2018 – Discussion started: 06 Mar 2018 – Revised: 03 Oct 2018 – Accepted: 23 Oct 2018 – Published: 11 Dec 2018
Earth system models (ESMs) to simulate the Earth system and global climate are usually developed using the present and recent historical climates as references, but climate projections indicate that future climates will lie outside these conditions. Paleoclimates very different from these reference states therefore provide a way to assess whether the ESM sensitivity to forcings is compatible with the evidence given by paleoclimatic records (Kageyama et al., 2018). Coupled atmosphere–ocean general circulation models (AOGCMs) and comprehensive ESMs have enabled the paleoclimate community to gain insights into internally generated and externally forced variability and to investigate climate dynamics, modes of variability (Ortega et al., 2015; Zanchettin et al., 2015), and regional processes in detail (PAGES 2k-PMIP3 group, 2015). However, AOGCMs and comprehensive ESMs demand high computational resources, which severely limits the length and number of affordable model integrations in current high-performance computers (HPCs). Thus, the last millennium ensemble with the Community Earth System Model (CESM) (Otto-Bliesner et al., 2016), which is still a considerable achievement, has only m=10 members for the full-forcing transient simulations for the years 850–2005 in the Common Era. Also, the multi-model ensemble in the Paleoclimate Model Intercomparison Project (PMIP) for experiments contributing to the Coupled Model Intercomparison Project (CMIP, since CMIP6) relies on coherent modelling protocols followed by the paleoclimate modelling teams in independent HPCs (Jungclaus et al., 2017). On the other hand, the gathering and analysis of existing and new paleoclimate proxy records to create multiproxy databases also relies on collective efforts focused on specific time spans, such as the global multiproxy database for temperature reconstructions of the Common Era (PAGES2K) (PAGES2k Consortium, 2017) or the Multiproxy Approach for the Reconstruction of the Glacial Ocean surface (MARGO) database (MARGO Project Members, 2009), which focuses on the Last Glacial Maximum (LGM), a period between 23 000 and 19 000 years before present (BP). The quantitative fusion of comprehensive ESMs and paleoclimate proxy observations should provide deeper insight into past climate low-frequency variability, which (here and throughout the article) we refer to as variability on timescales 30–50 years or longer (Christiansen and Ljungqvist, 2017). However, this fusion is hampered by the high computational demand of AOGCMs and comprehensive ESMs.
The issue of fusing data into models arises in scientific areas that enjoy a profusion of data and use costly models. In the geophysical community this is referred to as inverse methods and data assimilation (DA), whose aim is finding the best estimate of the state (the analysis) by combining information from the observations and from the numerical and theoretical knowledge of the underlying governing dynamical laws. Most known DA methods stem from Bayes' theorem (Lorenc, 1986), and each is made practical by making approximations (Bannister, 2017). In numerical weather prediction (NWP) the assimilation is mostly an initial condition problem. In contrast, the climate of a sufficiently long trajectory is typically much less sensitive to initial conditions, being essentially a sample of the underlying true model climate contaminated by a small amount of deterministic noise due to the finite integration interval (Annan et al., 2005b). The low-frequency errors in deterministic ESMs are therefore mostly dependent on model errors, including the parameters for the small-scale physics, and errors in forcings and boundary conditions.
DA has been used as a technique for low-frequency past climate field reconstruction (CFR) with real case studies, such as the assimilation of marine sediment proxies of sea surface temperature (SST) in a regional ocean model of the North Atlantic at the termination of the Younger Dryas (YD) cold interval (Marchal et al., 2016), and synthetic studies, such as the assimilation of tree-ring width into an atmospheric GCM (AGCM) (Acevedo et al., 2017), analysis of time-averaged observations (Dirren and Hakim, 2005), or evaluation of particle filters for paleodata assimilation (Dubinkina et al., 2011). Including model parameters as control variables, early work in climate analysis was done by Hargreaves and Annan (2002), who evaluated a Markov chain Monte Carlo (MCMC) method with a simple ESM. Later, the technique of state augmentation with model parameters (Friedland, 1969; Smith et al., 2011) and an ensemble Kalman filter (EnKF) (Evensen, 1994) was used by Annan et al. (2005a) and Annan et al. (2005b) in synthetic experiments with an Earth system model of intermediate complexity (EMIC) and with an AGCM coupled to a slab ocean, respectively. The additional issue of sparsity in paleoclimate proxies was addressed by Paul and Schäfer-Neth (2005) for climate field reconstructions with an EMIC and manual tuning. More recent applied work, in part motivated by the non-linearity of climate models, has used four-dimensional variational DA (4D-Var). Thus, Paul and Losch (2012) applied 4D-Var with a conceptual climate model, and Kurahashi-Nakamura et al. (2017) used 4D-Var with the Massachusetts Institute of Technology general circulation model (MITcgm) for ocean state estimation considering joint initial conditions, atmospheric forcings, and an ocean vertical diffusion coefficient as control variables to analyse the global ocean state in equilibrium conditions during the Last Glacial Maximum (LGM). We share the motivation of this recent work but put the focus on deterministic and comprehensive ESMs. As, in general, these models are not suited to automatic differentiation (AD) and the development of hand-coded tangent linear and adjoint models is out of reach (so, standard 4D-Var and related hybrid approaches such as En4DVar are not applicable), we seek assimilation strategies that take into account the non-linearity in ESMs and the computational constraints with current HPCs for low-frequency analysis.
Questions remain about how one should choose the control vector for the assimilation. Regarding its dimension, one possibility is to select a relatively high-dimensional control vector and to resort to ensemble methods, which involve a low-rank representation of covariances. An example is the (adjoint-free) iterative ensemble Kalman smoother (IEnKS) in Bocquet and Sakov (2014), which counts on iterations to deal with non-linearity. Also, the IEnKS has been evaluated in a synthetic study with the low-order model Lorenz-95 by state augmentation (Bocquet and Sakov, 2013). However, the ensemble (low-rank) covariances and sensitivities would be noisy because of the small ensemble size. An alternative is to resort to a low-dimensional control vector so that its error covariance is explicitly represented, and the low dimension allows for an estimation of the sensitivity of the observation space to the control vector by conducting individual perturbation experiments of the control variables: i.e. a finite-difference sensitivity (FDS) estimation. With respect to adjoint sensitivities, FDS estimation has the disadvantages that the computing cost is proportional to the dimension of the state vector and that the choice of the perturbations is critical. Too-small perturbations lead to numerical errors, while too-high perturbations lead to truncation errors. An advantage is that FDS considers the full physics of the non-linear model.
In any case, in a practical application of such a low-dimensional control vector approach (whose dimension would be imposed by computational constraints), the selection of the control variables should be carefully done. From all available model inputs, the selected control variables (given their respective background uncertainties) and model should try to explain most of the observed variability. In turn, this assumes (a) a general need to perform sensitivity analysis beforehand and (b) that the model has been previously comprehensively tuned. The exclusion of relatively less sensitive inputs from the control vector and the previous tuning would reduce possible compensation effects (i.e. that increments in the control vector due to the assimilation take partial responsibility for errors elsewhere). Nonetheless, some error compensation will always be present (for example, this is intrinsic to the common tuning of the coupled ESM, which follows tuning of individual components) and very difficult to deal with. A striking example is given by Palmer and Weisheimer (2011), who report how an inadequate representation of horizontal baroclinic fluxes resulted in a climate model error equal in magnitude and opposite to the systematic error caused by insufficiently represented vertical orographic wave fluxes. Thus, the selected control vector has the responsibility of embracing the model climate background uncertainty, and their updated values will likely compensate for non-accounted errors. For low-frequency climate analysis it is very likely that after some years of model integration, the modelled climate is less sensitive to (reasonable) initial conditions than to other possible inputs. Thus, one would generally select the most sensitive parameters for the model physics, forward operators, forcings, and boundary conditions for a given situation as a control vector.
Also, regarding initial conditions in a sequence of multi-decadal and longer data assimilation windows with transient forcings, there is no clear consensus about how one should approach the initialization at each DAW. For example, Holland et al. (2013) indicate that initialization had little impact (in general, limited to a couple of years) on Arctic and Antarctic sea ice predictability in the Community Climate System Model 3 (CCSM3) in a perfect-model framework. However, in a later synthetic study including assimilation with a perfect-model framework and an Earth system model of intermediate complexity (EMIC), Zunz et al. (2015) obtained a similar interannual predictability (∼3 years), but noted that the initialization for the DAW can still influence the state at multi-decadal timescales (although with a larger impact of external forcing). Among others, we mention these examples as sea ice has been related to changes in atmospheric circulation patterns and teleconnections with the tropical Pacific and Atlantic oceans (Marchi et al., 2018; Meehl et al., 2016), and these relatively fast climate dynamics can, for example, influence the onset or termination of glacial conditions and stronger climate changes. On the other hand, given the limited predictability at multi-decadal timescales (and to reduce computational costs), the reinitialization in paleo-DA has often be removed after the assimilation altogether, with a common initial integration being applied as background climate for a number of DAWs. This has been named offline assimilation (Acevedo et al., 2017; Hakim et al., 2016; Klein and Goosse, 2017; Steiger et al., 2014). The perspective of the offline approach can be modified when model parameters are included in the control vector because, as opposed to initial conditions, the impact of model parameters does not decay with the model integration. In general, updated model parameters as part of the assimilation and their physically consistent climate would then be used as (augmented) initial conditions for a subsequent DAW.
Throughout this study, all observations available during a data assimilation window (DAW) are assimilated in parallel. This has been termed four-dimensional data assimilation or asynchronous data assimilation and is also commonly referred to as the smoothing problem (Sakov et al., 2010). Here we choose the term smoother for the evaluated schemes, but they could just as well be termed asynchronous (or four-dimensional) filters. This study focuses on evaluating two assimilation schemes for low-frequency past climate reconstruction. They are based on finite-difference sensitivities (FDSs) and low-dimensional control vectors and rely on iterations to account for non-linearity. The schemes are then an FDS implementation of the iterative Kalman smoother (FDS-IKS, a Gauss–Newton scheme) and an alternative named the FDS-multistep Kalman smoother (FDS-MKS, based on repeated assimilation of the observations). Other paleoclimate assimilation issues, such as sparsity, measurement error characteristics (e.g. temporal autocorrelation), representation error, the development of forward operators for specific proxies (proxy system models) (Dee et al., 2016; Evans et al., 2013), and further complexities in the model–observation comparison (Goosse, 2016; Weitzel et al., 2018), are not addressed in this paper.
The rest of this article is organized as follows. In Sect. 2, within the broader context of the joint state-parameter estimation problem, we summarize the strong-constraint incremental 4D-Var formulation (Courtier et al., 1994) from a perspective for which the state vector is augmented with the model parameters to arrive, under given assumptions, at the formulation of the iterative Kalman smoother (IKS) scheme as implemented here. Then, we describe the sensitivity estimation and the two schemes, the FDS-IKS and the FDS-MKS, in a concise algorithmic format. The description of our implementation of the Gaussian anamorphosis (GA), which we applied along with an ensemble transform Kalman filter (ETKF-GA) as an alternative non-linear assimilation approach, is also included in Sect. 2. In Sect. 3 we conduct an experiment with a simple 1-D energy balance model (Ebm1D) and present-day NCEP/NCAR reanalysis surface air temperature as a target, and in Sect. 4 we conduct an identical twin experiment with CESM, assimilating MARGO-like data (MARGO uncertainties, timescales, and locations) as an example of a paleoclimate observing dataset. Ebm1D is amenable to automatic differentiation, so that we applied 4D-Var and ETKF as benchmark schemes. CESM lacks an adjoint, and we applied ETKF and ETKF-GA as benchmark schemes. The experimental set-up, results, and a discussion are given in each case. We finish with conclusions in Sect. 5.
3
Experiment 1: 1-D energy balance model
This study focuses on low-frequency climate field reconstruction (multi-decadal and longer timescales) with comprehensive deterministic Earth system models (ESMs). Given the enormous computational requirements for this class of models, we evaluate two iterative schemes based on reduced-order control vectors and the Kalman filter as assimilation approaches for climate field reconstruction. The schemes use an explicit representation of the background-error covariance matrix, and the Kalman gain is based on finite-difference sensitivity (FDS) experiments. As such, the schemes are computationally limited to the estimation of a low-dimensional control vector. The underlying assumption is so that a low-dimensional control vector and its background uncertainty, containing the most sensitive variables for a given climate, can encapsulate most of the modelled internal and external climate variability. The control vector can contain parameterized errors in initial conditions and parameters for the small-scale physics, as well as parameters for forcing and boundary condition errors (e.g. a bias in a time-varying radiative constituent). In general, it is expected that errors in initial conditions are a low sensitive input for the low-frequency model climate response. Thus, these would be generally excluded from the control vector, which makes it relatively easier to keep its low dimensionality.
The evaluated schemes are an FDS implementation of the iterative Kalman smoother (FDS-IKS, a Gauss–Newton scheme) and a so-called FDS-multistep Kalman smoother (FDS-MKS, based on repeated assimilation of the observations). We have conducted two assimilation experiments: (a) a simple 1-D energy balance model (Ebm1D; which has an adjoint code) with present-day surface air temperature from the NCEP/NCAR reanalysis data as a target and (b) a multi-decadal synthetic case with the Community Earth System Model (CESM v1.2, with no adjoint). The methodological description and the first experiment serve to show that, under a strong-constraint minimization and perfect-model framework, the FDS-IKS should converge to the same minimum as incremental 4D-Var. Actually, in this experiment, the FDS-IKS converges substantially faster than 4D-Var and to the same minimum. The FDS-MKS does not theoretically converge to the same minimum (except for linear cases), but it is more stable than the FDS-IKS for poorly regularized cost functions.
In a second experiment with CESM, given the lack of an adjoint code, we included an ETKF (with m=60 ensemble members) and an ETKF with Gaussian anamorphosis (ETKF-GA), as a non-linear estimation approach alternative to 4D-Var, as benchmarking schemes. As far as the authors know, this is also the first time that the ETKF-GA is evaluated with a comprehensive ESM for past climate multi-decadal analysis. Regarding the cost function as a performance criterion, the ETKF-GA was not clearly better or worse than a standard ETKF. We have shown that the GA does not solve the strong non-linearities which sensitivities may find at some observations. A clear example is the North Atlantic SST. The results cannot be extrapolated, for example, to shorter-term climate analyses. Also, alternative anamorphosis strategies for low-frequency analysis could show an improvement in the assimilation due to the transformations. With relatively high perturbations, both FDS schemes resulted (with about half the computing cost) in lower cost function values than the ETKF and the ETKF-GA. We would expect more optimal (likely smaller) perturbations adapted to individual control variables to result in further improvement in the FDS schemes, mostly the FDS-IKS (which, according to the first experiment, should be less resilient to the perturbation size). Given the computational requirements of comprehensive ESMs and current HPCs, the experiments here indicate that the FDS iterated schemes can be a relatively efficient strategy for dealing with the non-linear relation between model inputs and paleoclimate proxy observations. This non-linearity is introduced by both the ESM and the forward operators (proxy system models in general). From these experiments, the general impression is that one would choose the FDS-IKS over FDS-MKS as it should converge to the same minimum as incremental 4D-Var under the given assumptions. However, the experiments indicate that initially damped increments, such as those with FDS-MKS, should improve the convergence. So, FDS-MKS iterations (one or two) could be used initially to update the control vector estimate and then be followed by FDS-IKS iterations (with the background covariance). Note that, alternatively, a linear search along the same direction provided by the FDS-IKS could also be possible. An evaluation of further possibilities is needed.
This study is a first attempt to use the described iterated schemes for assimilation with comprehensive ESMs and multi-decadal or longer timescales. It has provided the context of the problem, described the schemes, and conducted preliminary experiments. The study is limited by the same computational constraint that motivates it. Further study is clearly needed before this type of scheme can be applied soundly for low-frequency past climate analyses in real cases. This would at least include sensitivity analyses for control vector design, error compensation analyses, and model error (Sakov and Bocquet, 2018; Sakov et al., 2018). In addition, other paleo-assimilation issues summarized in the paper regarding model–data comparison and observational error characteristics, whose discussion goes beyond the scope of this study, need to be considered.
In this paper we used Ebm1D-ad v1.0.0, a version of the Ebm1D model including the adjoint code available at https://github.com/andre-paul/ebm1d-ad/tree/v1.0.0 (Paul, 2018). We used the public release of CESM v1.2.2, available through http://www.cesm.ucar.edu/models/cesm1.2 (last access: 1 June 2016). For the ensemble assimilation (ETKF and FDS Kalman smoothers), we used rDAF v1.0.0 as a core data assimilation framework within the R environment (R Core Team, 2018), available at https://github.com/garciapintado/rDAF/tree/v1.0.0 (García-Pintado, 2018a). For the specific interface for the models we used rdafEbm1D v1.0.0, available at https://github.com/garciapintado/rdafEbm1D/tree/v1.0.0 (García-Pintado, 2018b), and rdafCESM v1.0.0, available at https://github.com/garciapintado/rdafCESM/tree/v1.0.0 (García-Pintado, 2018c).
Appendix A:
Experiment 1: convergence analysis for finite-difference schemes
Here we give tabulated details and a summary of the convergence tests for the finite-difference schemes in the experiment with the model Ebm1D. Table A1 shows the convergence results. The tests have the naming code SCN_FFFFxIT_mNN_sdfacSSSS, with the following terms.
SCN: weight scenario for the cost term Jo in Eq. (35), with the following alternatives:

PD1: present-day scenario,

PD2: present-day scenario,

PD3: present-day scenario,

FFFF: assimilation scheme, with the following options:

pIKS: FDS-IKS

pMKS: FDS-MKS

IT: Number of iterations. Fixed for FDS-MKS. Maximum for FDS-IKS.

NN: number of perturbations mθ for each control variable. Including the estimate at each loop, the total ensemble size is , where q is the dimension of the control vector.

SSSS: 1000×SDfac. For example, SSSS code "0010" indicates SDfac =0.010. For mθ=1 (forward finite differences), the perturbation of each control variable for sensitivity estimation is , where is the standard deviation of the control variable. For mθ>1, perturbations for each control variable are drawn from .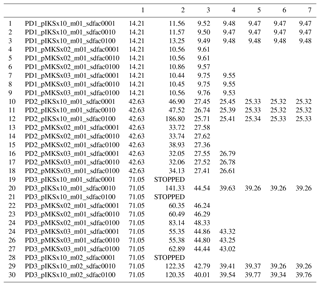 * Background cost function value in first column, followed by values along iterations. STOPPED indicates non-convergence (unstable model integration).
The tests are considered to evaluate the resilience of the Gauss–Newton scheme (FDS-IKS) to high perturbations and decreasing regularization and how this affects the relative performance of the Gauss–Newton scheme versus the multistep scheme (FDS-MKS). Specific cost function values are to be compared quantitatively only within a specific weight scenario (PD1, PD2, or PD3). For higher weights (being PD3 the highest), the effect of regularization by the background term decreases, which increases the chances of the FDS-IKS not converging (STOPPED tests due to unstable model integrations). Further tests (not shown) with even higher observational weight than PD3 are more and more difficult for the FDS-IKS to converge.
Scheduling of computing resources is more uncertain with the FDS-IKS than with the FDS-MKS. However, regarding this experiment and model, when the FDS-IKS converges, the values of the cost function are lower than those of the corresponding FDS-MKS test. This happens for FDS-MKS with either two or three iterations. Thus, with adequate regularization, the FDS-IKS is favoured. With decreasing observation uncertainty (decreasing regularization), the FDS-MKS stays more stable (see PD2 and PD3 tests). Still, for low regularization (PD3) the FDS-MKS cost function values (∼46 for the two-step FDS-MKS and ∼43 for the three-step FDS-MKS) are higher than those by the FDS-IKS when it converges ( ∼39). The three-step FDS-MKS always obtains lower values that the corresponding two-step FDS-MKS, but (generally) the differences are not very high. Interestingly, in some instances, the second step of the three-step FDS-MKS already has lower cost function values than the final estimation of the two-step FDS-MKS. This effect increases with decreased regularization. When the FDS-IKS starts to have convergence problems (see PD3 tests), increasing the ensemble size by conducting two perturbations per parameter (akin to central finite differences) makes the FDS-IKS more stable. A higher number of perturbations (not shown) makes the scheme more stable, but this would not be practical for long-term analyses with comprehensive ESMs.
B1

Example of well-behaved Gaussian anamorphosis

As an example, Fig. B1 shows scatterplots between the parameter CAM.cldfrc_rhminl and SST for a location in the South Pacific in the limits of the Antarctic circumpolar current. The location is shown in Fig. 5. Scatterplots are shown for the original variables and those with a Gaussian anamorphosis transformation. As opposed to Fig. 4, in this case Gaussianity is improved in the anamorphosed SST, and also the scatterplots show that an implicit pseudolinearization appears between the two anamorphosed variables, mostly as a result of the SST transformation.
B2

Convergence of the FDS-IKS and posterior standard deviations

Table B1 shows the convergence of the cost function for the FDS-IKS in the CESM experiment. Table B2 shows the posterior standard deviations of the control vector for the iterated FDS schemes, as well as for the ETKF and the ETKF-GA.

1 Units as described in Table 1. 2 Subindices in FDS-IKS refer to loop number. First iteration, FDS-IKS1, is also the FDS-EKS.

1 Units as described in Table 1. 2 ETKF subindex indicates the ensemble size.
AP wrote the code for Ebm1D-ad. JGP wrote the code for rDAF, rdafEbm1d, and rdafCESM. Both authors were involved in the experiments and contributed to the writing of the paper.
The authors declare that they have no conflict of interest.
This work has been supported by the German Federal Ministry of Education and Research (BMBF) as a Research for Sustainability initiative (FONA) through the Palmod project (01LP1511D). The authors acknowledge the North-German Supercomputing Alliance (HLRN) for providing HPC resources that have contributed to the research results reported in this paper. We thank two anonymous reviewers for their positive comments, which have been very helpful in improving the paper.

The article processing charges for this open-access
publication were covered by the University of Bremen.

Edited by: James Annan
Reviewed by: two anonymous referees
Acevedo, W., Fallah, B., Reich, S., and Cubasch, U.: Assimilation of pseudo-tree-ring-width observations into an atmospheric general circulation model, Clim. Past, 13, 545–557, https://doi.org/10.5194/cp-13-545-2017, 2017. a, b
Amezcua, J. and Leeuwen, P. J. V.: Gaussian anamorphosis in the analysis step of the EnKF: A joint state-variable/observation approach, Tellus A, 66, 23493, https://doi.org/10.3402/tellusa.v66.23493, 2014. a, b, c, d, e, f
Annan, J. D., Hargreaves, J. C., Edwards, N. R., and R, M.: Parameter estimation in an intermediate complexity Earth System Model using an ensemble Kalman filter, Ocean Modell., 8, 135–154, https://doi.org/10.1016/j.ocemod.2003.12.004, 2005a. a, b
Annan, J. D., Lunt, D. J., Hargreaves, J. C., and Valdes, P. J.: Parameter estimation in an atmospheric GCM using the Ensemble Kalman Filter, Nonlin. Processes Geophys., 12, 363–371, https://doi.org/10.5194/npg-12-363-2005, 2005b. a, b, c, d, e
Arakawa, A.: The cumulus parameterization problem: Past, present, and future, J. Climate, 17, 2493–2525, https://doi.org/10.1175/1520-0442(2004)017<2493:RATCPP>2.0.CO;2, 2004. a
Arakawa, A., Jung, J.-H., and Wu, C.-M.: Toward unification of the multiscale modeling of the atmosphere, Atmos. Chem. Phys., 11, 3731–3742, https://doi.org/10.5194/acp-11-3731-2011, 2011. a
Bannister, R. N.: A review of operational methods of variational and ensemble-variational data assimilation, Q. J. Roy. Meteor. Soc., 143, 607–633, https://doi.org/10.1002/qj.2982, 2017. a, b
Béal, D., Brasseur, P., Brankart, J.-M., Ourmières, Y., and Verron, J.: Characterization of mixing errors in a coupled physical biogeochemical model of the North Atlantic: implications for nonlinear estimation using Gaussian anamorphosis, Ocean Sci., 6, 247–262, https://doi.org/10.5194/os-6-247-2010, 2010. a, b
Bell, B. M.: The Iterated Kalman Smoother as a Gauss–Newton Method, SIAM J. Optimiz., 4, 626–636, https://doi.org/10.1137/0804035, 1994. a, b, c
Bell, B. M. and Cathey, F. W.: The iterated Kalman filter update as a Gauss-Newton method, IEEE T. Automat. Contr., 38, 294–297, https://doi.org/10.1109/9.250476, 1993. a
Bertino, L., Evensen, G., and Wackernagel, H.: Sequential Data Assimilation Techniques in Oceanography, Int. Stat. Rev., 71, 223–241, https://doi.org/10.1111/j.1751-5823.2003.tb00194.x, 2003. a, b
Bishop, C. H., Etherton, B. J., and Majumdar, S. J.: Adaptive Sampling with the Ensemble Transform Kalman Filter. Part I: Theoretical aspects, Mon. Weather Rev., 129, 420–436, https://doi.org/10.1175/1520-0493(2001)129<0420:ASWTET>2.0.CO;2, 2001. a
Bocquet, M. and Sakov, P.: Joint state and parameter estimation with an iterative ensemble Kalman smoother, Nonlin. Processes Geophys., 20, 803–818, https://doi.org/10.5194/npg-20-803-2013, 2013. a, b
Bocquet, M. and Sakov, P.: An iterative ensemble Kalman smoother, Q. J. Roy. Meteor. Soc., 140, 1521–1535, https://doi.org/10.1002/qj.2236, 2014. a, b, c
Chen, Y. and Oliver, D. S.: Ensemble Randomized Maximum Likelihood Method as an Iterative Ensemble Smoother, Math. Geosci., 44, 1–26, https://doi.org/10.1007/s11004-011-9376-z, 2012. a
Chìles, J.-P. and Delfiner, P.: Geostatistics: Modeling spatial uncertainty, 2nd edition, John Wiley & Sons, Ltd., 2012. a
Christiansen, B. and Ljungqvist, F. C.: Challenges and perspectives for large-scale temperature reconstructions of the past two millennia, Rev. Geophys., 50, 40–96, https://doi.org/10.1002/2016RG000521, 2017. a
Chuang, C. C., Kelly, J. T., Boyle, J. S., and Xie, S.: Sensitivity of aerosol indirect effects to cloud nucleation and autoconversion parameterizations in short-range weather forecasts during the May 2003 aerosol IOP, J. Adv. Model. Earth Sy., 4, m09001, https://doi.org/10.1029/2012MS000161, 2012. a
Cohn, S. E.: An Introduction to Estimation Theory (Special Issue, Data Assimilation in Meteology and Oceanography: Theory and Practice), J. Meteorol. Soc. Jpn., 75, 257–288, https://doi.org/10.2151/jmsj1965.75.1B_257, 1997. a
Courtier, P., Thépaut, J.-N., and Hollingsworth, A.: A strategy for operational implementation of 4D-Var, using an incremental approach, Q. J. Roy. Meteor. Soc., 120, 1367–1387, https://doi.org/10.1002/qj.49712051912, 1994. a
Covey, C., Lucas, D. D., Tannahill, J., Garaizar, X., and Klein, R.: Efficient screening of climate model sensitivity to a large number of perturbed input parameters, J. Adv. Model. Earth Sy., 5, 598–610, https://doi.org/10.1002/jame.20040, 2013. a
Dail, H. and Wunsch, C.: Dynamical Reconstruction of Upper-Ocean Conditions in the Last Glacial Maximum Atlantic, J. Climate, 27, 807–823, https://doi.org/10.1175/JCLI-D-13-00211.1, 2014. a
Dee, S. G., Steiger, N. J., Emile-Geay, J., and Hakim, G. J.: On the utility of proxy system models for estimating climate states over the common era, J. Adv. Model. Earth Sy., 8, 1164–1179, https://doi.org/10.1002/2016MS000677, 2016. a
Delworth, T. L., Manabe, S., and Stouffer, R. J.: Multidecadal climate variability in the Greenland Sea and surrounding regions: A coupled model simulation, Geophys. Res. Lett., 24, 257–260, https://doi.org/10.1029/96GL03927, 1997. a, b
Dennis, Jr., J. E. and Schnabel, R. B.: Numerical Methods for Unconstrained Optimization and Nonlinear Equations (Classics in Applied Mathematics, 16), Soc for Industrial & Applied Math, 1996. a
Deutsch, C. V. and Journel, A. G.: GSLIB: Geostatistical Software Library and User's Guide, Oxford UP, NY, 1998. a
Dirren, S. and Hakim, G. J.: Toward the assimilation of time-averaged observations, Geophys. Res. Lett., 32, L04804, https://doi.org/10.1029/2004GL021444, 2005. a
Dommenget, D. and Rezny, M.: A Caveat Note on Tuning in the Development of Coupled Climate Models, J. Adv. Model. Earth Sy., 10, 78–97, https://doi.org/10.1002/2017MS000947, 2017. a
Doron, M., Brasseur, P., and Brankart, J.-M.: Stochastic estimation of biogeochemical parameters of a 3D ocean coupled physical-biogeochemical model: Twin experiments, J. Marine Syst., 87, 194–207, https://doi.org/10.1016/j.jmarsys.2011.04.001, 2011. a
Dubinkina, S., Goosse, H., Sallaz-Damaz, Y., Crespin, E., and Crucifix, M.: Testing a particle filter to reconstruct climate changes over the past centuries, Int. J. Bifurcat. Chaos, 21, 3611–3618, https://doi.org/10.1142/S0218127411030763, 2011. a
Emerick, A. A. and Reynolds, A. C.: Ensemble smoother with multiple data assimilation, Comput. Geosci., 55, 3–15, https://doi.org/10.1016/j.cageo.2012.03.011, 2013. a
Evans, M., Tolwinski-Ward, S., Thompson, D., and Anchukaitis, K.: Applications of proxy system modeling in high resolution paleoclimatology, Quaternary Sci. Rev., 76, 16–28, https://doi.org/10.1016/j.quascirev.2013.05.024, 2013. a
Evensen, G.: Inverse methods and data assimilation in nonlinear ocean models, Physica D, 77, 108–129, https://doi.org/10.1016/0167-2789(94)90130-9, 1994. a, b
Friedland, B.: Treatment of bias in recursive filtering, IEEE T. Automat. Contr., 14, 359–367, https://doi.org/10.1109/TAC.1969.1099223, 1969. a
Gao, G. and Reynolds, A. C.: An Improved Implementation of the LBFGS Algorithm for Automatic History Matching, SPE J., 11, 5–17, https://doi.org/10.2118/90058-PA, 2006. a, b
García-Pintado, J.: rDAF v1.0.0: R data assimilation framework, https://doi.org/10.5281/zenodo.1489131, 2018a. a, b, c
García-Pintado, J.: rdafEbm1D v1.00: rDAF interface for Ebm1D, https://doi.org/10.5281/zenodo.1489133, 2018b. a, b
García-Pintado, J.: rdafCESM v1.0.0: rDAF interface for CESM, https://doi.org/10.5281/zenodo.1489135, 2018c. a, b
García-Pintado, J., Neal, J. C., Mason, D. C., Dance, S. L., and Bates, P. D.: Scheduling satellite-based SAR acquisition for sequential assimilation of water level observations into flood modelling, J. Hydrol., 495, 252–266, https://doi.org/10.1016/j.jhydrol.2013.03.050, 2013. a
Gent, P. R. and McWilliams, J. C.: Isopycnal Mixing in Ocean Circulation Models, J. Phys. Oceanogr., 20, 150–155, https://doi.org/10.1175/1520-0485(1990)020<0150:IMIOCM>2.0.CO;2, 1990. a, b
Giering, R. and Kaminski, T.: Recipes for Adjoint Code Construction, ACM T. Math. Software, 24, 437–474, https://doi.org/10.1145/293686.293695, 1998. a
Giering, R., Kaminski, T., and Slawig, T.: Generating Efficient Derivative Code with TAF, Future Gener. Comp. Sy., 21, 1345–1355, https://doi.org/10.1016/j.future.2004.11.003, 2005. a
Gilbert, J. C. and Lemaréchal, C.: Some numerical experiments with variable-storage quasi-Newton algorithms, Math. Program., 45, 407–435, https://doi.org/10.1007/BF01589113, 1989. a, b
Goosse, H.: An additional step toward comprehensive paleoclimate reanalyses, J. Adv. Model. Earth Sy., 8, 1501–1503, https://doi.org/10.1002/2016MS000739, 2016. a
Gregory, J. M. and Tailleux, R.: Kinetic energy analysis of the response of the Atlantic meridional overturning circulation to CO2-forced climate change, Clim. Dynam., 37, 893–914, https://doi.org/10.1007/s00382-010-0847-6, 2011. a
Gu, Y. and Oliver, D. S.: An Iterative Ensemble Kalman Filter for Multiphase Fluid Flow Data Assimilation, Society of Petroleum Engineers, 12, 438–446, https://doi.org/10.2118/108438-PA, 2007. a
Hack, J. J.: Parameterization of moist convection in the National Center for Atmospheric Research community climate model (CCM2), J. Geophys. Res.-Atmos., 99, 5551–5568, https://doi.org/10.1029/93JD03478, 1994. a
Hakim, G. J., Emile-Geay, J., Steig, E. J., Noone, D., Anderson, D. M., Tardif, R., Steiger, N., and Perkins, W. A.: The last millennium climate reanalysis project: Framework and first results, J. Geophys. Res.-Atmos., 121, 6745–6764, https://doi.org/10.1002/2016JD024751, 2016JD024751, 2016. a
Hargreaves, J. and Annan, J.: Assimilation of paleo-data in a simple Earth system model, Clim. Dynam., 19, 371–381, https://doi.org/10.1007/s00382-002-0241-0, 2002. a
Hargreaves, J. C., Paul, A., Ohgaito, R., Abe-Ouchi, A., and Annan, J. D.: Are paleoclimate model ensembles consistent with the MARGO data synthesis?, Clim. Past, 7, 917–933, https://doi.org/10.5194/cp-7-917-2011, 2011. a
Hartmann, D. L.: Global physical climatology, Academic Press, San Diego, 1994. a
Hartmann, D. L. and Short, D. A.: On the Role of Zonal Asymmetries in Climate Change, J. Atmos. Sci., 36, 519–528, https://doi.org/10.1175/1520-0469(1979)036<0519:OTROZA>2.0.CO;2, 1979. a
Holland, M. M., Blanchard-Wrigglesworth, E., Kay, J., and Vavrus, S.: Initial-value predictability of Antarctic sea ice in the Community Climate System Model 3, Geophys. Res. Lett., 40, 2121–2124, https://doi.org/10.1002/grl.50410, 2013. a
Ide, K., Courtier, P., Ghill, M, and Lorenc, A. C.: Unified notation for Data Assimilation: operational, sequential and variational, J. Meteorol. Soc. Jpn., 75, 181–189, 1997. a
Janjić, T., Bormann, N., Bocquet, M., Carton, J. A., Cohn, S. E., Dance, S. L., Losa, S. N., Nichols, N. K., Potthast, R., Waller, J. A., and Weston, P.: On the representation error in data assimilation, Q. J. Roy. Meteor. Soc., 144, 1257–1278, https://doi.org/10.1002/qj.3130, 2017. a
Jazwinski, A. H.: 8 Applications of Linear Theory, in: Stochastic Processes and Filtering Theory, edited by: Jazwinski, A. H., vol. 64, Mathematics in Science and Engineering, Elsevier, 266–331, 1970. a, b
Jungclaus, J. H., Bard, E., Baroni, M., Braconnot, P., Cao, J., Chini, L. P., Egorova, T., Evans, M., González-Rouco, J. F., Goosse, H., Hurtt, G. C., Joos, F., Kaplan, J. O., Khodri, M., Klein Goldewijk, K., Krivova, N., LeGrande, A. N., Lorenz, S. J., Luterbacher, J., Man, W., Maycock, A. C., Meinshausen, M., Moberg, A., Muscheler, R., Nehrbass-Ahles, C., Otto-Bliesner, B. I., Phipps, S. J., Pongratz, J., Rozanov, E., Schmidt, G. A., Schmidt, H., Schmutz, W., Schurer, A., Shapiro, A. I., Sigl, M., Smerdon, J. E., Solanki, S. K., Timmreck, C., Toohey, M., Usoskin, I. G., Wagner, S., Wu, C.-J., Yeo, K. L., Zanchettin, D., Zhang, Q., and Zorita, E.: The PMIP4 contribution to CMIP6 – Part 3: The last millennium, scientific objective, and experimental design for the PMIP4 past1000 simulations, Geosci. Model Dev., 10, 4005–4033, https://doi.org/10.5194/gmd-10-4005-2017, 2017. a
Kageyama, M., Laîné, A., Abe-Ouchi, A., Braconnot, P., Cortijo, E., Crucifix, M., de Vernal, A., Guiot, J., Hewitt, C., Kitoh, A., Kucera, M., Marti, O., Ohgaito, R., Otto-Bliesner, B., Peltier, W., Rosell-Melé, A., Vettoretti, G., Weber, S., and Yu, Y.: Last Glacial Maximum temperatures over the North Atlantic, Europe and western Siberia: a comparison between PMIP models, MARGO sea-surface temperatures and pollen-based reconstructions, Quaternary Sci. Rev., 25, 2082–2102, https://doi.org/10.1016/j.quascirev.2006.02.010, 2006. a
Kageyama, M., Braconnot, P., Harrison, S. P., Haywood, A. M., Jungclaus, J. H., Otto-Bliesner, B. L., Peterschmitt, J.-Y., Abe-Ouchi, A., Albani, S., Bartlein, P. J., Brierley, C., Crucifix, M., Dolan, A., Fernandez-Donado, L., Fischer, H., Hopcroft, P. O., Ivanovic, R. F., Lambert, F., Lunt, D. J., Mahowald, N. M., Peltier, W. R., Phipps, S. J., Roche, D. M., Schmidt, G. A., Tarasov, L., Valdes, P. J., Zhang, Q., and Zhou, T.: The PMIP4 contribution to CMIP6 – Part 1: Overview and over-arching analysis plan, Geosci. Model Dev., 11, 1033–1057, https://doi.org/10.5194/gmd-11-1033-2018, 2018. a, b
Kalnay, E., Kanamitsu, M., Kistler, R., Collins, W., Deaven, D., Gandin, L., Iredell, M., Saha, S., White, G., Woollen, J., Zhu, Y., Leetmaa, A., Reynolds, R., Chelliah, M., Ebisuzaki, W., Higgins, W., Janowiak, J., Mo, K. C., Ropelewski, C., Wang, J., Jenne, R., and Joseph, D.: The NCEP/NCAR 40-Year Reanalysis Project, B. Am. Meteor. Soc., 77, 437–471, https://doi.org/10.1175/1520-0477(1996)077<0437:TNYRP>2.0.CO;2, 1996. a
Klein, F. and Goosse, H.: Reconstructing East African rainfall and Indian Ocean sea surface temperatures over the last centuries using data assimilation, Clim. Dynam., 50, 3909–3929, https://doi.org/10.1007/s00382-017-3853-0, 2017. a
Köhler, P., Nehrbass-Ahles, C., Schmitt, J., Stocker, T. F., and Fischer, H.: A 156 kyr smoothed history of the atmospheric greenhouse gases CO2, CH4, and N2O and their radiative forcing, Earth Syst. Sci. Data, 9, 363–387, https://doi.org/10.5194/essd-9-363-2017, 2017. a, b
Kurahashi-Nakamura, T., Paul, A., and Losch, M.: Dynamical reconstruction of the global ocean state during the Last Glacial Maximum, Paleoceanography, 32, 326–350, https://doi.org/10.1002/2016PA003001, 2017. a, b
Large, W. G., McWilliams, J. C., and Doney, S. C.: Oceanic vertical mixing: A review and a model with a nonlocal boundary layer parameterization, Rev. Geophys., 32, 363–403, https://doi.org/10.1029/94RG01872, 1994. a
Lawless, A. S.: Variational data assimilation for very large environmental problems, in: Large Scale Inverse Problems, in: Radon series on computational and applied mathematics, edited by: Cullen, M., Freitag, M. A., Kindermann, S., and Scheichl, R., De Gruyter, Berlin, 13, 55–90, 2013. a
Lawless, A. S., Gratton, S., and Nichols, N. K.: An investigation of incremental 4D-Var using non-tangent linear models, Q. J. Roy. Meteor. Soc., 131, 459–476, https://doi.org/10.1256/qj.04.20, 2005. a, b
Liu, C., Xiao, Q., and Wang, B.: An Ensemble-Based Four-Dimensional Variational Data Assimilation Scheme. Part I: Technical Formulation and Preliminary Test, Mon. Weather Rev., 136, 3363–3373, https://doi.org/10.1175/2008MWR2312.1, 2008. a
Livings, D. M., Dance, S. L., and Nichols, N. K.: Unbiased Ensemble Square Root Filters, Physica D, 237, 1021–1028, https://doi.org/10.1016/j.physd.2008.01.005, 2008. a
Lorenc, A. C.: Analysis methods for numerical weather prediction, Q. J. Roy. Meteor. Soc., 112, 1177–1194, https://doi.org/10.1002/qj.49711247414, 1986. a, b
Lorenc, A. C.: Recommended nomenclature for EnVar data assimilation methods, in: WGNE Blue Book Research Activities in Atmospheric and Oceanic Modelling, section 01: 7–8, WMO: Geneva, Switzerland, 2013. a
Marchal, O., Waelbroeck, C., and de Verdière, A. C.: On the Movements of the North Atlantic Subpolar Front in the Preinstrumental Past, J. Climate, 29, 1545–1571, https://doi.org/10.1175/JCLI-D-15-0509.1, 2016. a
Marchi, S., Fichefet, T., Goosse, H., Zunz, V., Tietsche, S., Day, J. J., and Hawkins, E.: Reemergence of Antarctic sea ice predictability and its link to deep ocean mixing in global climate models, Clim. Dynam., https://doi.org/10.1007/s00382-018-4292-2, online first, 2018. a
MARGO Project Members: Constraints on the magnitude and patterns of ocean cooling at the Last Glacial Maximum, Nat. Geosci., 2, 127–132, https://doi.org/10.1038/ngeo411, 2009. a, b, c, d
Matheron, G.: Le krigeage disjunctive, Intern. Note N-360, Centre de Géostatistique, Ecole des Mines de Paris, Paris, France, 40 pp., 1973. a
Meehl, G. A., Arblaster, J. M., Bitz, C. M., Chung, C. T. Y., and Teng, H.: Antarctic sea-ice expansion between 2000 and 2014 driven by tropical Pacific decadal climate variability, Nat. Geosci., 9, 590–596, https://doi.org/10.1038/ngeo2751, 2016. a
Neale, R. B., Richter, R., Conley, A., Park, S., Lauritzen, P., Gettelman, A., Williamson, D., Rash, P., Vavrus, S., Taylor, M., Collins, W., Zhang, M., and Lin, S.-J.: Description of the NCAR Community Atmosphere Model (CAM4), Tech. Rep. NCAR/TN-485+STR, NCAR, 2011. a
North, G. R., Mengel, J. G., and Short, D. A.: Simple energy balance model resolving the seasons and the continents: Application to the astronomical theory of the ice ages, J. Geophys. Res.-Oceans, 88, 6576–6586, https://doi.org/10.1029/JC088iC11p06576, 1983. a, b
Oliver, D. S. and Chen, Y.: Improved initial sampling for the ensemble Kalman filter, Comput. Geosci., 13, 13–27, https://doi.org/10.1007/s10596-008-9101-2, 2008. a
Ortega, P., Lehner, F., Swingedouw, D., Masson-Delmotte, V., Raible, C. C., Casado, M., and Yiou, P.: A model-tested North Atlantic Oscillation reconstruction for the past millennium, Nature, 523, 71–74, https://doi.org/10.1038/nature14518, 2015. a
Ott, E., Hunt, B., Szunyogh, I., Zimin, A., Kostelich, E., Corazza, M., Kalnay, E., Patil, D., and Yorke, J.: A local ensemble Kalman filter for atmospheric data assimilation, Tellus A, 56, 415–428, https://doi.org/10.1111/j.1600-0870.2004.00076.x, 2004. a
Otto-Bliesner, B. L., Brady, E. C., Fasullo, J., Jahn, A., Landrum, L., Stevenson, S., Rosenbloom, N., Mai, A., and Strand, G.: Climate Variability and Change since 850 CE: An Ensemble Approach with the Community Earth System Model, B. Am. Meteorol. Soc., 97, 735–754, https://doi.org/10.1175/BAMS-D-14-00233.1, 2016. a, b
PAGES 2k-PMIP3 group: Continental-scale temperature variability in PMIP3 simulations and PAGES 2k regional temperature reconstructions over the past millennium, Clim. Past, 11, 1673–1699, https://doi.org/10.5194/cp-11-1673-2015, 2015. a
PAGES2k Consortium: A global multiproxy database for temperature reconstructions of the Common Era, Scientific data, 4, 170088, https://doi.org/10.1038/sdata.2017.88, 2017. a
Palmer, T. N. and Weisheimer, A.: Diagnosing the causes of bias in climate models – why is it so hard?, Geophys. Astro. Fluid, 105, 351–365, https://doi.org/10.1080/03091929.2010.547194, 2011. a
Paul, A.: Ebm1d-ad v1.0.0: 1D energy balance model of climate with automatic differentiation, https://doi.org/10.5281/zenodo.1489952, 2018. a, b
Paul, A. and Losch, M.: Perspectives of Parameter and State Estimation in Paleoclimatology, in: Climate Change: Inferences from Paleoclimate and Regional Aspects, edited by: Berger, A., Mesinger, F., and Sijacki, D., Springer Vienna, Vienna, 93–105, https://doi.org/10.1007/978-3-7091-0973-1_7, 2012. a, b
Paul, A. and Schäfer-Neth, C.: How to combine sparse proxy data and coupled climate models, Quaternary Sci. Revi., 24, 1095–1107, https://doi.org/10.1016/j.quascirev.2004.05.010, 2005. a
R Core Team: R: A Language and Environment for Statistical Computing, R Foundation for Statistical Computing, Vienna, Austria, available at: http://www.R-project.org/, last access: 2 July 2018. a, b
Rasch, P. J. and Kristjánsson, J. E.: A Comparison of the CCM3 Model Climate Using Diagnosed and Predicted Condensate Parameterizations, J. Climate, 11, 1587–1614, https://doi.org/10.1175/1520-0442(1998)011<1587:ACOTCM>2.0.CO;2, 1998. a
Sakov, P. and Bocquet, M.: Asynchronous data assimilation with the EnKF in presence of additive model error, Tellus A, 70, 1414545, https://doi.org/10.1080/16000870.2017.1414545, 2018. a
Sakov, P. and Oke, P. R.: Implications of the Form of the Ensemble Transformation in the Ensemble Square Root Filters, Mon. Weather Rev., 136, 1042–1053, https://doi.org/10.1175/2007MWR2021.1, 2008. a
Sakov, P., Evensen, G., and Bertino, L.: Asynchronous data assimilation with the EnKF, Tellus A, 62, 24–29, 2010. a
Sakov, P., Oliver, D. S., and Bertino, L.: An Iterative EnKF for Strongly Nonlinear Systems, Mon. Weather Rev., 140, 1988–2004, https://doi.org/10.1175/MWR-D-11-00176.1, 2012. a
Sakov, P., Jean-Matthieu, H., and Bocquet, M.: An iterative ensemble Kalman filter in the presence of additive model error, Q. J. Roy. Meteor. Soc., 144, 1297-1309, , https://doi.org/10.1002/qj.3213, 2018. a
Shapiro, S. S. and Wilk, M. B.: An analysis of variance test for normality (complete samples), Biometrika, 52, 591–611, https://doi.org/10.1093/biomet/52.3-4.591, 1965. a
Simon, E. and Bertino, L.: Application of the Gaussian anamorphosis to assimilation in a 3-D coupled physical-ecosystem model of the North Atlantic with the EnKF: a twin experiment, Ocean Sci., 5, 495–510, https://doi.org/10.5194/os-5-495-2009, 2009. a, b, c
Simon, E. and Bertino, L.: Gaussian anamorphosis extension of the DEnKF for combined state parameter estimation: Application to a 1D ocean ecosystem model, J. Marine Syst., 89, 1–18, https://doi.org/10.1016/j.jmarsys.2011.07.007, 2012. a, b, c
Smith, P. J., Dance, S. L., and Nichols, N. K.: A hybrid data assimilation scheme for model parameter estimation: Application to morphodynamic modelling, Comput. Fluids, 46, 436–441, https://doi.org/10.1016/j.compfluid.2011.01.010, 2011. a
Smith, R., Jones, P., Briegleb, B., Bryan, F., Danabasoglu, G., Dennis, J., Dukowicz, J., Eden, C., Fox-Kemper, B., Gent, P., Hecht, M., Jayne, S., Jochum, M., Large, W., Lindsay, K., Maltrud, M., Norton, N., Peacock, S., Vertenstein, M., and Yeager, S.: The Parallel Ocean Program (POP) Reference Manual, Ocean Component of the Community Climate System Model (CCSM) and Community Earth System Model (CESM), Tech. Rep. LAUR-10-01854, Los Alamos National Laboratory, Boulder, Colorado, 2010. a
Steiger, N. J., Hakim, G. J., Steig, E. J., Battisti, D. S., and Roe, G. H.: Assimilation of Time-Averaged Pseudoproxies for Climate Reconstruction, J. Climate, 27, 426–441, https://doi.org/10.1175/JCLI-D-12-00693.1, 2014. a
Tippett, M. K., Anderson, J. L., Bishop, C. H., Hamill, T. M., and Whitaker, J. S.: Ensemble Square Root Filters, Mon. Weather Rev., 131, 1485–1490, https://doi.org/10.1175/1520-0493(2003)131<1485:ESRF>2.0.CO;2, 2003. a
Waelbroeck, C., Kiefer, T., Dokken, T., Chen, M.-T., Spero, H., Jung, S., Weinelt, M., Kucera, M., and Paul, A.: Constraints on surface seawater oxygen isotope change between the Last Glacial Maximum and the Late Holocene, Quaternary Sci. Rev., 105, 102–111, https://doi.org/10.1016/j.quascirev.2014.09.020, 2014. a
Wang, X., Bishop, C. H., and Julier, S. J.: Which Is Better, an Ensemble of Positive–Negative Pairs or a Centered Spherical Simplex Ensemble?, Mon. Weather Rev., 132, 1590–1605, https://doi.org/10.1175/1520-0493(2004)132<1590:WIBAEO>2.0.CO;2, 2004. a
Weitzel, N., Wagner, S., Sjolte, J., Klockmann, M., Bothe, O., Andres, H., Tarasov, L., Rehfeld, K., Zorita, E., Widmann, M., Sommer, P., Schädler, G., Ludwig, P., Kapp, F., Jonkers, L., García-Pintado, J., Fuhrmann, F., Dolman, A., Dallmeyer, A., and Brücher, T.: Diving into the past – A paleo data-model comparison workshop on the Late Glacial and Holocene, B. Am. Meteorol. Soc., https://doi.org/10.1175/BAMS-D-18-0169.1, online first, 2018. a
Whitaker, J. S. and Hamill, T. M.: Ensemble Data Assimilation without Perturbed Observations, Mon. Weather Rev., 130, 1913–1924, https://doi.org/10.1175/1520-0493(2002)130<1913:EDAWPO>2.0.CO;2, 2002. a
Wu, Z., Reynolds, A., and Oliver, D.: Conditioning Geostatistical Models to Two-Phase Production Data, SPE J., 3, 142–155, https://doi.org/10.2118/56855-PA, 1999. a, b
Yang, B., Qian, Y., Lin, G., Leung, R., and Zhang, Y.: Some issues in uncertainty quantification and parameter tuning: a case study of convective parameterization scheme in the WRF regional climate model, Atmos. Chem. Phys., 12, 2409–2427, https://doi.org/10.5194/acp-12-2409-2012, 2012. a
Yang, B., Qian, Y., Lin, G., Leung, L. R., Rasch, P. J., Zhang, G. J., McFarlane, S. A., Zhao, C., Zhang, Y., Wang, H., Wang, M., and Liu, X.: Uncertainty quantification and parameter tuning in the CAM5 Zhang-McFarlane convection scheme and impact of improved convection on the global circulation and climate, J. Geophys. Res.-Atmos., 118, 395–415, https://doi.org/10.1029/2012JD018213, 2013. a, b
Zanchettin, D., Bothe, O., Lehner, F., Ortega, P., Raible, C. C., and Swingedouw, D.: Reconciling reconstructed and simulated features of the winter Pacific/North American pattern in the early 19th century, Clim. Past, 11, 939–958, https://doi.org/10.5194/cp-11-939-2015, 2015. a
Zhang, G. and McFarlane, N. A.: Sensitivity of climate simulations to the parameterization of cumulus convection in the Canadian climate centre general circulation model, Atmos.-Ocean, 33, 407–446, https://doi.org/10.1080/07055900.1995.9649539, 1995.  a
Zhou, H., Gómez-Hernández, J. J., Franssen, H.-J. H., and Li, L.: An approach to handling non-Gaussianity of parameters and state variables in ensemble Kalman filtering, Adv. Water Resour., 34, 844–864, https://doi.org/10.1016/j.advwatres.2011.04.014, 2011. a
Zunz, V., Goosse, H., and Dubinkina, S.: Impact of the initialisation on the predictability of the Southern Ocean sea ice at interannual to multi-decadal timescales, Clim. Dynam., 44, 2267–2286, https://doi.org/10.1007/s00382-014-2344-9, 2015. a