Articles | Volume 15, issue 8
https://doi.org/10.5194/gmd-15-3183-2022
© Author(s) 2022. This work is distributed under
the Creative Commons Attribution 4.0 License.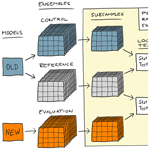 An ensemble-based statistical methodology to detect differences in weather and climate model executables
Since their first operational application in the 1950s, atmospheric numerical models have become essential tools in weather prediction and climate research. As such, they are subject to continuous changes, thanks to advances in computer systems, numerical methods, more and better observations, and the ever-increasing knowledge about the atmosphere of earth. Many of the changes in today's models relate to seemingly innocuous modifications associated with minor code rearrangements, changes in hardware infrastructure, or software updates. Such changes are meant to preserve the model formulation, yet the verification of such changes is challenged by the chaotic nature of our atmosphere – any small change, even rounding errors, can have a significant impact on individual simulations. Overall, this represents a serious challenge to a consistent model development and maintenance framework.
Here we propose a new methodology for quantifying and verifying the impacts of minor changes in the atmospheric model or its underlying hardware/software system by using ensemble simulations in combination with a statistical hypothesis test for instantaneous or hourly values of output variables at the grid-cell level. The methodology can assess the effects of model changes on almost any output variable over time and can be used with different underlying statistical hypothesis tests.
We present the first applications of the methodology with the regional weather and climate model COSMO. While providing very robust results, the methodology shows a great sensitivity even to very small changes. Specific changes considered include applying a tiny amount of explicit diffusion, the switch from double to single precision, and a major system update of the underlying supercomputer. Results show that changes are often only detectable during the first hours, suggesting that short-term ensemble simulations (days to months) are best suited for the methodology, even when addressing long-term climate simulations. Furthermore, we show that spatial averaging – as opposed to testing at all grid points – reduces the test's sensitivity for small-scale features such as diffusion. We also show that the choice of the underlying statistical hypothesis test is not essential and that the methodology already works well for coarse resolutions, making it computationally inexpensive and therefore an ideal candidate for automated testing.
Received: 18 Jul 2021 – Discussion started: 06 Sep 2021 – Revised: 08 Feb 2022 – Accepted: 07 Mar 2022 – Published: 19 Apr 2022
Today's weather and climate predictions heavily rely on data produced by atmospheric numerical models. Ever since their first operational application in the 1950s, these models have been improved thanks to advances in computer systems, numerical methods, observational data, and the understanding of the earth's atmosphere. While such changes often may be only small and incremental, accumulated they have a big effect, which has manifested itself in a significant increase in skill of weather and climate predictions over the past 40 years (Bauer et al., 2015).
While some of the model changes are intended to extend and improve the model, others are not meant to affect the model results but merely its computational performance and versatility. In software engineering, one often distinguishes between "upgrades" and "updates" in such cases. For weather and climate models, an upgrade would, for example, be the introduction of a new and improved soil model, whereas a new version of underlying software or a binary that has been built with a newer compiler version would represent only an update. Updates are often employed due to the necessity of keeping the software up to date without making any perceivable improvements in functionality. For a weather and climate model, the model results are not supposed to be significantly affected by such an update. This also applies to other changes, such as moving to a different hardware architecture or changing the domain decomposition for distributed computing. Robust behavior of the model with regard to such changes is crucial for a consistent interpretation of the results and the credibility of the derived predictions and findings.
Weather and climate model results are generally not bit identical when they are, for example, run on different hardware architectures or have been compiled with different compilers. This is because the associativity property does not hold for floating-point operations (i.e., is not given), and the fact that the order of arithmetic operations is dependent on the compiler and the targeted hardware architecture. Schär et al. (2020) have achieved bit reproducibility between a CPU and a GPU version of the regional weather and climate model COSMO by limiting instruction rearrangements from the compiler and using a preprocessor that automatically adds parentheses to every mathematical expression of the model. However, this also came with a performance penalty, where the CPU and GPU bit-reproducible versions were slower by 37 % and 13 %, respectively, than their non-bit-reproducible counterparts. Due to this performance penalty and the effort involved in making a model bit reproducible, bit reproducibility is generally not enforced. It has to be noted that this behavior of not producing bit-identical results across different architectures or when using different compilers is common for most computer applications and not a problem per se. However, for weather and climate models, it represents a serious challenge due to the chaotic nature of the underlying nonlinear dynamics, where small changes can have a big effect (Lorenz, 1963). For example, a tiny difference in the initial conditions of a weather forecast can potentially lead to a very different prediction. Consequently, rounding errors can also affect the model results in a major way. In order to mitigate this effect and to provide probabilistic predictions, forecasts often use ensemble prediction systems (EPSs), where a model is run several times for the same time frame with slightly perturbed initial conditions or stochastic perturbations of the model simulations (see Leutbecher and Palmer, 2008, for an overview). The use of an EPS accounts for the uncertainty in initial conditions and the internal variability of the model results.
So, in order to verify whether the properties of a weather and climate model executable are not significantly affected after an update or a change to a different platform, we have to resort to ensemble simulations. Without ensemble simulations, we would only be able to answer something we already know a priori: any change in the model or its underlying software and hardware will make the model slightly different and, therefore, might significantly affect the output due to the chaotic nature of the underlying dynamics. However, with ensemble simulations, we can answer a much more important question: how do the changes in model results compare to the internal variability of the underlying nonlinear dynamical system? If the effect of the new model is significantly smaller than that of internal variability, a statistical test will not be able to detect whether the results of the new and the old model come from the same distribution or not.
In this paper, the detection of such changes will be referred to as "verification". In the atmospheric and climate science community, the terms "validation" and "verification" are not always used in a clearly defined way, and are sometimes even used interchangeably. An extensive discussion about different definitions of verification and validation can be found in Oberkampf and Roy (2010). Sargent (2013) defines verification as "ensuring that the computer program of the computerized model and its implementation are correct". In contrast, validation is defined as "substantiation that a model within its domain of applicability possesses a satisfactory range of accuracy consistent with the intended application of the model". According to Carson (2002), validation refers to "the processes and techniques that the model developer, model customer and decision makers jointly use to assure that the model represents the real system (or proposed real system) to a sufficient level of accuracy", while verification refers to "the processes and techniques that the model developer uses to assure that his or her model is correct and matches any agreed-upon specifications and assumptions". Clune and Rood (2011) define validation as "comparison with observations" and verification as "comparison with analytic test cases and computational products". Whitner and Balci (1989) state that "whenever a model or model component is compared with reality, validation is performed", whereas they define verification as "substantiating that a simulation model is translated from one form into another, during its development life cycle, with sufficient accuracy". Oreskes et al. (1994) and Oreskes (1998) recommend not to use the terms verification and validation at all for models of complex natural systems. They argue that both terms imply an either–or situation for something that is not possible (i.e., a model will never be able to accurately represent the actual processes occurring in a real system) or is only possible to evaluate for simplified and limited test cases (i.e., comparing with analytical solutions for simple problems). Nevertheless, both terms are commonly used in atmospheric sciences. Note that in this paper, we follow the terminology of Whitner and Balci (1989). As our methodology's goal is to ensure that there are no significant differences between two model executables, we use the term verification for the methodology.
Using the definition from Whitner and Balci (1989), verification is a form of system testing in the area of software engineering. This means that a complete integrated system is tested; in this case, a weather and climate model consisting of many different components that interact with each other. System tests are an integral part of testing in software engineering. An objective system test that can be performed automatically is also an excellent asset for the practice of continuous integration and continuous deployment (CI/CD). CI/CD enforces automation in the building, testing, and deployment of applications and should also be considered good practice in developing and operating weather and climate models.
2.1

 Current state of the art

Despite its importance for the consistency and trustworthiness of model results, verification has received relatively little attention in the weather and climate community. However, the awareness seems to have increased, as some recent studies tackle this issue more systematically.

Rosinski and Williamson (1997) were among the first to propose a strategy for verifying atmospheric models after they had been ported to a new architecture. They set the conditions that the differences should be within one or two orders of magnitude of machine rounding during the first few time steps and that the growth of differences should not exceed the growth of initial perturbations at machine precision during the first few days. The methodology of Rosinski and Williamson (1997) was developed and used for the NCAR Community Climate Model (CCM2). However, the approach is no longer applicable for its current successor, the Community Atmosphere Model (CAM), because the parameterizations are ill conditioned, which makes small perturbations grow very quickly and exceed the tolerances of rounding error growth within the first few time steps (Baker et al., 2015). Thomas et al. (2002) performed 42 h simulations with the Mesoscale Compressible Community (MC2) model to determine the importance of processor configuration (domain decomposition), floating-point precision, and mathematics libraries for the model results. By analyzing the spread of runs with different settings, they concluded that processor configuration is the main contributor among these categories to differences in the results of its dynamical core. Knight et al. (2007) analyzed an ensemble of over 57 000 climate runs from the climateprediction.net project (https://www.climateprediction.net, last access: 31 January 2022). The climate runs were performed with varying parameter settings and initial conditions on different hardware and software architectures. Using regression tree analysis, they demonstrated that the effect of hardware and software changes is small relative to the effect of parameter variations and, over the wide range of systems tested, may be treated as equivalent to that caused by changes in initial conditions. Hong et al. (2013) performed seasonal simulations with the global model program (GMP) of the Global/Regional Integrated Model system (GRIMs) on 10 different software system platforms with different compilers, parallel libraries, and optimization levels. The results showed that the ensemble spread caused by differences in the software system is comparable to that caused by differences in initial conditions.

One of the most comprehensive recent studies on verification is from Baker et al. (2015), where they proposed the use of principal component analysis (PCA) for consistency testing of climate models. Instead of testing all model output variables, many of which were highly correlated, they only looked at the first few principal components of the model output and used z-scores to test if the value from a test configuration is within a certain number of standard deviations from the control ensemble. If the test failed for too many PCs, they rejected the new configuration. They confirmed their methodology using 1-year-long simulations of the Community Earth System Model (CESM) with different parameter settings, hardware architectures, and compiler options. While the methodology showed high sensitivity and promising results, it had some difficulties detecting changes caused by additional diffusion due to its focus on annual global mean values. Baker et al. (2016) also used z-scores for consistency testing of the Parallel Ocean Program (POP), the ocean model component of the CESM. However, instead of evaluating principal components on spatial averages, as in Baker et al. (2015), they applied the methodology at each grid point for individual variables and stipulated that this local test had to be passed for at least 90 % of the grid points to achieve a global test pass. Milroy et al. (2018) extended the consistency test of Baker et al. (2015) by performing the test on spatial means for the first nine time steps of the Community Atmospheric Model (CAM) on a global 1∘ grid with a time step of 1800 s. With this method, they were able to produce the same results for the same test cases as Baker et al. (2015). Additionally, they were also able to detect small changes in diffusion that were not detected in Baker et al. (2015).

Wan et al. (2017) used time-step convergence as a criterion for model verification, based on the idea that a significantly different model executable will no longer converge towards a reference solution produced with the old executable. Their test methodology produced similar results to the one from Baker et al. (2015) and is relatively inexpensive due to the short integration times. However, due to the nature of the test, it cannot detect issues associated with diagnostic calculations that do not feed back to the model state variables.

Mahajan et al. (2017) used an ensemble-based approach where they applied the Kolmogorov–Smirnov (K-S) test on annual and spatial means of 1-year simulations for testing the equality of distributions of different model simulations. Furthermore, they used generalized extreme value (GEV) theory to represent the annual maxima of daily average surface temperature and precipitation rate. They then applied Student's t test on the estimated GEV parameters at each grid point to test the occurrence of climate extremes. They showed that the climate extremes test based on GEV theory was considerably less sensitive to changes in optimization strategies than the K-S test on mean values. Mahajan et al. (2019) applied two multivariate two-sample equality of distribution tests, the energy test and the kernel test, on year-long ensemble simulations following Baker et al. (2015) and Mahajan et al. (2017). However, both these tests generally showed a lower power than the K-S test from Mahajan et al. (2017), which means that more ensemble members were needed to reject the null hypothesis confidently. Mahajan (2021) used the K-S test as well as the Cucconi test for annual mean values at each grid point for the verification of the ocean model component of the US Department of Energy's Energy Exascale Earth System Model (E3SM). Furthermore, they used the false discovery rate (FDR) method from Benjamini and Hochberg (1995) for controlling the false positive rate. Both tests were able to detect very small changes of a tuning parameter, with the K-S test showing a slightly higher power than the Cucconi test for the smallest changes.

Massonnet et al. (2020) recently proposed an ensemble-based methodology based on monthly averages (and an average over the whole simulation time) and then compared these averages on a grid-cell level against standard indices used in Reichler and Kim (2008). Finally, spatially averaging results in one scalar number per field, month, and ensemble member. These scalars were then used for the K-S test to detect statistically significant differences. Performing this test for climate runs with the earth system model version EC-Earth 3.1 in different computing environments revealed significant differences for 4 out of 13 variables. However, the same test for the newer EC-Earth 3.2 version showed no significant differences. Massonnet et al. (2020) suspect the presence of a bug in EC-Earth 3.1 that was subsequently fixed in version 3.2 as the reason for this disparity.
2.2

 Determining field significance

A challenging question in the area of model verification is the role of statistical significance at the grid-point versus the field level. A statistical hypothesis test's significance level α is defined as the probability of rejecting the null hypothesis even though the null hypothesis is true (commonly known as false-positive or type I error). So, if we compare two ensembles and perform the test at every grid point, the test may locally reject the null hypothesis even if the two ensembles stem from the same model. When assuming spatial independence, the probability of having x rejected local null hypotheses out of N tests follows from the binomial distribution:

On average, we can expect αN local rejections over the whole grid when two ensembles come from the same model. However, for N=100 and α=0.05, the probability of having nine or more erroneous rejections is still 6.3 %, which means that 10 or more local rejections are required (probability 2.8 %) to reject the global null hypothesis at field level with a 95 % confidence interval. So, in this case, 10 % of the local hypothesis tests would have to reject the local null hypothesis to get a significant global rejection. For a larger grid with N=10 000, we would require 537 (5.37 %) or more local rejections (probability 4.8 %) to reject the global null hypothesis with a 95 % confidence interval (see Fig. 3 in Livezey and Chen, 1983, for a visualization of this function).

However, local tests cannot be assumed to be statistically independent due to spatial correlation. Therefore, Eq. (1) is not valid in our case. While two identical models will still have αN false rejections on average, a higher or lower rejection rate is more likely. Unfortunately, the exact distribution of rejection rates is unknown in such a case (Storch, 1982). Livezey and Chen (1983) argued that spatial correlation reduces N, the number of independent tests, due to a clustering effect of grid points and therefore also increases the percentage of local rejections needed to reject the global null hypothesis. To account for that, they estimated the effective number of independent tests Neff with the use of Monte Carlo methods, which allowed them to use Eq. (1) for calculating the number of rejected local tests that are required to reject the global null hypothesis.

Wilks (2016) recommended the use of the FDR method of Benjamini and Hochberg (1995). This method defines a threshold level pFDR, based on the sorted p-values. The threshold is defined as

where p(i) are the sorted p-values with and αFDR is the chosen control level for the FDR (note that αFDR must not be the same as α for the local test). The FDR method only rejects local null hypotheses if the respective p-value is no larger than pFDR. This condition essentially ensures that the fraction of false rejections out of all rejections is at most αFDR on average. While the FDR method of Benjamini and Hochberg (1995) is theoretically also based on the assumption that the different tests are statistically independent, it has been shown to also effectively control the proportion of falsely rejected null hypotheses for spatially correlated data (Ventura et al., 2004; Mahajan, 2021). An assessment of the FDR method in the context of our verification methodology will be presented in Sect. 4.11.
As opposed to most existing verification methodologies described in Sect. 2, our methodology does not rely on any averaging in either space or time. This approach offers several advantages. The verification at the grid-cell level allows us to identify differences in small-scale and short-lived features that may not affect spatial or temporal averages. Furthermore, it provides fine-grained information in space and time and therefore gives helpful information for investigating the source of the difference. A good example of this is the initial rejection of some diagnostic fields, such as the 500 hPa geopotential, for the single-precision experiment. The test rejects the null hypothesis after just one time step, which indicates that there are already detectable differences in the diagnostic calculation of the respective field (see Sect. 4.3 for further detail). The focus on instantaneous values or averages over a small time frame is also a way to consider internal variability. Minor differences can often only be detected during the first few hours or days before the increasing internal variability outweighs the effect of the change. Therefore, we think short simulations of a few days should generally be preferred to longer, computationally more expensive simulations.
It is not entirely clear how sensitive such a methodology is in detecting differences in long climate simulations. For the verification of very slow processes, longer simulations with either spatial or temporal averaging might appear to be the better choice. However, the current methodology using short integrations can also detect changes in slower variables such as soil moisture within the first few days, which indicates that it might also be suited for climate simulations. Moreover, given that differences arising from the frequent changes (e.g., compiler upgrades, library updates, and minor code rearrangements) typically manifest themselves early in the simulation (see Milroy et al., 2018), we think that this is a reasonable approach with low computational costs. Nevertheless, it is worth rethinking our methodology in the case of a global coupled climate model that may represent very fast (e.g., the atmospheric model) and very slow (e.g., an ice sheet model) components. In such a case, it might be advantageous to test the different model components in standalone mode, possibly using different integration periods, before evaluating the fully coupled system and focusing on the variables heavily affected by the coupling (e.g., the near-surface temperature for ocean–atmosphere coupling). However, further studies on this topic would be needed.
The methodology clearly shows some sensitivity to the ensemble and subsample sizes. Using a larger number of ensemble and subsample members generally increases the test's sensitivity but will also lead to higher computational costs. Similarly, the choice of the tested variables also has to be considered. Testing all possible model variables at all vertical levels would guarantee the highest degree of reliability. However, this is unfeasible due to the high computational costs it would demand. Moreover, since the atmosphere is such a complex and interconnected system, many variables are highly correlated. Therefore, and based on our results, we think that testing a few standard output variables at selected vertical levels (as in Fig. 4) is sufficient for all but the tiniest changes.
6
 Conclusions and outlook
We have presented an ensemble-based verification methodology based on statistical hypothesis testing to detect model changes objectively. The methodology operates at the grid-cell level and works for instantaneous and accumulated/averaged variables. We showed that spatial averaging lowers the chance of detecting small-scale changes such as diffusion. Furthermore, the study suggests that short-term ensemble simulations (days to months) are best suited, as the smallest changes are often only detectable during the first few hours of the simulation. Combined with the fact that the methodology already works well for coarse resolutions (50 km grid spacing here), the methodology is a good candidate for a relatively inexpensive automated system test. We showed that the choice of the underlying statistical hypothesis test is secondary as long as the rejection rate is compared to a rejection rate distribution from a control ensemble that has been generated with an identical statistical hypothesis test.
While the methodology could theoretically be applied to all model output variables at all vertical levels and thus be exhaustive, we think that this would be overkill. Based on our results obtained using a limited-area climate model and the high correlations between many atmospheric variables, we think that a set of key variables that reflect the most important processes in an atmospheric model might already be sufficient to cover most of the atmospheric and land-surface processes. However, for a fully coupled global climate model, further considerations will be needed.
The verification methodology detected several configuration changes, ranging from very small changes, such as tiny increases in horizontal diffusion or changes in the minimum vertical heat diffusion coefficient, to more substantial changes, such as disabling the subgrid-scale orography (SSO) parameterization. The test was not able to detect any differences between the regional weather and climate model COSMO running on GPUs or on CPUs on the same supercomputer (Piz Daint, CSCS, Switzerland). However, the test detected differences between single- and double-precision versions of the model for almost all tested variables. In the case of single- versus double-precision analysis, rejections occur after just one time step for some diagnostic variables, suggesting precision-sensitive operations in the diagnostic calculation. Furthermore, the methodology has already been successfully applied for the verification of the regional weather and climate model COSMO after a major system update of the underlying supercomputer (Piz Daint).
Nonetheless, the results of such a test have to be interpreted with caution and might give a false sense of security. On the one hand, there are potential issues with any statistical hypothesis test, as the inability to reject the null hypothesis does not automatically mean that it is true. On the other hand, even though verification is termed a "system test", it is hardly possible to test the whole model. There are countless configurations for such models, and testing all these configurations (i.e., different physical parameterizations, resolutions, and numerical methods) is almost impossible and would require a substantial computational effort. The methodology also has some potential limitations if a certain part of the code is only very rarely activated (as is potentially the case with threshold-triggered processes). First results also show that the FDR approach seems to be a suitable and computationally less expensive alternative to using a control ensemble and subsampling to determine the field significance of spatially correlated output data. However, the FDR approach has a somewhat higher rate of false rejections, and thus a somewhat lower sensitivity.
For future work, we intend to apply the methodology to more test cases, such as the compilation of the model with different optimization levels or running the model on different supercomputers. It would also be interesting to directly compare our verification methodology to other preexisting methodologies to better understand the differences in sensitivity and applicability.
Appendix A:
 Influence of perturbation strength
As described in Sect. 3.2, we have chosen a relatively strong initial perturbation with a magnitude in the order of 10−4 for ensemble generation. Most other existing verification frameworks use a weaker perturbation with a magnitude in the order of 10−14 (e.g., Baker et al., 2015; Mahajan et al., 2017; Milroy et al., 2018). For us, the chosen perturbation magnitude proved to be a good compromise between not disturbing the initial conditions too much while still providing a good enough ensemble spread for the statistical verification during the first few hours. Furthermore, choosing such a relatively strong perturbation also allows us to examine the effects of single- versus double-precision floating-point representation, as the choice already minimizes the chance of undesirable rounding artifacts for the perturbation.
Figure A1 shows that the mean coefficient of variation averaged over all grid points of 850 hPa temperature, which is one of the directly perturbed variables, is not substantially higher with than with during the first few days. After around 300 h, the influence of the perturbation strength seems to be negligible.
Code and data availability
The source code that has been used to calculate the rejection rates shown in this paper is available at https://doi.org/10.5281/zenodo.6355694 (Zeman and Schär, 2022b). The corresponding model output data from the shorter ensemble simulations (5 d) are available at https://doi.org/10.5281/zenodo.6354200 (Zeman and Schär, 2021) and https://doi.org/10.5281/zenodo.6355647 (Zeman and Schär, 2022a). The COSMO model that has been used in this study is available under license (see http://www.cosmo-model.org/content/consortium/licencing.htm, COSMO Consortium, 2022). COSMO may be used for operational and research applications by the members of the COSMO consortium. Moreover, within a license agreement, the COSMO model may be used for operational and research applications by other national (hydro)meteorological services, universities, and research institutes. ERA-Interim reanalysis data, which were used for initial and lateral boundary conditions, are available at https://www.ecmwf.int/en/forecasts/datasets/reanalysis-datasets/era-interim (ECMWF, 2022).
CZ and CS conceptualized the verification methodology and designed the study. CZ performed the COSMO model ensemble simulations and developed the code for the verification of the model results. CZ wrote the paper with contributions from CS.
The contact author has declared that neither they nor their co-authors have any competing interests.
Publisher's note: Copernicus Publications remains neutral with regard to jurisdictional claims in published maps and institutional affiliations.
We would like to thank the two anonymous reviewers for their valuable comments. We acknowledge PRACE for awarding computational resources for the COSMO simulations on Piz Daint at the Swiss National Supercomputing Centre (CSCS). We also acknowledge the Federal Office for Meteorology and Climatology MeteoSwiss, CSCS, and ETH Zurich for their contributions to the development of the GPU-accelerated version of COSMO. In the discussion leading to this paper, we benefited from useful comments of several ETH, MeteoSwiss, and CSCS colleagues.
This paper was edited by Christoph Knote and reviewed by two anonymous referees.
Baker, A. H., Hammerling, D. M., Levy, M. N., Xu, H., Dennis, J. M., Eaton, B. E., Edwards, J., Hannay, C., Mickelson, S. A., Neale, R. B., Nychka, D., Shollenberger, J., Tribbia, J., Vertenstein, M., and Williamson, D.: A new ensemble-based consistency test for the Community Earth System Model (pyCECT v1.0), Geosci. Model Dev., 8, 2829–2840, https://doi.org/10.5194/gmd-8-2829-2015, 2015. a, b, c, d, e, f, g, h, i, j
Baker, A. H., Hu, Y., Hammerling, D. M., Tseng, Y.-H., Xu, H., Huang, X., Bryan, F. O., and Yang, G.: Evaluating statistical consistency in the ocean model component of the Community Earth System Model (pyCECT v2.0), Geosci. Model Dev., 9, 2391–2406, https://doi.org/10.5194/gmd-9-2391-2016, 2016. a, b, c, d
Baldauf, M., Seifert, A., Förstner, J., Majewski, D., Raschendorfer, M., and Reinhardt, T.: Operational Convective-Scale Numerical Weather Prediction with the COSMO Model: Description and Sensitivities, Mon. Weather Rev., 139, 3887–3905, https://doi.org/10.1175/MWR-D-10-05013.1, 2011. a
Bartlett, M. S.: The Effect of Non-Normality on the t Distribution, Math. Proc. Cambridge, 31, 223–231, https://doi.org/10.1017/S0305004100013311, 1935. a
Bauer, P., Thorpe, A., and Brunet, G.: The quiet revolution of numerical weather prediction, Nature, 525, 47–55, https://doi.org/10.1038/nature14956, 2015. a
Bellprat, O., Kotlarski, S., Lüthi, D., De Elía, R., Frigon, A., Laprise, R., and Schär, C.: Objective calibration of regional climate models: Application over Europe and North America, J. Climate, 29, 819–838, https://doi.org/10.1175/JCLI-D-15-0302.1, 2016. a
Benjamini, Y. and Hochberg, Y.: Controlling the False Discovery Rate: A Practical and Powerful Approach to Multiple Testing, J. Roy. Stat. Soc. B, 57, 289–300, https://doi.org/10.1111/j.2517-6161.1995.tb02031.x, 1995. a, b, c, d
Carson, J. S.: Model verification and validation, in: Proceedings of the Winter Simulation Conference, Winter Simulation Conference, San Diego, CA, USA, 8–11 December 2002, 1, 52–58, https://doi.org/10.1109/WSC.2002.1172868, 2002. a
Clune, T. and Rood, R.: Software Testing and Verification in Climate Model Development, IEEE Software, 28, 49–55, https://doi.org/10.1109/MS.2011.117, 2011. a
COSMO Consortium: COSMO Model License, http://www.cosmo-model.org/content/consortium/licencing.htm, last access: 12 April 2022. a
Dee, D. P., Uppala, S. M., Simmons, A. J., Berrisford, P., Poli, P., Kobayashi, S., Andrae, U., Balmaseda, M. A., Balsamo, G., Bauer, P., Bechtold, P., Beljaars, A. C., van de Berg, L., Bidlot, J., Bormann, N., Delsol, C., Dragani, R., Fuentes, M., Geer, A. J., Haimberger, L., Healy, S. B., Hersbach, H., Hólm, E. V., Isaksen, L., Kållberg, P., Köhler, M., Matricardi, M., Mcnally, A. P., Monge-Sanz, B. M., Morcrette, J. J., Park, B. K., Peubey, C., de Rosnay, P., Tavolato, C., Thépaut, J. N., and Vitart, F.: The ERA-Interim reanalysis: Configuration and performance of the data assimilation system, Q. J. Roy. Meteor. Soc., 137, 553–597, https://doi.org/10.1002/qj.828, 2011. a
Doms, G. and Baldauf, M.: A Description of the Nonhydrostatic Regional COSMO-Model Part I: Dynamics and Numerics, Deutscher Wetterdienst (DWD), Offenbach, Germany, https://doi.org/10.5676/DWD_pub/nwv/cosmo-doc_5.05_I, 2018. a, b
Doms, G., Förstner, J., Heise, E., Herzog, H.-J., Mironov, D., Raschendorfer, M., Reinhardt, T., Ritter, B., Schrodin, R., Schulz, J.-P., and Vogel, G.: COSMO Documentation Part II: Physical Parameterization, Deutscher Wetterdienst (DWD), Offenbach, Germany, https://doi.org/10.5676/dwd_pub/nwv/cosmo-doc_5.05_ii, 2018. a
ECMWF: ERA-Interim reanalysis, ECMWF [data set], https://www.ecmwf.int/en/forecasts/datasets/reanalysis-datasets/era-interim, last access: 12 April 2022. a
Fuhrer, O., Osuna, C., Lapillonne, X., Gysi, T., Bianco, M., Arteaga, A., and Schulthess, T. C.: Towards a performance portable, architecture agnostic implementation strategy for weather and climate models, Supercomputing Frontiers and Innovations, 1, 44–61, https://doi.org/10.14529/jsfi140103, 2014. a
Hong, S.-Y., Koo, M.-S., Jang, J., Kim, J.-E. E., Park, H., Joh, M.-S., Kang, J.-H., and Oh, T.-J.: An Evaluation of the Software System Dependency of a Global Atmospheric Model, Mon. Weather Rev., 141, 4165–4172, https://doi.org/10.1175/MWR-D-12-00352.1, 2013. a
Knight, C. G., Knight, S. H. E., Massey, N., Aina, T., Christensen, C., Frame, D. J., Kettleborough, J. A., Martin, A., Pascoe, S., Sanderson, B., Stainforth, D. A., and Allen, M. R.: Association of parameter, software, and hardware variation with large-scale behavior across 57,000 climate models, P. Natl. Acad. Sci. USA, 104, 12259–12264, https://doi.org/10.1073/pnas.0608144104, 2007. a
Leutbecher, M. and Palmer, T. N.: Ensemble forecasting, J. Comput. Phys., 227, 3515–3539, https://doi.org/10.1016/j.jcp.2007.02.014, 2008. a
Livezey, R. E.: Statistical Analysis of General Circulation Model Climate Simulation: Sensitivity and Prediction Experiments, J. Atmos. Sci., 42, 1139–1150, https://doi.org/10.1175/1520-0469(1985)042<1139:SAOGCM>2.0.CO;2, 1985. a
Livezey, R. E. and Chen, W. Y.: Statistical Field Significance and its Determination by Monte Carlo Techniques, Mon. Weather Rev., 111, 46–59, https://doi.org/10.1175/1520-0493(1983)111<0046:SFSAID>2.0.CO;2, 1983. a, b
Lorenz, E. N.: Deterministic Nonperiodic Flow, J. Atmos. Sci., 20, 130–141, https://doi.org/10.1175/1520-0469(1963)020<0130:DNF>2.0.CO;2, 1963. a
Lott, F. and Miller, M. J.: A new subgrid-scale orographic drag parametrization: Its formulation and testing, Q. J. Roy. Meteor. Soc., 123, 101–127, https://doi.org/10.1256/smsqj.53703, 1997. a, b, c
Mahajan, S.: Ensuring Statistical Reproducibility of Ocean Model Simulations in the Age of Hybrid Computing, in: Proceedings of the Platform for Advanced Scientific Computing Conference, PASC '21, Association for Computing Machinery, New York, NY, USA, 5–9 July 2021, https://doi.org/10.1145/3468267.3470572, 2021. a, b, c, d, e
Mahajan, S., Gaddis, A. L., Evans, K. J., and Norman, M. R.: Exploring an Ensemble-Based Approach to Atmospheric Climate Modeling and Testing at Scale, Procedia Comput. Sci., 108, 735–744, https://doi.org/10.1016/j.procs.2017.05.259, 2017. a, b, c, d, e, f, g, h
Mahajan, S., Evans, K. J., Kennedy, J. H., Xu, M., and Norman, M. R.: A Multivariate Approach to Ensure Statistical Reproducibility of Climate Model Simulations, in: Proceedings of the Platform for Advanced Scientific Computing Conference, PASC '19, Association for Computing Machinery, New York, NY, USA, 12–14 June 2019, https://doi.org/10.1145/3324989.3325724, 2019. a, b, c
Mann, H. B. and Whitney, D. R.: On a Test of Whether one of Two Random Variables is Stochastically Larger than the Other, Ann. Math. Stat., 18, 50–60, https://doi.org/10.1214/aoms/1177730491, 1947. a
Massonnet, F., Ménégoz, M., Acosta, M., Yepes-Arbós, X., Exarchou, E., and Doblas-Reyes, F. J.: Replicability of the EC-Earth3 Earth system model under a change in computing environment, Geosci. Model Dev., 13, 1165–1178, https://doi.org/10.5194/gmd-13-1165-2020, 2020. a, b, c
Milroy, D. J., Baker, A. H., Hammerling, D. M., and Jessup, E. R.: Nine time steps: ultra-fast statistical consistency testing of the Community Earth System Model (pyCECT v3.0), Geosci. Model Dev., 11, 697–711, https://doi.org/10.5194/gmd-11-697-2018, 2018. a, b, c, d, e
Oberkampf, W. L. and Roy, C. J.: Verification and Validation in Scientific Computing, Cambridge University Press, https://doi.org/10.1017/CBO9780511760396, 2010. a
Oreskes, N.: Evaluation (not validation) of quantitative models, Environ. Health Persp., 106, 1453–1460, https://doi.org/10.1289/ehp.98106s61453, 1998. a
Oreskes, N., Shrader-Frechette, K., and Belitz, K.: Verification, Validation, and Confirmation of Numerical Models in the Earth Sciences, Science, 263, 641–646, https://doi.org/10.1126/science.263.5147.641, 1994. a
Pithan, F., Angevine, W., and Mauritsen, T.: Improving a global model from the boundary layer: Total turbulent energy and the neutral limit Prandtl number, J. Adv. Model. Earth Sy., 7, 2029–2043, https://doi.org/10.1002/2015MS000503, 2015. a
Posten, H. O.: Robustness of the Two-Sample T-Test, in: Robustness of Statistical Methods and Nonparametric Statistics, edited by: Rasch, D. and Tiku, M. L., Springer, Netherlands, Dordrecht, 92–99, https://doi.org/10.1007/978-94-009-6528-7_23, 1984. a
Raschendorfer, M.: The new turbulence parameterization of LM, COSMO Newsletter, 1, 89–97, http://www.cosmo-model.org/content/model/documentation/newsLetters/newsLetter01/newsLetter_01.pdf (last access: 9 April 2022), 2001. a
Reichler, T. and Kim, J.: How Well Do Coupled Models Simulate Today's Climate?, B. Am. Meteorol. Soc., 89, 303–312, https://doi.org/10.1175/BAMS-89-3-303, 2008. a
Reinhardt, T. and Seifert, A.: A three-category ice scheme for LMK, COSMO Newsletter, 6, 115–120, http://www.cosmo-model.org/content/model/documentation/newsLetters/newsLetter06/cnl6_reinhardt.pdf (last access: 9 April 2022), 2006. a
Ritter, B. and Geleyn, J.-F.: A Comprehensive Radiation Scheme for Numerical Weather Prediction Models with Potential Applications in Climate Simulations, Mon. Weather Rev., 120, 303–325, https://doi.org/10.1175/1520-0493(1992)120<0303:ACRSFN>2.0.CO;2, 1992. a
Rockel, B., Will, A., and Hense, A.: The regional climate model COSMO-CLM (CCLM), Meteorol. Z., 17, 347–348, https://doi.org/10.1127/0941-2948/2008/0309, 2008. a
Rosinski, J. M. and Williamson, D. L.: The Accumulation of Rounding Errors and Port Validation for Global Atmospheric Models, SIAM J. Sci. Comput., 18, 552–564, https://doi.org/10.1137/S1064827594275534, 1997. a, b
Sandu, I., Beljaars, A., Bechtold, P., Mauritsen, T., and Balsamo, G.: Why is it so difficult to represent stably stratified conditions in numerical weather prediction (NWP) models?, J. Adv. Model. Earth Sy., 5, 117–133, https://doi.org/10.1002/jame.20013, 2013. a
Sargent, R. G.: Verification and validation of simulation models, J. Simul., 7, 12–24, https://doi.org/10.1057/jos.2012.20, 2013. a
Schär, C., Fuhrer, O., Arteaga, A., Ban, N., Charpilloz, C., Girolamo, S. D., Hentgen, L., Hoefler, T., Lapillonne, X., Leutwyler, D., Osterried, K., Panosetti, D., Rüdisühli, S., Schlemmer, L., Schulthess, T. C., Sprenger, M., Ubbiali, S., and Wernli, H.: Kilometer-Scale Climate Models, B. Am. Meteorol. Soc., 101, E567–E587, https://doi.org/10.1175/BAMS-D-18-0167.1, 2020. a
Schättler, U., Doms, G., and Baldauf, M.: COSMO Documentation Part VII: User's Guide, Deutscher Wetterdienst (DWD), Offenbach, Germany, https://doi.org/10.5676/dwd_pub/nwv/cosmo-doc_5.05_vii, 2018. a
Schlemmer, L., Schär, C., Lüthi, D., and Strebel, L.: A Groundwater and Runoff Formulation for Weather and Climate Models, J. Adv. Model. Earth Sy., 10, 1809–1832, https://doi.org/10.1029/2017MS001260, 2018. a
Storch, H. V.: A Remark on Chervin-Schneider's Algorithm to Test Significance of Climate Experiments with GCM's, J. Atmos. Sci., 39, 187–189, https://doi.org/10.1175/1520-0469(1982)039<0187:AROCSA>2.0.CO;2, 1982. a
Student: The Probable Error of a Mean, Biometrika, 6, 1–25, https://doi.org/10.2307/2331554, 1908. a
Sullivan, L. M. and D'Agostino, R. B.: Robustness of the t Test Applied to Data Distorted from Normality by Floor Effects, J. Dent. Res., 71, 1938–1943, https://doi.org/10.1177/00220345920710121601, 1992. a
Thomas, S. J., Hacker, J. P., Desgagné, M., and Stull, R. B.: An Ensemble Analysis of Forecast Errors Related to Floating Point Performance, Weather Forecast., 17, 898–906, https://doi.org/10.1175/1520-0434(2002)017<0898:AEAOFE>2.0.CO;2, 2002. a
Tiedtke, M.: A comprehensive mass flux scheme for cumulus parameterization in large-scale models, Mon. Weather Rev., 117, 1779–1800, https://doi.org/10.1175/1520-0493(1989)117<1779:ACMFSF>2.0.CO;2, 1989. a
Ventura, V., Paciorek, C. J., and Risbey, J. S.: Controlling the Proportion of Falsely Rejected Hypotheses when Conducting Multiple Tests with Climatological Data, J. Climate, 17, 4343–4356, https://doi.org/10.1175/3199.1, 2004. a
Wan, H., Zhang, K., Rasch, P. J., Singh, B., Chen, X., and Edwards, J.: A new and inexpensive non-bit-for-bit solution reproducibility test based on time step convergence (TSC1.0), Geosci. Model Dev., 10, 537–552, https://doi.org/10.5194/gmd-10-537-2017, 2017. a
Whitner, R. B. and Balci, O.: Guidelines for Selecting and Using Simulation Model Verification Techniques, in: Proceedings of the 21st Conference on Winter Simulation, WSC '89, 4–6 December 1989, Association for Computing Machinery, New York, NY, USA, 559–568, https://doi.org/10.1145/76738.76811, 1989. a, b, c
Wicker, L. J. and Skamarock, W. C.: Time-Splitting Methods for Elastic Models Using Forward Time Schemes, Mon. Weather Rev., 130, 2088–2097, https://doi.org/10.1175/1520-0493(2002)130<2088:TSMFEM>2.0.CO;2, 2002. a
Wilcox, R. R.: Some practical reasons for reconsidering the Kolmogorov-Smirnov test, Brit. J. Math. Stat. Psy., 50, 9–20, https://doi.org/10.1111/j.2044-8317.1997.tb01098.x, 1997. a
Wilks, D. S.: "The Stippling Shows Statistically Significant Grid Points": How Research Results are Routinely Overstated and Overinterpreted, and What to Do about It, B. Am. Meteorol. Soc., 97, 2263–2273, https://doi.org/10.1175/BAMS-D-15-00267.1, 2016. a
Zadra, A., Roch, M., Laroche, S., and Charron, M.: The subgrid-scale orographic blocking parametrization of the GEM Model, Atmos. Ocean, 41, 155–170, https://doi.org/10.3137/ao.410204, 2003.  a
Zeman, C. and Schär, C.: Data for "An Ensemble-Based Statistical Methodology to Detect Differences in Weather and Climate Model Executables" Part 1/2, Zenodo [data set], https://doi.org/10.5281/zenodo.6354200, 2021. a
Zeman, C. and Schär, C.: Data for "An Ensemble-Based Statistical Methodology to Detect Differences in Weather and Climate Model Executables" Part 2/2, Zenodo [data set], https://doi.org/10.5281/zenodo.6355647, 2022a. a
Zeman, C. and Schär, C.: Source Code for "An Ensemble-Based Statistical Methodology to Detect Differences in Weather and Climate Model Executables", Zenodo [code], https://doi.org/10.5281/zenodo.6355694, 2022b. a
Zeman, C., Wedi, N. P., Dueben, P. D., Ban, N., and Schär, C.: Model intercomparison of COSMO 5.0 and IFS 45r1 at kilometer-scale grid spacing, Geosci. Model Dev., 14, 4617–4639, https://doi.org/10.5194/gmd-14-4617-2021, 2021. a
Zimmerman, D. W.: Comparative Power of Student T Test and Mann-Whitney U Test for Unequal Sample Sizes and Variances, J. Exp. Educ., 55, 171–174, https://doi.org/10.1080/00220973.1987.10806451, 1987. a