Articles | Volume 16, issue 2
https://doi.org/10.5194/gmd-16-751-2023
© Author(s) 2023. This work is distributed under
the Creative Commons Attribution 4.0 License.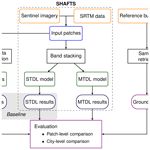 SHAFTS (v2022.3): a deep-learning-based Python package for simultaneous extraction of building height and footprint from sentinel imagery
Building height and footprint are two fundamental urban morphological features required by urban climate modelling. Although some statistical methods have been proposed to estimate average building height and footprint from publicly available satellite imagery, they often involve tedious feature engineering which makes it hard to achieve efficient knowledge discovery in a changing urban environment with ever-increasing earth observations. In this work, we develop a deep-learning-based (DL) Python package – SHAFTS (Simultaneous building Height And FootprinT extraction from Sentinel imagery) to extract such information. Multi-task deep-learning (MTDL) models are proposed to automatically learn feature representation shared by building height and footprint prediction. Besides, we integrate digital elevation model (DEM) information into developed models to inform models of terrain-induced effects on the backscattering displayed by Sentinel-1 imagery. We set conventional machine-learning-based (ML) models and single-task deep-learning (STDL) models as benchmarks and select 46 cities worldwide to evaluate developed models' patch-level prediction skills and city-level spatial transferability at four resolutions (100, 250, 500 and 1000 m). Patch-level results of 43 cities show that DL models successfully produce discriminative feature representation and improve the coefficient of determination (R2) of building height and footprint prediction more than ML models by 0.27–0.63 and 0.11–0.49, respectively. Moreover, stratified error assessment reveals that DL models effectively mitigate the severe systematic underestimation of ML models in the high-value domain: for the 100 m case, DL models reduce the root mean square error (RMSE) of building height higher than 40 m and building footprint larger than 0.25 by 31 m and 0.1, respectively, which demonstrates the superiority of DL models on refined 3D building information extraction in highly urbanized areas. For the evaluation of spatial transferability, when compared with an existing state-of-the-art product, DL models can achieve similar improvement on the overall performance and high-value prediction. Furthermore, within the DL family, comparison in building height prediction between STDL and MTDL models reveals that MTDL models achieve higher accuracy in all cases and smaller bias uncertainty for the prediction in the high-value domain at the refined scale, which proves the effectiveness of multi-task learning (MTL) on building height estimation.
Received: 20 Mar 2022 – Discussion started: 09 Jun 2022 – Revised: 02 Nov 2022 – Accepted: 28 Dec 2022 – Published: 31 Jan 2023
Recent decades have witnessed a dramatic trend of global urbanization leading to significant transformation in the vertical structure and horizontal form of the Earth's landscapes (Frolking et al., 2013). Disturbance of the environment poses a substantial challenge to sustainable development, mainly through changes in land use and cover, biogeochemical cycles, climate, hydrosystems, and biodiversity (Grimm et al., 2008; Soergel et al., 2021). To meet the challenges, the fundamental information on urban morphology – particularly building footprint and height – is urgently needed for numeric modelling (e.g. flood inundation Bruwier et al., 2020, surface energy balance Yu et al., 2021) and policy formulation (Zhu et al., 2019b).
However, such information is only available in a limited number of cities based on diverse retrieval methods such as lidar measurement (Yu et al., 2010) and conversion from the number of floors observed in the street view images (Zheng et al., 2017), which hinders addressing the above challenges at larger scales in a consistent way. In particular, the emerging global models and related initiatives underline the necessity to develop consistent methods for generating 3D urban information worldwide (Masson et al., 2020a; Sampson et al., 2015). Thus, a more consistent approach that can be applied at larger scales is highly desirable for extracting such information.
Thanks to the increasingly abundant and publicly available satellite imagery, 3D building information mapping from remote-sensing images has received significant attention and achieved considerable advances (Esch et al., 2022). Moreover, the boosting of machine-learning-based (ML) techniques has dramatically facilitated such mapping tasks (Li et al., 2020). According to target granularity, mapping tasks can be categorized into two classes:
While pixel-level mapping gains its popularity in cases such as 3D city visualization, it often requires VHR images that are less publicly accessible. By contrast, scene-level mapping only requires medium-resolution (i.e. 10–100 m) images and suffices the need of urban land surface modelling for building characteristics at the neighbourhood scale (∼500 m) (Mirzaei and Haghighat, 2010). Here, we focus on the scene-level extraction of 3D building information using a data-driven approach.
Being demonstrated great potentials in the scene-level extraction, the current data-driven approaches based on conventional ML models (random forest regression (RFR) Li et al., 2020, support vector regression (SVR) Frantz et al., 2021 and ensemble regression Geiß et al., 2020, etc.) have two major limitations:
To overcome the above limitations, we propose a new multi-task deep-learning (MTDL) approach to facilitate 3D building information extraction at a large scale with emphases on the following aspects:
Besides, we aim to thoroughly evaluate the performance of the proposed MTDL approach in the scene-level 3D building mapping. Although DL models have set new benchmarks on several remote-sensing image processing tasks (land use classification Zhong et al., 2020, building segmentation Shi et al., 2020, local climate zone classification Zhu et al., 2022, etc.), whether DL methods outperform ML ones on the scene-level 3D building mapping is yet to be examined.
Main procedures of the proposed workflow for 3D building information mapping include the following (Fig. 1):
In the remainder of this paper, we first describe the proposed MTDL approaches for 3D building information extraction (Sect. 2) and then perform diagnostic evaluation of model performance in 46 cities worldwide at both patch and city levels (Sect. 3).
3.1

 Baseline models and evaluation metrics

Based on the review of related work (Li et al., 2020; Frantz et al., 2021), we select RFR, SVR and its bagging version (BaggingSVR), and XGBoostR (Chen and Guestrin, 2016) as ML baselines for comparison with DL models. See Appendix A for implementation details of ML approaches. Also, STDL models are developed as benchmarks to investigate the effects of MTL.

To give quantitative assessment to the performance of our developed models, experimental results are evaluated on 𝒟test using multiple metrics including RMSE and its weighted version (wRMSE), MAE, ME, NMAD, Pearson correlation coefficient (CC), coefficient of determination (R2) and its weighted version (wR2) defined in Table 2.

Before we embark on the specific results of model evaluation, it is worth reflecting on the incentives for the selection of these metrics.

For the magnitude of model error, RMSE and MAE are common measures using the L2 and L1 norm. Compared with MAE, RMSE can be sensitive to the performance degradation of models caused by outliers such as skyscrapers which may be scarce in the real urban environment. Thus, Frantz et al. (2021) proposed using RMSE weighted by the sample frequency (wRMSE) as a measure of the areal accuracy of models. Besides the magnitude, both centre location and dispersion are key aspects of error distribution, which can be described by ME and NMAD, respectively. The selection of NMAD instead of the sample standard deviation is because the former is considered to be a more robust estimator for the standard deviation than the latter (Carrera-Hernández, 2021).

Furthermore, since the distribution of the target dataset may vary significantly across scales, some dimensionless normalized metrics are preferred for the convenience of intercomparison in relative terms. The Pearson correlation coefficient (CC) is widely used as an overall skill score for assessing structural similarity (Li et al., 2020; Taylor, 2001). A higher CC suggests a more consistent tendency in variation between reference and prediction if any linear transformation is allowed. However, since linear transformation may discard the information about the centre location and amplitude of error distribution, R2 is further selected to provide the complementary information quantifying the overall model performance. Originally, R2 indicates the percentage of target variance explained by a linear regression model. It can be further extended to the nonlinear case to reflect the improvement over the benchmark model if the mean target value is thought to be an appropriate choice (Schaefli and Gupta, 2007). Thus, for representation of urban morphology, R2 can be interpreted as a skill metric which quantifies the performance improvement or degradation of models in capturing surface heterogeneity relative to homogeneous approximation using the sample mean.
3.2

 Patch-level evaluation of prediction skill
3.3

 City-level evaluation of spatial transferability
In this work, we develop a MTDL Python package, SHAFTS, for the simultaneous extraction of both building height and footprint from Sentinel imagery in urban areas. Comparison with conventional ML and STDL models in 46 cities worldwide demonstrates the following:
DL models – both STDL and MTDL – avoid tedious feature engineering by automatic data representation and outperform their ML counterparts in building height and footprint prediction for 38 cities by 0.27–0.63 and 0.11–0.49 measured by R2, respectively. Particularly, DL models effectively mitigate the saturation effect of ML models in high-value domains: for building height prediction, RMSE is reduced by 31 m when target height is higher than 40 m; for building footprint prediction, RMSE is reduced by 0.1 when target footprint is larger than 0.25.

Within the DL family, MTDL models achieve higher efficiency than STDL models by halving the number of required parameters and exhibit better generalization ability (e.g. in Glasgow with an improvement of 0.45 m in building height prediction measured by RMSE as well as reduced uncertainty of bias for the prediction of building height higher than 24 m for the case of 100 m).
Furthermore, we establish a diagnostic evaluation framework based on a two-step decomposition analysis, which can better interpret the performance variation across different models and target resolutions. Using this framework, we find that DL models outperform ML models in both systematic bias control and variability error reduction. In addition, relatively large systematic bias may significantly deteriorate the performance of ML models at coarse resolutions (e.g. >1000 m) and high-value domains.
Being promising for 3D building mapping in a large scale, the MTDL models in SHAFTS have several limitations that need to be appreciated here. Overestimation on building height and underestimation on building footprint of the developed MTDL model is observed in some densely built-up areas, which could be caused by the limited spatial resolution of Sentinel imagery and caveats in the designed models. Also, the inherent noises in reference data may influence the accuracy in assessing model performance. Therefore, robustness of the MTDL model will be tested in more cities in our forthcoming work. Moreover, the fusion of multi-source input data and more advanced ensemble strategies between ML and DL models will be conducted to address these issues and improve the prediction of urban morphological features.
Appendix A:
 ML approaches
A1

 Feature extraction and preprocessing

To prepare the inputs for ML models, following (Geiß et al., 2020), 396 features are manually designed and extracted from sample patches in three aspects (see Table A1 for summary):
single-band statistic – the mean, standard deviation, maximum, minimum, 25th percentile, 50th percentile and 75th percentile of SRTM DEM, Sentinel-1's VV, VH bands and Sentinel-2's red, green, blue and NIR bands;

multi-spectral information – six normalized difference spectral indices and a brightness measure (Zhang et al., 2017);

morphological and texture quantities – differential morphological profiles (DMP) and grey-level co-occurrence matrix (GLCM) calculated using a square-shaped structuring element with six ascending sizes . Based on DMP and GLCM, several morphological and texture features were derived using different aggregation functions.
To reduce information redundancy and irrelevant noises in high-dimensional data, we preprocess features in the following steps:
Filtering – raw features with variance lower than 1e−6 are removed from the input feature set.

Normalization – remaining features are standardized by removing individual means and scaling to unit variance.

Transformation – principal component analysis is performed on normalized features to project them onto a lower dimensional space with a reduction ratio of 50 %.
A2

 ML models

This work selects RFR, XGBoostR, SVR and its bagging version (BaggingSVR) as baseline models for comparison with DL models. It should be emphasized that while accuracy is our major concern for model selection, scalability is another crucial factor if the model would be applied to real-world situations for massive data mining. Compared with RFR and XGBoostR, most existing implementations of SVR with nonlinear kernels exhibits poorer scalability since it involves the solution of a quadratic optimization problem, which often requires well-designed decomposition algorithms (Joachims, 1998). Thus, when predicting about the dataset with the resolution of 100 and 250 m, the original SVR is replaced with a bagging regressor (Breiman, 1996), i.e. BaggingSVR, which trains SVR on random subsets of the original dataset as base estimators and then makes the final prediction with the aggregation of individual results. For notational simplicity, we denote both of them as SVR.

To guarantee the reliability of our research, we use widely used open-source Python packages for the implementation of ML models: scikit-learn (Varoquaux et al., 2015) for preprocessing pipelines, RFR, SVR and XGBoost (Chen and Guestrin, 2016) for XGBoostR (see key hyperparameter values in Table A2).
The procedure of CCAP can be summarized into the following steps:
Construct a potential building footprint threshold set with uniform spacings:

Determine an optimal footprint threshold based on percolation theory (Cao et al., 2020):

where Entropy(⋅) is the Shannon's entropy of the size distribution of the urban cluster system. Here a pixel is identified as an urban pixel if its building height and footprint value (λp,Have) satisfies and urban clusters are extracted by the Connected Component Analysis algorithm provided in the OpenCV package (https://github.com/opencv/opencv, last access: 1 November 2022).

Determine the threshold for final masking. Since different optimal thresholds can be calculated from the mapping results of various models (e.g. STDL and MTDL models), final masking can be derived by some simple fusion rules. In this work, we consider a pixel as an urban pixel if it is identified so in any mapping result.
Code and data availability
RL led the development of SHAFTS. RL and TS performed the formal analysis. TS, GN and FT contributed to the computing resources and supervision. RL wrote the original draft and all authors contributed to reviewing and editing of the paper.
The contact author has declared that none of the authors has any competing interests.
Publisher's note: Copernicus Publications remains neutral with regard to jurisdictional claims in published maps and institutional affiliations.
This work was supported by the National Key Research and Development Program of China (2018YFA0606002), the Fund Program of State Key Laboratory of Hydroscience and Engineering (61010101221), Open Research Fund Program of State Key Laboratory of Hydroscience and Engineering (sklhse-2020-A06), NERC Independent Research Fellowship (NE/P018637/2).
This research has been supported by the National Key Research and Development Programme of China (grant no. 2018YFA0606002), the Fund Program of State Key Laboratory of Hydroscience and Engineering (61010101221), Open Research Fund Program of State Key Laboratory of Hydroscience and Engineering (sklhse-2020A06) and NERC Independent Research Fellowship (NE/P018637/2).
This paper was edited by Richard Mills and reviewed by two anonymous referees.
Bengio, Y., Courville, A., and Vincent, P.: Representation Learning: A Review and New Perspectives, IEEE T. Pattern Anal., 35, 1798–1828, https://doi.org/10.1109/tpami.2013.50, 2013. a, b
Breiman, L.: Bagging predictors, Mach. Learn., 24, 123–140, 1996. a
Brunner, D., Lemoine, G., Bruzzone, L., and Greidanus, H.: Building Height Retrieval From VHR SAR Imagery Based on an Iterative Simulation and Matching Technique, IEEE T. Geosci. Remote, 48, 1487–1504, https://doi.org/10.1109/tgrs.2009.2031910, 2010. a
Bruwier, M., Maravat, C., Mustafa, A., Teller, J., Pirotton, M., Erpicum, S., Archambeau, P., and Dewals, B.: Influence of urban forms on surface flow in urban pluvial flooding, J. Hydrol., 582, 124493, https://doi.org/10.1016/j.jhydrol.2019.124493, 2020. a
Burke, M., Driscoll, A., Lobell, D. B., and Ermon, S.: Using satellite imagery to understand and promote sustainable development, Science, 371, eabe8626, https://doi.org/10.1126/science.abe8628, 2021. a, b
Cao, W., Dong, L., Wu, L., and Liu, Y.: Quantifying urban areas with multi-source data based on percolation theory, Remote Sens. Environ., 241, 111730, https://doi.org/10.1016/j.rse.2020.111730, 2020. a, b
Cao, Y. and Huang, X.: A deep learning method for building height estimation using high-resolution multi-view imagery over urban areas: A case study of 42 Chinese cities, Remote Sens. Environ., 264, 112590, https://doi.org/10.1016/j.rse.2021.112590, 2021. a, b, c, d, e
Carrera-Hernández, J.: Not all DEMs are equal: An evaluation of six globally available 30 m resolution DEMs with geodetic benchmarks and LiDAR in Mexico, Remote Sens. Environ., 261, 112474, https://doi.org/10.1016/j.rse.2021.112474, 2021. a
Caruana, R.: Multitask learning, Mach. Learn., 28, 41–75, 1997. a
Chen, T. and Guestrin, C.: XGBoost, in: Proceedings of the 22nd ACM SIGKDD International Conference on Knowledge Discovery and Data Mining, KDD '16, ACM, New York, NY, USA, 13–17 August 2016, 785–794, https://doi.org/10.1145/2939672.2939785, 2016. a, b
Chen, Z., Badrinarayanan, V., Lee, C.-Y., and Rabinovich, A.: Gradnorm: Gradient normalization for adaptive loss balancing in deep multitask networks, in: International Conference on Machine Learning, Stockholm, Sweden, 10–15 July 2018, arXiv [preprint], https://doi.org/10.48550/arXiv.1711.02257, 794–803, PMLR, 2018. a
Cipolla, R., Gal, Y., and Kendall, A.: Multi-task Learning Using Uncertainty to Weigh Losses for Scene Geometry and Semantics, in: 2018 IEEE Conference on Computer Vision and Pattern Recognition, Salt Lake City, USA, 18–23 June 2018, 7482–7491, IEEE, https://doi.org/10.1109/cvpr.2018.00781, 2018. a, b
Drusch, M., Del Bello, U., Carlier, S., Colin, O., Fernandez, V., Gascon, F., Hoersch, B., Isola, C., Laberinti, P., Martimort, P., Meygret, A., Spoto, F., Sy, O., Marchese, F., and Bargellini, P.: Sentinel-2: Esa's Optical High-Resolution Mission for GMES Operational Services, Remote Sens. Environ., 120, 25–36, https://doi.org/10.1016/j.rse.2011.11.026, 2012. a
Eigen, D. and Fergus, R.: Predicting Depth, Surface Normals and Semantic Labels with a Common Multi-scale Convolutional Architecture, in: 2015 IEEE International Conference on Computer Vision, Santiago, Chile, 7–13 December 2015, 2650–2658, IEEE, https://doi.org/10.1109/iccv.2015.304, 2015. a
Esch, T., Brzoska, E., Dech, S., Leutner, B., Palacios-Lopez, D., Metz-Marconcini, A., Marconcini, M., Roth, A., and Zeidler, J.: World Settlement Footprint 3D – A first three-dimensional survey of the global building stock, Remote Sens. Environ., 270, 112877, https://doi.org/10.1016/j.rse.2021.112877, 2022. a, b
Frantz, D., Schug, F., Okujeni, A., Navacchi, C., Wagner, W., van der Linden, S., and Hostert, P.: National-scale mapping of building height using Sentinel-1 and Sentinel-2 time series, Remote Sens. Environ., 252, 112128, https://doi.org/10.1016/j.rse.2020.112128, 2021. a, b, c, d, e, f, g, h, i, j, k, l
Frolking, S., Milliman, T., Seto, K. C., and Friedl, M. A.: A global fingerprint of macro-scale changes in urban structure from 1999 to 2009, Environ. Res. Lett., 8, 024004, https://doi.org/10.1088/1748-9326/8/2/024004, 2013. a
Geiß, C., Leichtle, T., Wurm, M., Pelizari, P. A., Standfuß, I., Zhu, X. X., So, E., Siedentop, S., Esch, T., and Taubenböck, H.: Large-Area Characterization of Urban Morphology–Mapping of Built-Up Height and Density Using TanDEM-X and Sentinel-2 Data, IEEE J. Sel. Top. Appl., 12, 2912–2927, https://doi.org/10.1109/JSTARS.2019.2917755, 2019. a
Geiß, C., Schrade, H., Aravena Pelizari, P., and Taubenböck, H.: Multistrategy ensemble regression for mapping of built-up density and height with Sentinel-2 data, ISPRS J. Photogramm., 170, 57–71, https://doi.org/10.1016/j.isprsjprs.2020.10.004, 2020. a, b, c, d, e, f, g
Gorelick, N., Hancher, M., Dixon, M., Ilyushchenko, S., Thau, D., and Moore, R.: Google Earth Engine: Planetary-scale geospatial analysis for everyone, Remote Sens. Environ., 202, 18–27, https://doi.org/10.1016/j.rse.2017.06.031, 2017. a
Grimm, N. B., Faeth, S. H., Golubiewski, N. E., Redman, C. L., Wu, J., Bai, X., and Briggs, J. M.: Global Change and the Ecology of Cities, Science, 319, 756–760, https://doi.org/10.1126/science.1150195, 2008. a
Guo, H., Shi, Q., Du, B., Zhang, L., Wang, D., and Ding, H.: Scene-Driven Multitask Parallel Attention Network for Building Extraction in High-Resolution Remote Sensing Images, IEEE T. Geosci. Remote, 59, 4287–4306, https://doi.org/10.1109/tgrs.2020.3014312, 2021. a, b
Gupta, H. V., Kling, H., Yilmaz, K. K., and Martinez, G. F.: Decomposition of the mean squared error and NSE performance criteria: Implications for improving hydrological modelling, J. Hydrol., 377, 80–91, https://doi.org/10.1016/j.jhydrol.2009.08.003, 2009. a, b
Haralick, R. M., Shanmugam, K., and Dinstein, I.: Textural Features for Image Classification, IEEE T. Syst. Man Cyb., SMC-3, 610–621, https://doi.org/10.1109/tsmc.1973.4309314, 1973. a
Hastie, T., Tibshirani, R., and Friedman, J.: The Elements of Statistical Learning, Springer New York, https://doi.org/10.1007/978-0-387-84858-7, 2009. a, b, c
He, K., Zhang, X., Ren, S., and Sun, J.: Deep Residual Learning for Image Recognition, in: 2016 IEEE Conference on Computer Vision and Pattern Recognition, Las Vegas, USA, 27–30 June 2016, 770–778, IEEE, https://doi.org/10.1109/cvpr.2016.90, 2016. a, b
Hu, J., Shen, L., and Sun, G.: Squeeze-and-Excitation Networks, in: 2018 IEEE Conference on Computer Vision and Pattern Recognition, Salt Lake City, USA, 18–23 June 2018, 7132–7141, IEEE, https://doi.org/10.1109/cvpr.2018.00745, 2018. a, b, c
Huber, P. J.: Robust Estimation of a Location Parameter, Ann. Math. Stat., 35, 73–101, https://doi.org/10.1214/aoms/1177703732, 1964. a
Ji, C. and Tang, H.: Number of Building Stories Estimation from Monocular Satellite Image Using a Modified Mask R-CNN, Remote Sensing, 12, 3833, https://doi.org/10.3390/rs12223833, 2020. a
Joachims, T.: Making large-scale SVM learning practical, Technical report, http://hdl.handle.net/10419/77178 (last access date: 20 January 2023), 1998. a
Koppel, K., Zalite, K., Voormansik, K., and Jagdhuber, T.: Sensitivity of Sentinel-1 backscatter to characteristics of buildings, Int. J. Remote Sens., 38, 6298–6318, https://doi.org/10.1080/01431161.2017.1353160, 2017. a, b
Lagacherie, P., Rabotin, M., Colin, F., Moussa, R., and Voltz, M.: Geo-MHYDAS: A landscape discretization tool for distributed hydrological modeling of cultivated areas, Comput. Geosci., 36, 1021–1032, https://doi.org/10.1016/j.cageo.2009.12.005, 2010. a
LeCun, Y., Bengio, Y., and Hinton, G.: Deep learning, Nature, 521, 436–444, https://doi.org/10.1038/nature14539, 2015. a, b
Li, M., Koks, E., Taubenböck, H., and van Vliet, J.: Continental-scale mapping and analysis of 3D building structure, Remote Sens. Environ., 245, 111859, https://doi.org/10.1016/j.rse.2020.111859, 2020. a, b, c, d, e, f, g, h, i, j, k
Li, R. and Sun, T.: Reference Datasets for: SHAFTS (v2022.3): a deep-learning-based Python package for Simultaneous extraction of building Height And FootprinT from Sentinel Imagery, Zenodo [data set], https://doi.org/10.5281/zenodo.6587510, 2022. a
Liebel, L., Bittner, K., and Körner, M.: A generalized multi-task learning approach to stereo DSM filtering in urban areas, ISPRS J. Photogramm., 166, 213–227, https://doi.org/10.1016/j.isprsjprs.2020.03.005, 2020. a
Liu, Y., Bates, P. D., Neal, J. C., and Yamazaki, D.: Bare-Earth DEM Generation in Urban Areas for Flood Inundation Simulation Using Global Digital Elevation Models, Water Resour. Res., 57, e2020WR028516, https://doi.org/10.1029/2020wr028516, 2021. a
Loew, A. and Mauser, W.: Generation of geometrically and radiometrically terrain corrected SAR image products, Remote Sens. Environ., 106, 337–349, https://doi.org/10.1016/j.rse.2006.09.002, 2007. a
Loshchilov, I. and Hutter, F.: SGDR: Stochastic Gradient Descent with Warm Restarts, in: 5th International Conference on Learning Representations, OpenReview.net, Toulon, France, 24–26 April 2017, arXiv [preprint], https://doi.org/10.48550/arXiv.1608.03983, 2017. a
Masson, V., Heldens, W., Bocher, E., Bonhomme, M., Bucher, B., Burmeister, C., de Munck, C., Esch, T., Hidalgo, J., Kanani-Sühring, F., Kwok, Y.-T., Lemonsu, A., Lévy, J.-P., Maronga, B., Pavlik, D., Petit, G., See, L., Schoetter, R., Tornay, N., Votsis, A., and Zeidler, J.: City-descriptive input data for urban climate models: Model requirements, data sources and challenges, Urban Clim., 31, 100536, https://doi.org/10.1016/j.uclim.2019.100536, 2020a. a
Masson, V., Lemonsu, A., Hidalgo, J., and Voogt, J.: Urban Climates and Climate Change, Annu. Rev. Env. Resour., 45, 411–444, https://doi.org/10.1146/annurev-environ-012320-083623, 2020b. a
Mirzaei, P. A. and Haghighat, F.: Approaches to study Urban Heat Island – Abilities and limitations, Build. Environ., 45, 2192–2201, https://doi.org/10.1016/j.buildenv.2010.04.001, 2010. a
Moreira, A., Prats-Iraola, P., Younis, M., Krieger, G., Hajnsek, I., and Papathanassiou, K. P.: A tutorial on synthetic aperture radar, IEEE Geoscience and Remote Sensing Magazine, 1, 6–43, https://doi.org/10.1109/MGRS.2013.2248301, 2013. a
Mottaghi, R., Chen, X., Liu, X., Cho, N.-G., Lee, S.-W., Fidler, S., Urtasun, R., and Yuille, A.: The Role of Context for Object Detection and Semantic Segmentation in the Wild, in: 2014 IEEE Conference on Computer Vision and Pattern Recognition, Columbus, USA, 23–28 June 2014, 891–898, https://doi.org/10.1109/CVPR.2014.119, 2014. a
Nosek, B. A., Alter, G., Banks, G. C., Borsboom, D., Bowman, S. D., Breckler, S. J., Buck, S., Chambers, C. D., Chin, G., Christensen, G., Contestabile, M., Dafoe, A., Eich, E., Freese, J., Glennerster, R., Goroff, D., Green, D. P., Hesse, B., Humphreys, M., Ishiyama, J., Karlan, D., Kraut, A., Lupia, A., Mabry, P., Madon, T., Malhotra, N., Mayo-Wilson, E., McNutt, M., Miguel, E., Paluck, E. L., Simonsohn, U., Soderberg, C., Spellman, B. A., Turitto, J., VandenBos, G., Vazire, S., Wagenmakers, E. J., Wilson, R., and Yarkoni, T.: Promoting an open research culture, Science, 348, 1422–1425, https://doi.org/10.1126/science.aab2374, 2015. a
Pesaresi, M. and Benediktsson, J.: A new approach for the morphological segmentation of high-resolution satellite imagery, IEEE T. Geosci. Remote, 39, 309–320, https://doi.org/10.1109/36.905239, 2001. a
Piantanida, R., Hajduch, G., and Poullaouec, J.: Sentinel-1 Level 1 Detailed Algorithm Definition, ESA, techreport SEN-TN-52-7445, https://sentinels.copernicus.eu/web/sentinel/user-guides/sentinel-1-sar/document-library/-/asset_publisher/1dO7RF5fJMbd/content/id/2477988 (last access: 1 November 2022), 2021. a
Qin, Z., Zhang, P., Wu, F., and Li, X.: FcaNet: Frequency Channel Attention Networks, Montreal, Canada, 10–17 October 2021. 783–792, https://doi.org/10.1109/ICCV48922.2021.00082, 2021. a
Ruder, S.: An Overview of Multi-Task Learning in Deep Neural Networks, arXiv [preprint], https://doi.org/10.48550/arXiv.1706.05098, 15 June 2017. a
Salvadore, E., Bronders, J., and Batelaan, O.: Hydrological modelling of urbanized catchments: A review and future directions, J. Hydrol., 529, 62–81, https://doi.org/10.1016/j.jhydrol.2015.06.028, 2015. a
Sampson, C. C., Smith, A. M., Bates, P. D., Neal, J. C., Alfieri, L., and Freer, J. E.: A high-resolution global flood hazard model, Water Resour. Res., 51, 7358–7381, https://doi.org/10.1002/2015wr016954, 2015. a
Schaefli, B. and Gupta, H. V.: Do Nash values have value?, Hydrol. Process., 21, 2075–2080, https://doi.org/10.1002/hyp.6825, 2007. a
Sener, O. and Koltun, V.: Multi-task learning as multi-objective optimization, in: Proceedings of the 32nd International Conference on Neural Information Processing Systems, Montreal, Canada, 3–8 December 2018, arXiv [preprint], https://doi.org/10.48550/arXiv.1810.04650, 525–536, 2018. a, b
Shi, Y., Li, Q., and Zhu, X. X.: Building segmentation through a gated graph convolutional neural network with deep structured feature embedding, ISPRS J. Photogramm., 159, 184–197, https://doi.org/10.1016/j.isprsjprs.2019.11.004, 2020. a, b
Shorten, C. and Khoshgoftaar, T. M.: A survey on Image Data Augmentation for Deep Learning, Journal of Big Data, 6, 1–48, https://doi.org/10.1186/s40537-019-0197-0, 2019. a
Simonyan, K. and Zisserman, A.: Very Deep Convolutional Networks for Large-Scale Image Recognition, in: 3rd International Conference on Learning Representations, edited by: Bengio, Y. and LeCun, Y., San Diego, USA, 7–9 May 2015, arXiv [preprint], https://doi.org/10.48550/arXiv.1409.1556, 2015. a
Soergel, B., Kriegler, E., Weindl, I., Rauner, S., Dirnaichner, A., Ruhe, C., Hofmann, M., Bauer, N., Bertram, C., Bodirsky, B. L., Leimbach, M., Leininger, J., Levesque, A., Luderer, G., Pehl, M., Wingens, C., Baumstark, L., Beier, F., Dietrich, J. P., Humpenöder, F., von Jeetze, P., Klein, D., Koch, J., Pietzcker, R., Strefler, J., Lotze-Campen, H., and Popp, A.: A sustainable development pathway for climate action within the UN 2030 Agenda, Nat. Clim. Change, 11, 656–664, https://doi.org/10.1038/s41558-021-01098-3, 2021. a
Stilla, U., Soergel, U., and Thoennessen, U.: Potential and limits of InSAR data for building reconstruction in built-up areas, ISPRS J. Photogramm., 58, 113–123, https://doi.org/10.1016/s0924-2716(03)00021-2, 2003. a
Sun, Y., Mou, L., Wang, Y., Montazeri, S., and Zhu, X. X.: Large-scale building height retrieval from single SAR imagery based on bounding box regression networks, ISPRS J. Photogramm., 184, 79–95, https://doi.org/10.1016/j.isprsjprs.2021.11.024, 2022. a
Szegedy, C., Liu, W., Jia, Y., Sermanet, P., Reed, S. E., Anguelov, D., Erhan, D., Vanhoucke, V., and Rabinovich, A.: Going deeper with convolutions, in: 2015 IEEE Conference on Computer Vision and Pattern Recognition, Boston, USA, 7–12 June 2015, 1–9, IEEE, https://doi.org/10.1109/CVPR.2015.7298594, 2015. a
Taylor, K. E.: Summarizing multiple aspects of model performance in a single diagram, J. Geophys. Res.-Atmos., 106, 7183–7192, https://doi.org/10.1029/2000jd900719, 2001. a, b, c, d
Torres, R., Snoeij, P., Geudtner, D., Bibby, D., Davidson, M., Attema, E., Potin, P., Rommen, B., Floury, N., Brown, M., Traver, I. N., Deghaye, P., Duesmann, B., Rosich, B., Miranda, N., Bruno, C., L'Abbate, M., Croci, R., Pietropaolo, A., Huchler, M., and Rostan, F.: GMES Sentinel-1 mission, Remote Sens. Environ., 120, 9–24, https://doi.org/10.1016/j.rse.2011.05.028, 2012. a
van der Maaten, L. and Hinton, G.: Visualizing non-metric similarities in multiple maps, Mach. Learn., 87, 33–55, https://doi.org/10.1007/s10994-011-5273-4, 2011.  a
Varoquaux, G., Buitinck, L., Louppe, G., Grisel, O., Pedregosa, F., and Mueller, A.: Scikit-learn, GetMobile: Mobile Computing and Communications, 19, 29–33, https://doi.org/10.1145/2786984.2786995, 2015. a
Yu, B., Liu, H., Wu, J., Hu, Y., and Zhang, L.: Automated derivation of urban building density information using airborne LiDAR data and object-based method, Landscape Urban Plan., 98, 210–219, https://doi.org/10.1016/j.landurbplan.2010.08.004, 2010. a
Yu, Z., Hu, L., Sun, T., Albertson, J., and Li, Q.: Impact of heat storage on remote-sensing based quantification of anthropogenic heat in urban environments, Remote Sens. Environ., 262, 112520, https://doi.org/10.1016/j.rse.2021.112520, 2021. a
Zhang, T., Huang, X., Wen, D., and Li, J.: Urban Building Density Estimation From High-Resolution Imagery Using Multiple Features and Support Vector Regression, IEEE J. Sel. Top. Appl., 10, 3265–3280, https://doi.org/10.1109/jstars.2017.2669217, 2017. a
Zheng, Z., Zhou, W., Wang, J., Hu, X., and Qian, Y.: Sixty-Year Changes in Residential Landscapes in Beijing: A Perspective from Both the Horizontal (2D) and Vertical (3D) Dimensions, Remote Sensing, 9, 992, https://doi.org/10.3390/rs9100992, 2017. a
Zhong, Y., Su, Y., Wu, S., Zheng, Z., Zhao, J., Ma, A., Zhu, Q., Ye, R., Li, X., Pellikka, P., and Zhang, L.: Open-source data-driven urban land-use mapping integrating point-line-polygon semantic objects: A case study of Chinese cities, Remote Sens. Environ., 247, 111838, https://doi.org/10.1016/j.rse.2020.111838, 2020. a
Zhu, X., Cheng, D., Zhang, Z., Lin, S., and Dai, J.: An Empirical Study of Spatial Attention Mechanisms in Deep Networks, in: 2019 IEEE International Conference on Computer Vision, Seoul, Korea, 27 October–2 November 2019, 6688–6697, IEEE, https://doi.org/10.1109/iccv.2019.00679, 2019a. a
Zhu, X. X., Tuia, D., Mou, L., Xia, G.-S., Zhang, L., Xu, F., and Fraundorfer, F.: Deep Learning in Remote Sensing: A Comprehensive Review and List of Resources, IEEE Geoscience and Remote Sensing Magazine, 5, 8–36, https://doi.org/10.1109/mgrs.2017.2762307, 2017. a
Zhu, X. X., Qiu, C., Hu, J., Shi, Y., Wang, Y., Schmitt, M., and Taubenböck, H.: The urban morphology on our planet – Global perspectives from space, Remote Sens. Environ., 269, 112794, https://doi.org/10.1016/j.rse.2021.112794, 2022. a
Zhu, Z., Zhou, Y., Seto, K. C., Stokes, E. C., Deng, C., Pickett, S. T., and Taubenböck, H.: Understanding an urbanizing planet: Strategic directions for remote sensing, Remote Sens. Environ., 228, 164–182, https://doi.org/10.1016/j.rse.2019.04.020, 2019b. a, b