Articles | Volume 15, issue 24
https://doi.org/10.5194/gmd-15-9031-2022
© Author(s) 2022. This work is distributed under
the Creative Commons Attribution 4.0 License.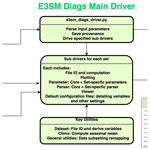 The E3SM Diagnostics Package (E3SM Diags v2.7): a Python-based diagnostics package for Earth system model evaluation
The E3SM Diagnostics Package (E3SM Diags) is a modern, Python-based Earth system model (ESM) evaluation tool (with Python module name e3sm_diags), developed to support the Department of Energy (DOE) Energy Exascale Earth System Model (E3SM). E3SM Diags provides a wide suite of tools for evaluating native E3SM output, as well as ESM data on regular latitude–longitude grids, including output from Coupled Model Intercomparison Project (CMIP) class models.
E3SM Diags is modeled after the National Center for Atmospheric Research (NCAR) Atmosphere Model Working Group (AMWG, 2022) diagnostics package. In its version 1 release, E3SM Diags included a set of core essential diagnostics to evaluate the mean physical climate from model simulations. As of version 2.7, more process-oriented and phenomenon-based evaluation diagnostics have been implemented, such as analysis of the quasi-biennial oscillation (QBO), the El Niño–Southern Oscillation (ENSO), streamflow, the diurnal cycle of precipitation, tropical cyclones, ozone and aerosol properties. An in situ dataset from DOE's Atmospheric Radiation Measurement (ARM) program has been integrated into the package for evaluating the representation of simulated cloud and precipitation processes.
This tool is designed with enough flexibility to allow for the addition of new observational datasets and new diagnostic algorithms. Additional features include customizable figures; streamlined installation, configuration and execution; and multiprocessing for fast computation. The package uses an up-to-date observational data repository maintained by its developers, where recent datasets are added to the repository as they become available. Finally, several applications for the E3SM Diags module were introduced to fit a diverse set of use cases from the scientific community.
Received: 09 Feb 2022 – Discussion started: 01 Apr 2022 – Revised: 09 Sep 2022 – Accepted: 12 Sep 2022 – Published: 20 Dec 2022
Earth system model (ESM) developers run automated analysis tools on candidate versions of models and rely on the metrics and diagnostics generated by those tools for key insights into model performance and to inform model development. Continued efforts from climate scientists and software engineers make these tools more efficient and comprehensive so that they may play an important role in providing condensed and credible information from aspects of climate systems and to support stakeholders and policymakers (Eyring et al., 2019).
Phillips et al. (2014)
Eyring et al. (2016)
Righi et al. (2020)
Gleckler et al. (2008)
Gleckler et al. (2016)
Collier et al. (2018)
Maloney et al. (2019)
A number of established evaluation packages have been developed to facilitate analyzing ESMs and their atmosphere, land-surface, ocean and sea-ice component modules. Table 1 provides a list of some of the most widely used tools designed to evaluate different components of coupled Earth system models. Most tools listed here have started with a main focus on one ESM component but have evolved to analyze other ESM realms too, for example, the International Land Model Benchmarking (ILAMB) system, which specializes in land model components and includes functionality for evaluating ocean outputs (via International Ocean Model Benchmarking, IOMB); and the Earth System Model Evaluation Tool (ESMValTool) has a solid evaluation component for ocean model data in addition to its atmospheric component. The MPAS (Model for Prediction Across Scales)-Analysis tool has a focus on evaluation of the ocean and sea ice.
One of the most well established climate data evaluation packages, the Atmosphere Model Working Group diagnostics package (AMWG, 2022) was developed at the National Center for Atmospheric Research (NCAR) and has been used widely for the Community Atmosphere Model (CAM), the atmospheric component of the Community Earth System Model (CESM). This package was written in the NCAR Command Language (NCL), which cultivated a mature and extensive collection of libraries to support atmospheric data analysis and visualization. The same language is also used to script NCAR's Climate Variability Diagnostics Package (CVDP; Phillips et al., 2014), which focuses on evaluating modes of variability and facilitating model intercomparison. Both AMWG and early versions of CVDP were designed specifically for model output following CESM convention.
By formulating common data standards for ESM output and distributing these data broadly, the World Climate Research Programme (WCRP) Coupled Model Intercomparison Project (CMIP) initiative created a unique opportunity for generalizing and relaxing the input data requirement for evaluation packages and built a foundation for multi-model evaluation. A number of software packages, including the ESMValTool, the PCMDI Metrics Package (PMP) and ILAMB (see Table 1), were created with a goal to analyze data following CMIP conventions and evaluate data from the CMIP archive, served by the Earth System Grid Federation (ESGF). Among these tools, ESMValTool has been the primary package for production of figures for the Intergovernmental Panel on Climate Change (IPCC) assessment reports (Eyring et al., 2016; Righi et al., 2020). An outcome from these massive intercomparison efforts covering generations of CMIP models is that the community has been able to identify common biases present in ESMs, in turn motivating the development of more process-oriented metrics and diagnostics aimed at addressing those model deficiencies (Maloney et al., 2019). As more and more such analyses are being developed by individual scientists and agencies across the world, there is a growing technical challenge to synthesize analysis data and scripts generated and to make those analyses inter-operable. To address the need for consistent operation of several diagnostics from a single interface, ESMValTool has invested heavily in integrating evaluation tools directly into their software system. However, other groups have sought to avoid centralization of the development process. The National Oceanic and Atmospheric Administration (NOAA) Model Diagnostics Task Force (MDTF) framework has adopted a process-oriented diagnostics (PODs) concept where each POD aims to address several aspects of a particular Earth system process or phenomenon. POD contributors must follow common standards to be part of the MDTF. The US Department of Energy (DOE) Coordinated Model Evaluation Capabilities (CMEC) project takes a different approach, which is to bring existing established packages (PMP, ILAMB and others) into compliance with a set of common standards and provide a thin software layer (https://github.com/cmecmetrics/cmec-driver, last access: 12 December 2022) to make the packages inter-operable. MDTF and CMEC have worked in partnership to ensure compatibility of their standards and thus inter-operability of their diagnostics.
Scientifically oriented software packages are impacted by changes in programming languages and standard software development practices. Over recent decades, with growing support in Earth science, Python has become a leading programming language for analysis in the geosciences. Most recent efforts in ESM analysis packages heavily rely on Python and its open-source scientific ecosystem. Distribution of these Python packages is now mostly accomplished through Anaconda/Miniconda (https://docs.conda.io/en/latest/miniconda.html, last access: 12 December 2022). Similar library dependencies and distribution methods also increase opportunities for collaborative development of software packages, for instance by reuse of software modules and maintenance of a unified software environment.
This paper introduces a new Python package, E3SM Diags, which has been developed to support ESM development and has been used routinely in the model development of DOE's Energy Exascale Earth System Model (E3SM) (Leung et al., 2020). This effort was inspired by the AMWG diagnostics package, which is soon to be retired. Developers of E3SM Diags are committed to following modern software practices, in anticipation of a pivot within the model development community towards Python and its ecosystem of libraries for climate science research. A goal of this project is to create a central code repository to orchestrate analysis within the E3SM project and its ecosystem and to enable a pathway for community contributions to the model evaluation workflow. This paper is a comprehensive description of E3SM Diags and covers the current status of its development (as of version 2.7) and applications. A discussion on future work and outlook is also outlined.
2
 Technical overview of E3SM Diags
E3SM Diags is open-source software developed and maintained on GitHub under the E3SM-Project (https://github.com/E3SM-Project/e3sm_diags, last access: 12 December 2022). It is a pure Python package and distributed through Conda via the conda-forge channel. This tool adopts Python's design and development practices, aiming to be modular, configurable and extendable. Dependencies of the package include many standard Python open-source scientific libraries: NumPy (Harris et al., 2020) for array manipulation, CDAT (including cdms2, cdtime, cdutil, genutil, cdp; Williams, 2014; Doutriaux et al., 2021) for climate data analysis, and Matplotlib with the Cartopy add-on (Met Office, 2010–2015) for visualization. Additional tools for netCDF data handling, including NCO (Zender, 2008, 2014), TempestRemap (Ullrich and Taylor, 2015; Ullrich et al., 2016) and TempestExtremes (Ullrich and Zarzycki, 2017; Ullrich et al., 2021), are used for pre-processing native E3SM and observation data.
Figure 1 depicts a schematic overview of the code structure and workflow. Running the package requires user configuration and both test and reference data as input. An E3SM Diags run performs climatology comparison between two datasets: a test model set and a reference set. The reference set could be another test model or observational dataset. In the most common use case, to compare an instance of model output to observational and reanalysis data, a copy of pre-processed observational and reanalysis data needs to be downloaded from the E3SM data server (see "Data availability" section for location). The user configuration includes basic parameters to specify input/output (I/O) paths, selected diagnostics sets, output format, and other options. These parameters can be passed either through a Python script (see examples in Appendix B and in E3SM Diags GitHub repo) or via a command line (see an example in Sect. 3.1). Between the two methods, configuring a Python script to use E3SM Diags (module name: e3sm_diags) via an API (application programming interface) is a more typical use to generate comprehensive diagnostics. The command line is useful for reproducing or refining figures when managing only a few figures or for particular parameters (e.g., variables or seasons). E3SM Diags can be run in either serial or multiprocessing mode (using Dask). Task parallelism is currently performed on one computer node. Running distributed tasks in parallel across computer nodes will be explored in future releases.
The E3SM Diags codebase is designed to be modular. Each diagnostic set is self-contained and composed of a driving script that includes the set-specific file I/O, computation, plotting, parameter set, parser set, viewer, and default configuration files that describe pre-defined default variables and plotting parameters. A script e3sm_diags_driver.py serves as a main driver to parse input parameters and drives each set. The output from each run, including figures, tables, provenance and links to optional intermediate files, is organized into HTML pages and made interactive through a browser. Shared among diagnostics sets are commonly utilized modules, including built-in functions to generate derived variables, to select diagnostics regions, to generate climatologies and so on.
The development effort follows standard software development practices. Continuous integration and continuous delivery/continuous deployment (CI/CD) workflows are managed through GitHub Actions. As of version 2.5, GitHub Actions workflows include automated quality assurance checks, unit and integration testing, and documentation generation.
Two types of test are included: unit tests are used to verify if small elements of code units give consistent results during development; integration tests allow for a systematic consistency check of all diagnostics incorporated; an image checker is built to verify changes in figures/metrics over source code and dependency version change. The documentation web page is built with Sphinx (Brandl, 2021). Source files to generate documentation are version-controlled and managed on a main branch.
In addition to the GitHub repository, E3SM Diags also includes a set of observational datasets which were processed from their original data source into time-series and/or climatology files to use as input for model validation. The Python and Shell scripts to process these data are available as part of the package provenance in the code repository.
E3SM Diags can be set up on a Linux or macOS system straightforwardly. A general guide to setting up and running E3SM Diags is provided in Appendix A. And a quick example of an experiment running this tool on a supercomputer at NERSC (the National Energy Research Scientific Computing Center) is described in Appendix B.
(Adler et al., 2018)
(Rayner et al., 2003)
(Kato et al., 2018; Loeb et al., 2018)
(Yu et al., 2008)
(CFMIP-Observations, 2022)
(Wentz and Spencer, 1998)
(Kinne et al., 2013)
(Large and Yeager, 2009)
(Ziemke et al., 2019)
(Hersbach et al., 2020)
(Dee et al., 2011)
(Gelaro et al., 2017)
(CFMIP-Observations, 2022)
3
 Overview of available diagnostics
4
 Application of E3SM Diags
E3SM Diags was designed to provide standalone model-to-model and model-to-observation comparisons between two sets of data on regular latitude–longitude grids. Over time, several applications for the E3SM Diags module have been invented to streamline its use for different scientific purposes. This section provides a few use cases of running E3SM Diags.
4.1

 zppy

As described in Appendix A2, post-processing native-format E3SM output is required before running E3SM Diags. A separate Python tool zppy (pronounced "zip-ee"/"zippy") (https://github.com/E3SM-Project/zppy, last access: 12 December 2022) has been developed to automate these post-processing steps as well as handle E3SM Diags tasks. zppy is highly customizable, allowing users to specify settings at multiple levels (i.e., for general input and output information and for each sub-task) in the configuration file or to apply to as many or as few tasks as necessary. Because of this, users can easily run E3SM Diags on multiple different time periods and with specific diagnostic sets. For example, a user could run E3SM Diags on the last 30 years of climatology data, despite generating many more years of data in the climatology task.

zppy launches a batch job for each task. If multiple year sets are defined (e.g., 1–50, 50–100), then a single task may launch multiple jobs, one for each year set. zppy submits these jobs for execution by Slurm, taking into account any job dependencies.

With a single user-created configuration file, zppy will determine which climatology and time series tasks need to complete first, run E3SM Diags, and finally copy over the plots to the machine's web server. This enables significant streamlining in running E3SM Diags with E3SM data. Figure 11 demonstrates an example of pre-processing dependencies that zppy handles before running e3sm_diags. The pre-processing tasks include generating regridded climatology from monthly output, mean diurnal cycle climatology from 3-hourly output and regridded monthly time-series files, as input for various E3SM Diags sets. The workflow for running E3SM Diags through zppy is provided as https://github.com/E3SM-Project/e3sm_diags/tree/main/examples (last access: 12 December 2022).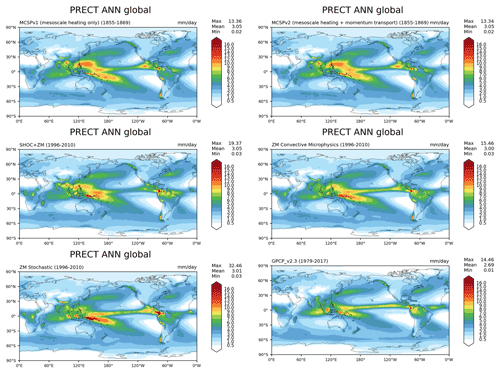 4.2

 IICE (Interface for Intercomparison of E3SM Diag)

E3SM Diags leverages web browsers to pair various diagnostics of a model simulation and reference data for comparison. Frequently, during both model development and evaluation stages, we are faced with many such comparisons – with observations or control or contrasting simulations. In the same spirit of the design for E3SM Diags, the online Interface for Intercomparison of E3SM Diags (IICE) has been developed to enable simultaneous comparison of arbitrary number of diagnostics produced by E3SM Diags. The interface keeps the user side configuration to a minimum. No installation is required; no new plots are generated. Users of IICE only need to specify the URLs to the existing E3SM Diags' viewers for the simulations to be compared as well as optional corresponding labels. The plot sets are organized in the same format as the standard E3SM Diags (Fig. 12). To save the need to re-enter the URLs and labels, the links to a specific customized intercomparison – from the index pages for the plots sets to the diagnostics of individual fields – can be recorded for convenient sharing. IICE is a standalone online interface. The IICE interface is hosted at https://portal.nersc.gov/project/e3sm/iice (last access: 12 December 2022), along with a demonstration of how to use the interface for intercomparison of E3SM Diags-computed diagnostics.
4.3

 CMIP data intercomparison

As mentioned in E3SM Diags' input data requirement in Appendix A2, E3SM Diags can ingest CMIP-formatted input files. Therefore, the same set of plots used to evaluate E3SM can also be generated for all available CMIP models for easy apple-to-apple comparisons. We demonstrate the use of E3SM Diags running alongside the CMIP6 data archive available locally at the Lawrence Livermore National Laboratory (LLNL) ESGF node to provide a model intercomparison. The workflow includes aggregating input CMIP data files using the Climate Data Analysis Tools (CDAT) cdscan utility, running E3SM Diags over the requested experiments and realization of specified models, and finally generating a web page with tables summarizing high-level metrics (i.e., RMSE) performance for a number of selected fields. An example can be found here: https://portal.nersc.gov/project/e3sm/e3sm_diags_for_cmip/ (last access: 12 December 2022); one can select the field and sort the columns. The numbers link directly to the actual E3SM Diags figures. The full set of figures is linked to the realization. This workflow is also documented in the E3SM GitHub repo, and it can be run routinely to evaluate candidate versions of E3SM and compare their performance with other CMIP models. We plan to regularly update this page to keep it current with newer submissions to the CMIP archive.
5
 Summary and future work
E3SM Diags is an open-source Python software package that has been developed to facilitate evaluation of Earth system models. Since its first software release on GitHub in September 2017, the package has evolved rapidly and has now become a mature tool with automated CI/CD systems and consolidated testing and provenance tracking. It is being used routinely in the E3SM development cycle, and it also has the flexibility to process and analyze CMIP-compliant data. It has been extended significantly beyond the initial goal to be a Python equivalent of the NCL AMWG package. More project and community-contributed diagnostics sets were implemented through the flexible and modular framework during version 2 of the software development. Multiple applications of the E3SM Diags module were invented to fit diverse use cases from the science community.
Moving ahead, E3SM Diags will continue to evolve as one of the main evaluation packages for component models of E3SM. While expanding on the functionality of each existing set (as outlined in Sect. 3), several parallel efforts with new sets are ongoing to meet requirements from science groups. Some prioritized items include a suite of metrics focusing on precipitation and related water cycle fields, analysis of tropical sub-seasonal variability, and additional support for land and river components.
The next phase of development will also bring enhancements to observational data into focus. At present, the selection of the "best" reference observation dataset for each analysis is based on domain experts' guidance as well as recommendation from resources like NCAR's Climate Data Guide (Schneider et al., 2013). The selected datasets are being updated when data providers release extensions or new versions (e.g., CERES_EBAF_Ed4.1 in place of Ed4.0). We aim to build a more robust system that includes and documents multiple sources (when available) of expert-recommended reference data streams with quantitative uncertainty information attached to guide interpretation of results.
Regarding technical enhancements, addressing performance challenges emerging from application to large ensembles and high-resolution model data will be a focus area. Effort was spent on scoping out a cross-node parallelism approach. We also plan to move away from the soon-to-be-retired CDAT package, the current data I/O and analysis dependency and instead utilize newly emerging tools based on Xarray and Dask (e.g., xCDAT, https://github.com/XCDAT/xcdat, last access: 12 December 2022), which are also expected to make the software more performant.
Lastly, E3SM Diags has a framework that is flexible to extend. We provide a developer's guide as resource for community contributions. In the meantime, we aim to provide modules that can be straightforwardly ported or used for different evaluation capabilities (e.g., via the aforementioned Coordinated Model Evaluation Capabilities, CMEC).
Appendix A:
 General guide for running E3SM Diags
This section provides general guidance to set up and run the package.
A1

 Installation

E3SM Diags is available as a Conda package that is distributed via the conda-forge channel. Two versions of YAML files that specify the package dependencies are maintained: one referring to the latest stable release of E3SM Diags and the other referring to the development environment. Using the later YAML file to create the development environment requires building the package from its code repository. A detailed installation guide can be found in https://e3sm-project.github.io/e3sm_diags/_build/html/main/install.html#installation (last access: 12 December 2022).

Alternatively, on all of the standard E3SM computational platforms (e.g., the National Energy Research Scientific Computing Center, NERSC), the E3SM project supports a single unified Conda environment (E3SM Unified) that includes nearly all tools for post-processing and analyzing model E3SM output. One can access E3SM Diags by activating E3SM Unified on supported machines following activation instructions (https://e3sm-project.github.io/e3sm_diags/_build/html/main/install.html, last access: 12 December 2022). The observational datasets are maintained on these machines, without the need to download them from the E3SM input data server. For users who do not have access to the E3SM-supported platforms, the setup on a Linux/macOS system would require both installation and downloading the observational datasets (see "Data availability" section for location).
A2

 Input file requirement

Additional pre-processing may be needed depending on the input data being analyzed. In general, input files are expected to be on a regular grid, with some exceptions (e.g., for TCs and single-grid output from ARM sites). Two model conventions are currently supported by E3SM Diags: E3SM (potentially also CESM, from which E3SM was branched) and CMIP conventions. Originally, this package started by mimicking AMWG; therefore the input files required are monthly (12 files), seasonal (4 files) and annual-mean (1 file) climatology files with all model variables included in each of the 17 files post-processed from the native CESM Community Atmosphere Model (CAM) or E3SM Atmosphere Model (EAM). Starting from E3SM Diags version 1.5, support for monthly time series and generating climatologies on the fly has been implemented. This change additionally opened up the possibility for integrating more analyses that focus on variability and trends.

The design decision to handle data on regular latitude and longitude grids, instead of on the E3SM native grid, is to support more general use of this package and accommodate other models following CMIP conventions. However, this also means that remapping and reshaping must be performed as a pre-processing step for E3SM native model output. Examples of scripts to pre-process native EAM output are provided under e3sm_diags/model_data_preprocess. The following three scripts serve as post-processing based on specified sets:
postprocessing_E3SM_data_for_e3sm_diags.sh, using NCO to remap and generate climatology files and time-series files for required variables;

postprocessing_E3SM_data_for_TC_analysis.sh, using TempestRemap and TempestExtremes to generate TC tracks;

postprocessing_E3SM_data_for_single_sites.py and postprocessing_E3SM_data_for_single_sites
.py, to generate single grid time series from ARM sites.
To evaluate one-variable-per-file netCDF files (i.e., those from the CMIP archive), one additional step is needed to bring the file name and structure into compliance with E3SM Diags requirements. Specifically, files must be renamed to the NCO style (<variable>_<start-yr>01_<end-yr>12.nc, e.g., renaming tas_Amon_CESM1-CAM5_historical_r1i1p1_
196001-201112.nc as tas_196001_201112.nc). All files must be placed into one input data directory. Symbolic links can be used to prevent data duplication. Any sets listed in Tables 2 and 3 that support CMIP-like variables can be used to evaluate CMIP files. More details on input data requirements can be found at https://e3sm-project.github.io/e3sm_diags/_build/html/main/input-data-requirement.html (last access: 12 December 2022).
A3

 Configuration and execution

The most common method to configure and run E3SM Diags is to use a configured Python script that calls e3sm_diags executable. This script contains pairs of keys and values, as well as commands to run E3SM Diags. At a minimum, one must define values for reference_data_path, test_data_path, test_name and results_dir, as well as selected sets to run. One example of such a Python file is provided in Appendix B. A variety of example Python run scripts are available under the example folder in the E3SM Diags GitHub repo.

As detailed in Sect. 3.1, E3SM Diags can run through a command line for a smaller sets of plots. This method is especially useful for reproducing an evaluation from an existing full diagnostics run and generating customized figures for specific fields.
Appendix B:
 Quick guide for running E3SM Diags on NERSC Cori Haswell
This section provides an example set of instructions to run E3SM Diags on the Cori Haswell compute node at NERSC, which is one of the high-performance computing (HPC) platforms that supports E3SM projects. The E3SM post-processing Python meta package E3SM Unified with E3SM Diags included, as well as observational datasets and example model datasets, is accessible by any NERSC account holders. In this example, only the latitude–longitude set with annual-mean climatology is included. There are four steps to configure and conduct a run:
Step 1. Create a Python script following the example here, run_e3sm_diags.py.
import os
from e3sm_diags.parameter.core_parameter import Cor
eParameter
from e3sm_diags.run import runner

param = CoreParameter()

param.reference_data_path = ('/global/cfs/cdirs/e3s
m/e3sm_diags/
    obs_for_e3sm_diags/climatology/')
param.test_data_path = ('/global/cfs/cdirs/e3sm/e3s
m_diags/
    test_model_data_for_acme_diags/climatology/')
param.test_name = '20161118.beta0.FC5COSP.ne30_ne30
.edison'
# All seasons ["ANN","DJF", "MAM", "JJA", "SON"] wi
ll run,if comment out above

prefix = '/global/cfs/cdirs/<projectname>/www/<user
name>/doc_examples/'
param.results_dir = os.path.join(prefix, 'lat_lon_d
emo')
# Use the following if running in parallel:
param.multiprocessing = True
param.num_workers = 32

# Use below to run all core sets of diags:
#runner.sets_to_run = (['lat_lon','zonal_mean_xy',
'zonal_mean_2d', 'polar',
#     'cosp_histogram', 'meridional_mean_2d'])
# Use below to run lat_lon map only:
runner.sets_to_run = ['lat_lon']
runner.run_diags([param])
Step 2. Request an interactive session on the Haswell compute nodes.
    salloc --nodes=1 --partition=regular --ti
me=01:00:00 -C haswell
The above command requests an interactive session with a single node (32 cores with Cori Haswell) for 1 h (running this example should take much less than this). If obtaining a session takes too long, try to use the debug partition. Note that the maximum time allowed for the debug partition is 30 min.
Step 3. Once the session is available, activate the e3sm_unified environment with the following.
source /global/common/software/e3sm/anaconda_
envs/load_latest_e3sm_unified_cori-haswell.sh
Step 4. Launch E3SM Diags via the following.
    python run_e3sm_diags.py
Alternatively, step 2 to step 4 can be accomplished by creating a script and submitting it to the batch system. Copy and paste the code below into a file named diags.bash.
#!/bin/bash -l
#SBATCH --job-name=diags
#SBATCH --output=diags.o%j
#SBATCH --partition=regular
#SBATCH --account=<your project account name>
#SBATCH --nodes=1
#SBATCH --time=01:00:00
#SBATCH -C haswell

source /global/common/software/e3sm/anaconda_
envs/load_latest_e3sm_unified_cori-haswell.sh
python run_e3sm_diags.py

Then submit the script with the following.
    sbatch diags.bash
Once the run is completed, open
 http://portal.nersc.gov/cfs/e3sm/<usern
ame>/doc_examples/lat_lon_demo/viewer/in
dex.html
to view the results. You may need to set proper permissions by running the following.
chmod -R 755 /global/cfs/cdirs/<projectn
ame>/www/<username>/
Once you are on the web page for a specific plot, click on the Output Metadata drop-down menu to view the metadata for the displayed plot. Running that command allows the displayed plot to be recreated. Changing any of the options will modify just those resulting figures.
For running the full set of diagnostics, example run scripts are included in the example folder of the E3SM Diags GitHub repo.
Code and data availability
CZ and all the co-authors contributed to code or data development of E3SM Diags and its ecosystem tools. CZ led and coordinated the manuscript writing with input from co-authors.
At least one of the (co-)authors is a member of the editorial board of Geoscientific Model Development. The peer-review process was guided by an independent editor, and the authors also have no other competing interests to declare.
Publisher's note: Copernicus Publications remains neutral with regard to jurisdictional claims in published maps and institutional affiliations.
This work is performed under the auspices of the US DOE by the Lawrence Livermore National Laboratory under contract no. DE-AC52-07NA27344. It is supported by the Energy Exascale Earth System Model (E3SM) project and partially supported by Atmospheric Radiation Measurement (ARM) program, funded by the US Department of Energy, Office of Science, Office of Biological and Environmental Research, IM Release LLNL-JRNL-831555. Chih-Chieh Chen's contribution of the work is supported by the US Department of Energy, Office of Science, Office of Biological & Environmental Research (BER), Regional and Global Model Analysis (RGMA) component of the Earth and Environmental System Modeling program under award number DE-SC0022070 and the National Science Foundation (NSF) IA 1947282, as well as by the National Center for Atmospheric Research (NCAR), which is a major facility sponsored by the NSF under cooperative agreement no. 1852977. The authors would like to thank Peter Gleckler, Charles Doutriaux, Jadwiga (Yaga) Richter, Sasha Glanville, David Neelin and Yi-Hung Kuo for contributing their domain knowledge and expertise in climate model analysis and software development.
This research has been supported by the US DOE (E3SM project) and partially supported by the US DOE ARM program and RGMA program, as well as by NSF.
This paper was edited by Julia Hargreaves and reviewed by Valeriu Predoi and one anonymous referee.
Adler, R. F., Sapiano, M. R. P., Huffman, G. J., Wang, J.-J., Gu, G., Bolvin, D., Chiu, L., Schneider, U., Becker, A., Nelkin, E., Xie, P., Ferraro, R., and Shin, D.-B.: The Global Precipitation Climatology Project (GPCP) Monthly Analysis (New Version 2.3) and a Review of 2017 Global Precipitation. Atmosphere. 2018; 9(4):138. https://doi.org/10.3390/atmos9040138, 2018. a
AMWG: AMWG Diagnostics Package, NCAR CESM Atmosphere Model Working Group, https://www2.cesm.ucar.edu/working_groups/Atmosphere/amwg-diagnostics-package/, last access: 12 December 2022. a, b
Anstey, J. A., Simpson, I. R., Richter, J. H., Naoe, H., Taguchi, M., Serva, F., Gray, L. J., Butchart, N., Hamilton, K., Osprey, S., Bellprat, O., Braesicke, P., Bushell, A. C., Cagnazzo, C., Chen, C.-C., Chun, H.-Y., Garcia, R. R., Holt, L., Kawatani, Y., Kerzenmacher, T., Kim, Y.-H., Lott, F., McLandress, C., Scinocca, J., Stockdale, T. N., Versick, S., Watanabe, S., Yoshida, K., and Yukimoto, S.: Teleconnections of the Quasi-Biennial Oscillation in a multi-model ensemble of QBO-resolving models, Q. J. Roy. Meteor. Soc., 48, 1568–1592, https://doi.org/10.1002/qj.4048, 2021. a
Balaguru, K., Leung, L. R., Van Roekel, L. P., Golaz, J.-C., Ullrich, P. A., Caldwell, P. M., Hagos, S. M., Harrop, B. E., and Mametjanov, A.: Characterizing tropical cyclones in the energy exascale earth system model Version 1, J. Adv. Model. Earth Sy., 12, e2019MS002024, https://doi.org/10.1029/2019MS002024, 2020. a, b, c, d
Baldwin, M. P. and Tung, K.-K.: Extra-tropical QBO signals in angular momentum and wave forcing, Geophys. Res. Lett., 2, 2717–2720, 1994. a
Bellenger, H., Guilyardi, É., Leloup, J., Lengaigne, M., and Vialard, J.: ENSO representation in climate models: From CMIP3 to CMIP5, Clim. Dynam., 42, 1999–2018, 2014. a, b, c
Berghuijs, W. R., Sivapalan, M., Woods, R. A., and Savenije, H. H. G.: Patterns of similarity of seasonal water balances: A window into streamflow variability over a range of time scales, Water Resour. Res., 50, 5638–5661, https://doi.org/10.1002/2014wr015692, 2014. a
Bodas-Salcedo, A., Webb, M. J., Bony, S., Chepfer, H., Dufresne, J., Klein, S. A., Zhang, Y., Marchand, R., Haynes, J. M., Pincus, R., and John, V. O.: COSP: Satellite simulation software for model assessment, B. Am. Meteorol. Soc., 92, 1023–1043, 2011. a
Brandl, G.: Sphinx documentation, http://sphinx-doc.org/sphinx.pdf (last access: 12 December 2022), 2021. a
Butchart, N., Anstey, J. A., Hamilton, K., Osprey, S., McLandress, C., Bushell, A. C., Kawatani, Y., Kim, Y.-H., Lott, F., Scinocca, J., Stockdale, T. N., Andrews, M., Bellprat, O., Braesicke, P., Cagnazzo, C., Chen, C.-C., Chun, H.-Y., Dobrynin, M., Garcia, R. R., Garcia-Serrano, J., Gray, L. J., Holt, L., Kerzenmacher, T., Naoe, H., Pohlmann, H., Richter, J. H., Scaife, A. A., Schenzinger, V., Serva, F., Versick, S., Watanabe, S., Yoshida, K., and Yukimoto, S.: Overview of experiment design and comparison of models participating in phase 1 of the SPARC Quasi-Biennial Oscillation initiative (QBOi), Geosci. Model Dev., 11, 1009–1032, https://doi.org/10.5194/gmd-11-1009-2018, 2018. a
Caldwell, P. M., Mametjanov, A., Tang, Q., Van Roekel, L. P., Golaz, J., Lin, W., Bader, D. C., Keen, N. D., Feng, Y., Jacob, R., Maltrud, M. E., Roberts, A. F., Taylor, M. A., Veneziani, M., Wang, H., Wolfe, J. D., Balaguru, K., Cameron-Smith, P., Dong, L., Klein, S. A., Leung, L. R., Li, H., Li, Q., Liu, X., Neale, R. B., Pinheiro, M., Qian, Y., Ullrich, P. A., Xie, S., Yang, Y., Zhang, Y., Zhang, K., and Zhou, T.: The DOE E3SM Coupled Model Version 1: Description and Results at High Resolution, J. Adv. Model. Earth Sy., 11, 4095–4146, https://doi.org/10.1029/2019ms001870, 2019. a, b, c
Camargo, S. J.: Global and regional aspects of tropical cyclone activity in the CMIP5 models, J. Climate, 26, 9880–9902, 2013. a
Carbone, R. and Tuttle, J.: Rainfall occurrence in the US warm season: The diurnal cycle, J. Climate, 21, 4132–4146, 2008. a
CFMIP-Observations: CFMIP Observations for Model evaluation, https://climserv.ipsl.polytechnique.fr/cfmip-obs/, last access: 12 December 2022. a, b
Collier, N., Hoffman, F. M., Lawrence, D. M., Keppel-Aleks, G., Koven, C. D., Riley, W. J., Mu, M., and Randerson, J. T.: The International Land Model Benchmarking (ILAMB) system: design, theory, and implementation, J. Adv. Model. Earth Sy., 10, 2731–2754, 2018. a
Covey, C., Gleckler, P. J., Doutriaux, C., Williams, D. N., Dai, A., Fasullo, J., Trenberth, K., and Berg, A.: Metrics for the diurnal cycle of precipitation: Toward routine benchmarks for climate models, J. Climate, 29, 4461–4471, 2016. a, b
Dai, A.: Global precipitation and thunderstorm frequencies. Part II: Diurnal variations, J. Climate, 14, 1112–1128, 2001. a, b
Dee, D. P., Uppala, S. M., Simmons, A. J., Berrisford, P., Poli, P., Kobayashi, S., Andrae, U., Balmaseda, M. A., Balsamo, G., Bauer, P., Bechtold, P., Beljaars, A. C. M., van de Berg, L., Bidlot, J., Bormann, N., Delsol, C., Dragani, R., Fuentes, M., Geer, A. J., Haimberger, L., Healy, S. B., Hersbach, H., Hólm, E. V., Isaksen, L., Kållberg, P., Köhler, M., Matricardi, M., McNally, A. P., Monge-Sanz, B. M., Morcrette, J.-J., Park, B.-K., Peubey, C., de Rosnay, P., Tavolato, C., Thépaut, J.-N., and Vitart, F.: The ERA-Interim reanalysis: Configuration and performance of the data assimilation system, Q. J. Roy. Meteor. Soc., 137, 553–597, 2011. a
Dettinger, M. D. and Diaz, H. F.: Global Characteristics of Stream Flow Seasonality and Variability, J. Hydrometeorol., 1, 289–310, https://doi.org/10.1175/1525-7541(2000)001<0289:GCOSFS>2.0.CO;2, 2000. a
Do, H. X., Gudmundsson, L., Leonard, M., and Westra, S.: The Global Streamflow Indices and Metadata Archive (GSIM) – Part 1: The production of a daily streamflow archive and metadata, Earth Syst. Sci. Data, 10, 765–785, https://doi.org/10.5194/essd-10-765-2018, 2018. a, b
Doutriaux, C., Nadeau, D., Wittenburg, S., Lipsa, D., Muryanto, L., Chaudhary, A., and Williams, D. N.: CDAT/cdat: CDAT 8.2, Zenodo, https://doi.org/10.5281/zenodo.592766, 2021. a
Emanuel, K.: Tropical cyclones, Annu. Rev. Earth Pl. Sc., 31, 75–104, 2003. a
Evans, K. J., Zender, C., Van Roekel, L., Branstetter, M., Petersen, M., Veneziani, M., Wolfram, P., Mahajan, S., Burrows, S., and Asay-Davis, X.: ACME Priority Metrics (A-PRIME), Tech. rep., Oak Ridge National Lab. (ORNL), Oak Ridge, TN (United States), 2017. a
Eyring, V., Righi, M., Lauer, A., Evaldsson, M., Wenzel, S., Jones, C., Anav, A., Andrews, O., Cionni, I., Davin, E. L., Deser, C., Ehbrecht, C., Friedlingstein, P., Gleckler, P., Gottschaldt, K.-D., Hagemann, S., Juckes, M., Kindermann, S., Krasting, J., Kunert, D., Levine, R., Loew, A., Mäkelä, J., Martin, G., Mason, E., Phillips, A. S., Read, S., Rio, C., Roehrig, R., Senftleben, D., Sterl, A., van Ulft, L. H., Walton, J., Wang, S., and Williams, K. D.: ESMValTool (v1.0) – a community diagnostic and performance metrics tool for routine evaluation of Earth system models in CMIP, Geosci. Model Dev., 9, 1747–1802, https://doi.org/10.5194/gmd-9-1747-2016, 2016. a, b
Eyring, V., Cox, P. M., Flato, G. M., Gleckler, P. J., Abramowitz, G., Caldwell, P., Collins, W. D., Gier, B. K., Hall, A. D., Hoffman, F. M., Hurtt, G. C., Jahn, A., Jones, C. D., Klein, S. A., Krasting, J. P., Kwiatkowski, L., Lorenz, R., Maloney, E., Meehl, G. A., Pendergrass, A. G., Pincus, R., Ruane, A. C., Russell, J. L., Sanderson, B. M., Santer, B. D., Sherwood, S. C., Simpson, I. R., Stouffer, R. J., and Williamson, M. S.: Taking climate model evaluation to the next level, Nat. Clim. Change, 9, 102–110, 2019. a
Fedorov, A. V., Brierley, C. M., and Emanuel, K.: Tropical cyclones and permanent El Niño in the early Pliocene epoch, Nature, 463, 1066–1070, 2010. a
Garfinkel, C. I. and Hartmann, D. L.: The Influence of the Quasi-Biennial Oscillation on the Troposphere in Winter in a Hierarchy of Models. Part I: Simplified Dry GCMs, J. Atmos. Sci., 61, 1273–1289, https://doi.org/10.1175/2011jas3665.1, 2011. a
Gelaro, R., McCarty, W., Suárez, M. J., Todling, R., Molod, A., Takacs, L., Randles, C. A., Darmenov, A., Bosilovich, M. G., Reichle, R., Wargan, K., Coy, L., Cullather, R., Draper, C., Akella, S., Buchard, V., Conaty, A., da Silva, A. M., Gu, W., Kim, G., Koster, R., Lucchesi, R., Merkova, D., Nielsen, J. E., Partyka, G., Pawson, S., Putman, W., Rienecker, M., Schubert, S. D., Sienkiewicz, M., and Zhao, B.: The modern-era retrospective analysis for research and applications, version 2 (MERRA-2), J. Climate, 30, 5419–5454, 2017. a
Gleckler, P., Doutriaux, C., Durack, P., Taylor, K., Zhang, Y., Williams, D., Mason, E., and Servonnat, J.: A More Powerful Reality Test for Climate Models, Eos, 97, https://doi.org/10.1029/2016eo051663, 2016. a
Gleckler, P. J., Taylor, K. E., and Doutriaux, C.: Performance metrics for climate models, J. Geophys. Res.-Atmos., 113, D06104, https://doi.org/10.1029/2007JD008972, 2008. a
Golaz, J.-C., Caldwell, P. M., Van Roekel, L. P., Petersen, M. R., Tang, Q., Wolfe, J. D., Abeshu, G., Anantharaj, V., Asay-Davis, X. S., Bader, D. C., Baldwin, S. A., Bisht, G., Bogenschutz, P. A., Branstetter, M., Brunke, M. A., Brus, S. R., Burrows, S. M., Cameron-Smith, P. J., Donahue, A. S., Deakin, M., Easter, R. C., Evans, K. J., Feng, Y., Flanner, M., Foucar, J. G., Fyke, J. G., Griffin, B. M., Hannay, C., Harrop, B. E., Hunke, E. C., Jacob, R. L., Jacobsen, D. W., Jeffery, N., Jones, P. W., Keen, N. D., Klein, S. A., Larson, V. E., Leung, L. R., Li, H.-Y., Lin, W., Lipscomb, W. H., Ma, P.-L., Mahajan, S., Maltrud, M. E., Mametjanov, A., McClean, J. L., McCoy, R. B., Neale, R. B., Price, S. F., Qian, Y., Rasch, P. J., Reeves Eyre, J. J., Riley, W. J., Ringler, T. D., Roberts, A. F., Roesler, E. L., Salinger, A. G., Shaheen, Z., Shi, X., Singh, B., Tang, J., Taylor, M. A., Thornton, P. E., Turner, A. K., Veneziani, M., Wan, H., Wang, H., Wang, S., Williams, D. N., Wolfram, P. J., Worley, P. H., Xie, S., Yang, Y., Yoon, J.-H., Zelinka, M. D., Zender, C. S., Zeng, X., Zhang, C., Zhang, K., Zhang, Y., Zheng, X., Zhou, T., and Zhu, Q.: The DOE E3SM coupled model version 1: Overview and evaluation at standard resolution, J. Adv. Model. Earth Sy., 11, 2089–2129, https://doi.org/10.1029/2018ms001603, 2019. a
Golaz, J.-C., Van Roekel, L. P., Zheng, X., Roberts, A. F., Wolfe, J. D., Lin, W., Bradley, A. M., Tang, Q., Maltrud, M. E., Forsyth, R. M., Zhang, C., Zhou, T., Zhang, K., Zender, C. S., Wu, M., Wang, H., Turner, A. K., Singh, B., Richter, J. H., Qin, Y., Petersen, M. R., Mametjanov, A., Ma, P.-L., Larson, V. E., Krishna, J., Keen, N. D., Jeffery, N., Hunke, E. C., Hannah, W. M., Guba, O., Griffin, B. M., Feng, Y., Engwirda, D., Di Vittorio, A. V., Dang, C., Conlon, L. M., Chen, C.-C.-J., Brunke, M. A., Bisht, G., Benedict, J. J., Asay-Davis, X. S., Zhang, Y., Zhang, M., Zeng, X., Xie, S., Wolfram, P. J., Vo, T., Veneziani, M., Tesfa, T. K., Sreepathi, S., Salinger, A. G., Reeves Eyre, J. E. J., Prather, M. J., Mahajan, S., Li, Q., Jones, P. W., Jacob, R. L., Huebler, G. W., Huang, X., Hillman, B. R., Harrop, B. E., Foucar, J. G., Fang, Y., Comeau, D. S., Caldwell, P. M., Bartoletti, T., Balaguru, K., Taylor, M. A., McCoy, R. B., Leung, L. R., and Bader, D. C.: The DOE E3SM Model Version 2: Overview of the Physical Model and Initial Model Evaluation, J. Adv. Model. Earth Sy., 14, 12, https://doi.org/10.1029/2022MS003156, 2022. a
Harris, C. R., Millman, K. J., van der Walt, S. J., Gommers, R., Virtanen, P., Cournapeau, D., Wieser, E., Taylor, J., Berg, S., Smith, N. J., Kern, R., Picus, M., Hoyer, S., van Kerkwijk, M. H., Brett, M., Haldane, A., del Río, J. F., Wiebe, M., Peterson, P., Gérard-Marchant, P., Sheppard, K., Reddy, T., Weckesser, W., Abbasi, H., Gohlke, C., and Oliphant, T. E.: Array programming with NumPy, Nature, 585, 357–362, https://doi.org/10.1038/s41586-020-2649-2, 2020. a
Hersbach, H., Bell, B., Berrisford, P., Hirahara, S., Horányi, A., Muñoz-Sabater, J., Nicolas, J., Peubey, C., Radu, R., Schepers, D., Simmons, A., Soci, C., Abdalla, S., Abellan, X., Balsamo, G., Bechtold, P., Biavati, G., Bidlot, J., Bonavita, M., De Chiara, G., Dahlgren, P., Dee, D., Diamantakis, M., Dragani, R., Flemming, J., Forbes, R., Fuentes, M., Geer, A., Haimberger, L., Healy, S., Hogan, R. J., Hólm, E., Janisková, M., Keeley, S., Laloyaux, P., Lopez, P., Lupu, C., Radnoti, G., de Rosnay, P., Rozum, I., Vamborg, F., Villaume, S., and Thépaut, J.-N.: The ERA5 global reanalysis, Q. J. Roy. Meteor. Soc., 146, 1999–2049, 2020. a, b, c
Huffman, G. J., Bolvin, D. T., Nelkin, E. J., Wolff, D. B., Adler, R. F., Gu, G., Hong, Y., Bowman, K. P., and Stocker, E. F.: The TRMM Multisatellite Precipitation Analysis (TMPA): Quasi-global, multiyear, combined-sensor precipitation estimates at fine scales, J. Hydrometeorol.,8, 38–55, 2007. a
Kato, S., Rose, F. G., Rutan, D. A., Thorsen, T. J., Loeb, N. G., Doelling, D. R., Huang, X., Smith, W. L., Su, W., and Ham, S.-H.: Surface irradiances of edition 4.0 Clouds and the Earth's Radiant Energy System (CERES) Energy Balanced and Filled (EBAF) data product, J. Climate, 31, 4501–4527, 2018. a
Kinne, S., O'Donnel, D., Stier, P., Kloster, S., Zhang, K., Schmidt, H., Rast, S., Giorgetta, M., Eck, T. F., and Stevens, B.: MAC-v1: A new global aerosol climatology for climate studies, J. Adv. Model. Earth Sy., 5, 704–740, 2013. a
Knapp, K. R., Kruk, M. C., Levinson, D. H., Diamond, H. J., and Neumann, C. J.: The international best track archive for climate stewardship (IBTrACS) unifying tropical cyclone data, B. Am. Meteorol. Soc., 91, 363–376, 2010. a
Korty, R. L., Emanuel, K. A., and Scott, J. R.: Tropical cyclone–induced upper-ocean mixing and climate: Application to equable climates, J. Climate, 21, 638–654, 2008. a
Large, W. and Yeager, S.: The global climatology of an interannually varying air–sea flux data set, Clim. Dynam., 33, 341–364, 2009. a
Leung, L. R., Bader, D. C., Taylor, M. A., and McCoy, R. B.: An introduction to the E3SM special collection: Goals, science drivers, development, and analysis, J. Adv. Model. Earth Sy., 12, e2019MS001821, https://doi.org/10.1029/2019MS001821, 2020. a
Loeb, N. G., Doelling, D. R., Wang, H., Su, W., Nguyen, C., Corbett, J. G., Liang, L., Mitrescu, C., Rose, F. G., and Kato, S.: Clouds and the earth's radiant energy system (CERES) energy balanced and filled (EBAF) top-of-atmosphere (TOA) edition-4.0 data product, J. Climate, 31, 895–918, 2018. a
Maloney, E. D., Gettelman, A., Ming, Y., Neelin, J. D., Barrie, D., Mariotti, A., Chen, C.-C., Coleman, D. R. B., Kuo, Y., Singh, B., Annamalai, H., Berg, A., Booth, J. F., Camargo, S. J., Dai, A., Gonzalez, A., Hafner, J., Jiang, X., Jing, X., Kim, D., Kumar, A., Moon, Y., Naud, C. M., Sobel, A. H., Suzuki, K., Wang, F., Wang, J., Wing, A. A., Xu, X., and Zhao, M.: Process-oriented evaluation of climate and weather forecasting models, B. Am. Meteorol. Soc., 100, 1665–1686, 2019. a, b
Marshall, A. G. and Scaife, A. A.: Impact of the QBO on surface winter climate, J. Geophys. Res., 114, D18110, https://doi.org/10.1029/2009JD011737, 2009. a
Marshall, A. G., Hendon, H. H., Son, S.-W., and Lim, Y.: Impact of the quasi-biennial oscillation on predictability of the Madden–Julian oscillation, Clim. Dynam., 49, 1365–1377, 2016. a
Met Office: Cartopy: a cartographic python library with a matplotlib interface, Exeter, Devon, http://scitools.org.uk/cartopy (last access: 12 December 2022), 2010–2015. a
Petersen, T., Devineni, N., and Sankarasubramanian, A.: Seasonality of monthly runoff over the continental United States: Causality and relations to mean annual and mean monthly distributions of moisture and energy, J. Hydrol., 468–469, 139–150, https://doi.org/10.1016/j.jhydrol.2012.08.028, 2012. a
Phillips, A., Deser, C., and Fasullo, J.: The NCAR Climate Variability Diagnostics Package with relevance to model evaluation, Eos T. Am. Geophys. Un., 95, 453–455, 2014. a, b
Pritchard, M. S. and Somerville, R. C.: Assessing the diurnal cycle of precipitation in a multi-scale climate model, J. Adv. Model. Earth Sy., 1, 12, https://doi.org/10.3894/JAMES.2009.1.12, 2009. a
Rayner, N., Parker, D. E., Horton, E., Folland, C. K., Alexander, L. V., Rowell, D., Kent, E. C., and Kaplan, A.: Global analyses of sea surface temperature, sea ice, and night marine air temperature since the late nineteenth century, J. Geophys. Res.-Atmos., 108, D14, https://doi.org/10.1029/2002JD002670, 2003. a, b, c
Richter, J. H., Chen, C.-C., Tang, Q., Xie, S., and Rasch, P. J.: Improved Simulation of the QBO in E3SMv1, J. Adv. Model. Earth Sy., 11, 3403–3418, https://doi.org/10.1029/2019MS001763, 2019. a, b
Richter, J. H., Anstey, J. A., Butchart, N., Kawatani, Y., Meehl, G. A., Osprey, S., and Simpson, I. R.: Progress in Simulating the Quasi-Biennial Oscillation in CMIP Models, J. Geophys. Res., 125, 8, https://doi.org/10.1029/2019JD032362, 2020. a
Righi, M., Andela, B., Eyring, V., Lauer, A., Predoi, V., Schlund, M., Vegas-Regidor, J., Bock, L., Brötz, B., de Mora, L., Diblen, F., Dreyer, L., Drost, N., Earnshaw, P., Hassler, B., Koldunov, N., Little, B., Loosveldt Tomas, S., and Zimmermann, K.: Earth System Model Evaluation Tool (ESMValTool) v2.0 – technical overview, Geosci. Model Dev., 13, 1179–1199, https://doi.org/10.5194/gmd-13-1179-2020, 2020. a, b
Schiro, K. A., Neelin, J. D., Adams, D. K., and Lintner, B. R.: Deep convection and column water vapor over tropical land versus tropical ocean: A comparison between the Amazon and the tropical western Pacific, J. Atmos. Sci., 73, 4043–4063, 2016. a, b
Schneider, D. P., Deser, C., Fasullo, J., and Trenberth, K. E.: Climate data guide spurs discovery and understanding, Eos T. Am. Geophys. Un., 94, 121–122, 2013. a
Tang, Q., Prather, M. J., Hsu, J., Ruiz, D. J., Cameron-Smith, P. J., Xie, S., and Golaz, J.-C.: Evaluation of the interactive stratospheric ozone (O3v2) module in the E3SM version 1 Earth system model, Geosci. Model Dev., 14, 1219–1236, https://doi.org/10.5194/gmd-14-1219-2021, 2021a. a, b, c
Tang, S., Gleckler, P., Xie, S., Lee, J., Ahn, M.-S., Covey, C., and Zhang, C.: Evaluating the Diurnal and Semidiurnal Cycle of Precipitation in CMIP6 Models Using Satellite-and Ground-Based Observations, J. Climate, 34, 3189–3210, 2021b. a
Thompson, W. D. J., Baldwin, M. P., and Wallace, J. M.: Stratospheric connection to Northern Hemisphere wintertime weather: implication for prediction, J. Climate, 15, 1421–1428, 2002. a
Thorncroft, C. and Hodges, K.: African easterly wave variability and its relationship to Atlantic tropical cyclone activity, J. Climate, 14, 1166–1179, 2001. a
Ullrich, P. A. and Taylor, M. A.: Arbitrary-order conservative and consistent remapping and a theory of linear maps: Part I, Mon. Weather Rev., 143, 2419–2440, 2015. a
Ullrich, P. A. and Zarzycki, C. M.: TempestExtremes: a framework for scale-insensitive pointwise feature tracking on unstructured grids, Geosci. Model Dev., 10, 1069–1090, https://doi.org/10.5194/gmd-10-1069-2017, 2017. a
Ullrich, P. A., Devendran, D., and Johansen, H.: Arbitrary-order conservative and consistent remapping and a theory of linear maps: Part II, Mon. Weather Rev., 144, 1529–1549, 2016. a
Ullrich, P. A., Zarzycki, C. M., McClenny, E. E., Pinheiro, M. C., Stansfield, A. M., and Reed, K. A.: TempestExtremes v2.1: a community framework for feature detection, tracking, and analysis in large datasets, Geosci. Model Dev., 14, 5023–5048, https://doi.org/10.5194/gmd-14-5023-2021, 2021. a, b
Watters, D., Battaglia, A., and Allan, R. P.: The Diurnal Cycle of Precipitation according to Multiple Decades of Global Satellite Observations, Three CMIP6 Models, and the ECMWF Reanalysis, J. Climate, 34, 5063–5080, 2021. a
Wentz, F. J. and Spencer, R. W.: SSM/I rain retrievals within a unified all-weather ocean algorithm, J. Atmos. Sci., 55, 1613–1627, 1998. a
Williams, D. N.: Visualization and analysis tools for ultrascale climate data, Eos T. Am. Geophys. Un., 95, 377–378, 2014. a
Wittenberg, A. T., Rosati, A., Lau, N.-C., and Ploshay, J. J.: GFDL's CM2 global coupled climate models. Part III: Tropical Pacific climate and ENSO, J. Climate, 19, 698–722, 2006. a, b
Xie, S., Wang, Y.-C., Lin, W., Ma, H.-Y., Tang, Q., Tang, S., Zheng, X., Golaz, J.-C., Zhang, G. J., and Zhang, M.: Improved diurnal cycle of precipitation in E3SM with a revised convective triggering function, J. Adv. Model. Earth Sy., 11, 2290–2310, 2019. a, b
Yu, L., Jin, X., and Weller, R. A.: Multidecade global flux datasets from the objectively analyzed air–sea fluxes (oaflux) project: Latent and sensible heat fluxes, ocean evaporation, and related surface meteorological variables, OAFlux Project Tech. Rep. OA-2008-01., 74, Woods Hole Oceanographic Institution, Falmouth, MA, 2008. a
Zarzycki, C. M. and Ullrich, P. A.: Assessing sensitivities in algorithmic detection of tropical cyclones in climate data, Geophys. Res. Lett., 44, 1141–1149, 2017. a
Zender, C. S.: Analysis of self-describing gridded geoscience data with netCDF Operators (NCO), Environ. Modell Softw., 23, 1338–1342, 2008. a, b
Zender, C. S.: netCDF Operator (NCO) User Guide, Version 4.4.3, http://nco.sf.net/nco.pdf (last access: 12 December 2022), 2014. a
Zhang, C., Xie, S., Tao, C., Tang, S., Emmenegger, T., Neelin, J., Schiro, K., Lin, W., and Shaheen, Z.: The ARM Data-Oriented Metrics and Diagnostics Package for Climate Models: A New Tool for Evaluating Climate Models with Field Data, B. Am. Meteorol. Soc., 101, E1619–E1627, 2020.  a, b, c
Zhang, C., Golaz, C., Forsyth, R., Vo, T., Shaheen, Z., Asay-Davis, X., Bradley, A. M., and Doutriaux, C.: E3SM-Project/e3sm_diags: v2.8.0 (v2.8.0). Zenodo [code], https://doi.org/10.5281/zenodo.7388003, 2022. a
Ziemke, J. R., Oman, L. D., Strode, S. A., Douglass, A. R., Olsen, M. A., McPeters, R. D., Bhartia, P. K., Froidevaux, L., Labow, G. J., Witte, J. C., Thompson, A. M., Haffner, D. P., Kramarova, N. A., Frith, S. M., Huang, L.-K., Jaross, G. R., Seftor, C. J., Deland, M. T., and Taylor, S. L.: Trends in global tropospheric ozone inferred from a composite record of TOMS/OMI/MLS/OMPS satellite measurements and the MERRA-2 GMI simulation , Atmos. Chem. Phys., 19, 3257–3269, https://doi.org/10.5194/acp-19-3257-2019, 2019. a, b